Travel
18 things to do on a sunny day in New England, according to local travel bloggers
Goodbye, winter coat. Hello, shorts and sunglasses.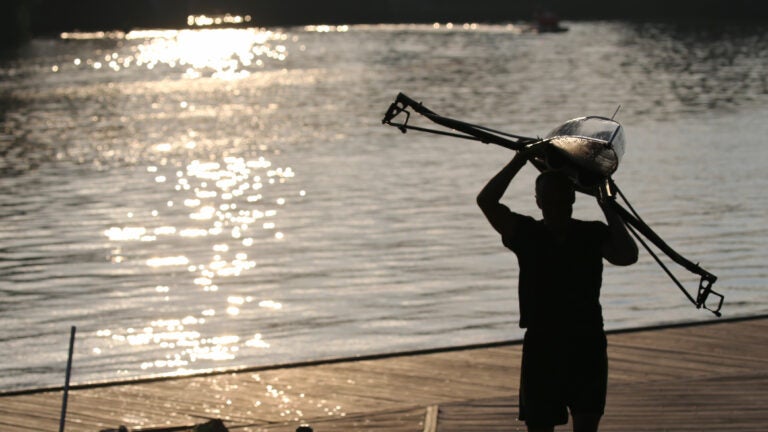 For those who want to enjoy the warm weather outside of the city, New England offers plenty of opportunities to soak up some sun.
We talked to six New England lifestyle and travel bloggers to get their picks for the best ways to spend a warm day around the region. Here are their top recommendations.
Connecticut
Sail down the Connecticut River.
When the weather warms up, Aubrey Yandow, the blogger behind Coastal Confidence, recommends taking a boat down the Connecticut River. Starting from Hartford County, wildlife can be seen along the route, she said. Once you reach Haddam, she suggests dining at the Blue Oar.
"It's just a really popular hidden gem in Connecticut. People usually pack up a picnic basket in their boat, head down to Haddam for the Blue Oar, dock the boat, and get out," Yandow said. "They have all these picnic tables, so people go all out and they'll pack tablecloths and candles. You can bring wine and booze and all that stuff, and then you go up to the restaurant and they have a huge assortment of lobster."
Play golf in Fenwick.
While she likes to take photos in Fenwick, Yandow said it's also a prime location for golf enthusiasts.
"The golf course inside the community is public, so you can golf there, and there are these huge beach houses," she said. "It has a lot of history there, and you can walk around."
Visit a winery.
If wine tasting is your thing, head to Litchfield County, Yandow said. Sunset Meadow Vineyards is her favorite.
"The reason why I like it is it's down the street from the heart of Litchfield, which again, is a really quaint New England town, kind of like a 'Gilmore Girls' aesthetic," she said. "Where the other ones are more coastal, this one is definitely more country Connecticut."
Less than a few minutes from the vineyard is Thorncrest Farm and Milkhouse, which Yandow said is a must-see. The farm makes its own chocolate, too.
Maine
Go surfing.
Visitors can sunbathe, kayak, fly fish, and surf at Higgins Beach, which was recommended by Hayley Griffin, co-founder of the blog Sea Salt and Chambray. Black Point Surf Shop is nearby and stocks surfboards, fins, board bags, and more, she said.
Take a hike then cool off in a swimming hole.
For hiking recommendations, Blair Griffin, Hayley's sister and co-founder of the blog, suggested Blueberry Mountain in Stoneham, which is a moderate trek. It's worth it, though: Hikers are rewarded at the end of one of the trails with a swimming hole called Rattlesnake Pool.
"This pool has an exquisite waterfall spilling into it," Blair Griffin said. "It's kind of this green-blue color, and Hayley and I — maybe it has something to do with growing up on the water — but we'd rather be near the water than near the mountains."
Visit a fort.
Fort Williams Park, which is free to the public, has beaches, fields, playgrounds, baseball diamonds, and lots of space for activities, according to the Griffin sisters. It is also home to Portland Head Light. Visit with or without a picnic, as food trucks park on the grounds for visitors to enjoy.
Massachusetts
Go to the beach.
Bethany Kate Peterson, of the blog Miss Bethany Kate, wrote that her favorite Cape Cod beach is Sandy Neck. Peterson likes it because of the ample parking, showers, and snack bar, making it "a perfect family destination for a day out," she wrote in an email.
Go sailing.
To enjoy the sun out on the water, Peterson suggested Catboat Charters on Martha's Vineyard as a must-do. It offers private sailing excursions on a restored antique sailboat for groups up to six. The two-hour excursion ventures "through Katama Bay, past the Edgartown Lighthouse, and along the shores of Chappaquiddick," according to Catboat's website.
Take a scenic walk.
Peterson recommended biking down the Shining Sea Bikeway; it's her favorite walk for "a good dose of healthy sea air." It was named after a line in the song "America The Beautiful" written by Falmouth native Katharine Lee Bates: "From sea to shining sea." In 2009, a 7.4-mile section was added, and it now runs 10.7 miles, according to its website.
New Hampshire
Listen to outdoor music.
Enjoy music at the waterfront with the summer concert series and music festival at Prescott Park in Portsmouth, which Maggie Sutherland, the blogger behind Seacoast Lately, recommends. Located near the Piscataqua River, Prescott Park has hosted thousands of acts since 1974.
"It's right on the water, which is really special," Sutherland said. "They have a musical every summer and really cool bands that come."
Get out on the water.
With the coast of New Hampshire at your disposal, Sutherland recommended spending a day out on the water. Portsmouth Harbor Cruises offers a variety of boating adventures, including an inland river and foliage cruise, a tour of the Isle of Shoals, and a evening sunset and lights cruise.
If you prefer an active experience, Portsmouth Paddle Company provides the necessities for paddleboarding fun, from guided lessons to board rentals. This shop also offer nighttime paddle tours, where you take a glow stick and paddle into the night, Sutherland said. 
"They do stand-up paddle tours and cool night ones, so you take a glow stick and go paddle out in the night," Sutherland said.
Go berry-picking.
Warm weather means fresh produce, which Sutherland suggested taking advantage of. In Hampton Falls, about 20 minutes from downtown Portsmouth, Applecrest Farm has a variety of fruits to pick, including strawberries, blueberries, peaches, nectarines, and pears.
Rhode Island
Walk along the coast.
Rhode Island native Jessica Kirby, who runs her blog Jess Ann Kirby, said the Cliff Walk is a can't-miss summer activity. A 3.5-mile walk along the coast, visitors get right up to the shore and experience stunning views of the water.
"I tell everyone that's visiting [to go to the Cliff Walk]," Kirby said. "When they say, 'Oh, well, I only have a day,' I'm like, 'Go to the Cliff Walk.' I've lived here pretty much my whole life, and still every time I go, I still can't believe how beautiful it is."
Have drinks on the lawn.
After a long day in the sun, Kirby said an ideal way to wind down is to visit the Castle Hill Inn for drinks. With a lawn that overlooks the water, Kirby recommended dining outside and enjoying a meal and a drink while watching the sun set.
Visit the beach.
If you're looking for a sandy escape in Rhode Island, Kirby suggested Third Beach, which has free parking, fishing areas, an outdoor grill, and a picnic area. She also recommended Sachuest (a.k.a. Second) Beach, which offers similar amenities except for free parking.
Vermont
Sit outside and have a beer.
When the weather warms up, Erin McCormick, who runs the blog Travel Like a Local: Vermont, suggested enjoying a beer outside under the sun, adding that numerous locales are known for their beer, specifically the award-winning Hill Farmstead brewery in Greensboro.
"It's a great place to hang out and have a few beers," McCormick said. "There's a lawn, and there's usually a food truck there, too. Just hang out, be outside, be with the people who you come with while enjoying some of the best beers in Vermont."
Go biking.
When it comes to biking, McCormick suggested the Island Line Rail Trail, a former causeway that runs through Lake Champlain. Built in 1900, the 2.5-mile raised rail bed runs straight through the lake, giving the sense of skimming the water's surface. The causeway ends out on the lake, where a seasonal bike ferry can take you back to shore.
"That's really fun, just to be on the lake and near the water and pack a picnic and get in some physical activity as well," McCormick said.
Take a dip.
Obviously Vermont has a ton of great hikes — McCormick recommended Snake Mountain— but she also vouched for the state's swimming holes. She said good things about the Dorset Marble Quarry.
"It's a free activity where you just pack some snacks, bring a towel, and take a dip in this really cool atmosphere: a natural quarry," she said. "If you want to come to Vermont and not spend any money, head in your car, pack some snacks, hit the trails, hit the mountains, or take a dip in a local spring or the lake even as well."