Travel
How to do Cape Cod on a budget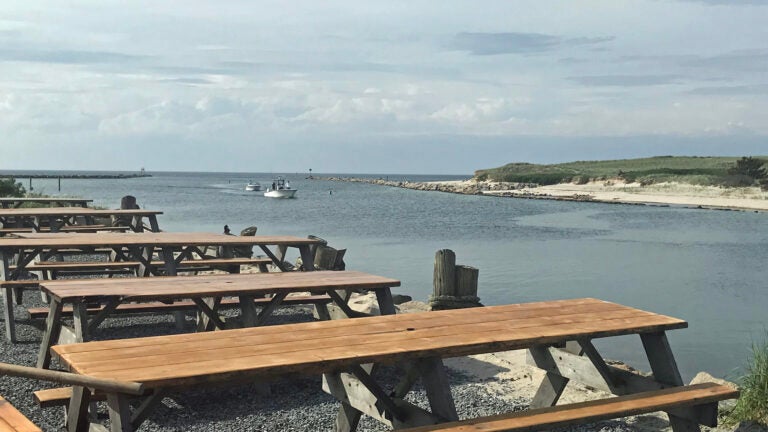 Ice cream, fried clams, beach days, bike paths — with a line-up of summer all-stars like this, no wonder Cape Cod draws us back again and again.
And the good news is, you don't have to be a one-percenter (or Kennedy kin) to have a total blast on that jacked arm of sand that lies over the bridge. Thanks to major intel (one of us lives there), we've sleuthed out some of the best bargains of the Cape. We're talking cute, clean, inexpensive places to stay, free (or cheap) activities, casual non-spend-y restaurants, and the world's best place to fill a bag with retro candy.
Fun zones
Beach day a washout? There's rainy-day action aplenty at the newly opened Ten Pin Eatery (tenpineatery.com) at Cape Cod Mall in Hyannis. Eleven lanes are devoted to ten pins (big pins, big balls); up to six bowlers can play for an hour for $30 on weekdays, $35 Fri.-Sun. There's also laser tag, 50-plus arcade games, and surprisingly good food from partner Chapin's, a reliable name for seafood on Cape Cod. (Night owl note: They serve pizza until midnight.) 769 Iyannough Road, Hyannis; 508-771-2100.
Great White sharks get all the press, but the waters of the Northeast and mid-Atlantic are home to a medley of unique animals. Get acquainted with 140 species of them at the Woods Hole Science Aquarium (aquarium.nefsc.noaa.gov), including some you might not be familiar with. (Tautog? It's a fish.) This small facility, c. 1885, is the country's oldest marine aquarium. Tanks are filled with fish and sea creatures; brave kids can gently (with two fingers) touch lobsters, quahogs, horseshoe crabs, sea stars, and other marine life. Open 11-4, Tue.-Sat. Free. 166 Water St., Woods Hole; 508-495-2001.
Cape Cod = cranberries, no? Not if you're Hokum Rock Blueberry Farm (www.hokumrockfarm.com) in East Dennis. This family-owned farm is open for picking in July and August, when fruit is ripe (call them at 508-385-2768 for recorded information about picking times.) The farm grows six varieties of blueberries among 1,500 bushes; they'll supply the pint containers and picking trays, you provide the labor—and cash or a check to pay for your antioxidant-rich produce. $4 per pint; Hokum Rock Road, East Dennis.
A walk along the beach is a wonderful thing — and stretches of sand like six-mile-long Sandy Neck in Barnstable are perfect for that. If you're looking for a woodsy ramble, Cape Cod offers some stunning choices. A favorite: Lowell Holly Reservation in Mashpee (www.thetrustees.org). Located on Conaumet Neck, this 135-acre preserve sits on the shores of Wakeby and Mashpee Ponds. Daniel Webster and President Grover Cleveland are among the folks who've fished in these ponds, we're told. The landscape is a wonderland of holly trees and stands of Native American beeches that have been untouched for centuries, gorgeous fields of wildflowers and, overhead, eagles, osprey and hawks. 185 South Sandwich Road, Mashpee; 508-636-4693.
There are the classic date-night spots for music on the Cape, like the Cape Cod Melody Tent, and there are places where you can come as you are and BYO lawn chair. A cherished spot for band concerts since the 1930s, Kate Gould Park on Main Street in Chatham is a go-to zone for free music every Friday night from July to September. As many as 6,000 people show up for these concerts (genres vary.) Picture toddlers dancing, people singing along with the band; this is old-school summer fun at its best. Concerts start at 8 p.m.; arrive early so you can snag a parking spot near the Chatham Town Office, just a block from the park.
"Vacations are for treats, not kale,'' according to one of our (very wise) friends. True dat. Although the Cape is famous for ice cream (hello, Four Seas and Sundae School!), it is no slouch in the chocolate department either, thanks to spots like Chatham Candy Manor (www.candymanor.com) and Chequessett Chocolate (www.chequessettchocolate.com) in Wellfleet. But when it comes to a kid-friendly candy store, nobody rivals the Kandy Korner in Hyannis (www.kandykorner.com). From the giant stuffed bear on the bench to the popcorn machine, this treat mecca has it all, including house-made fudge and chocolates (their nonpareils are truly unparalleled), ice cream, and little baskets that kids can fill with candy. 474 Main St., Hyannis; 508-771-5313.
Stay here
Save your money for golf (at nearby Willowbend Golf Club) and shopping (Mashpee Commons is just down the road) and bunk down at the Santuit Inn (www.thesantuitinn.com) on the Mashpee-Cotuit line. (Bonus: Polar Cave Ice Cream Parlour is a neighbor.) This roadside (Route 28) motel — recently renovated — has 19 rooms and a two-bedroom cottage. Rooms have air conditioning, pillow-top mattresses, and flat-screen TVs, and two of them are pet-friendly. The best part: midweek rates start at $109. (Minimum stays are required for holidays and some weekends.) Old Silver Beach is about 12 miles away. 6 Falmouth Road. (Route 29), Mashpee; 508-428-6433.
On the Outer Cape, the newly refreshed Wellfleet Motel & Lodge (www.wellfleetmotel.com) is worth a look. It's clean and simple, not fancy, but hey, if it was good enough for the Hollywood film crew who stayed here recently, it might work for you. And you can't beat the location: Cape Cod National Seashore is a short drive away, and the Cape Cod Rail Trail is accessible from the property. A pre-paid double room starts at $149 per night, and you can book a single night—no two-night minimums. 160 Route 6, Wellfleet; 508-349-3535.
The location of the Captain David Kelley House (www.cdkhouse.com) on Centerville's Main Street isn't on the waterfront, but it's close — Craigville Beach is a 10-minute walk away. (Four Seas Ice Cream is in the neighborhood, too.) This upscale B&B, set in a c.1835 sea captain's home, houses six pretty guest rooms, with rates starting at $209 per night in season (weekends, $219). Fun, friendly innkeepers, a hot multi-course breakfast, and killer scones (they compete to see whose are the most delicious) are bonuses. 539 Main St., Centerville; 508-775-4707.
The former Colonial Inn in Yarmouth Port on Route 6A has a new name, the Compass Rose (www.compassrosecapecod.com), a fresh look, and a new owner, Andora Hamilton of West Barnstable. This gracious, three-story 300-year-old Victorian is on the National Registry of Historic Places; guests stay among the 11 rooms in the main house, or in the 10-room carriage house. New floors, paint, and furnishings have added a more contemporary feel to this classic inn. And it has the one amenity that every old inn must have: a ghost. Summer rates start at $145 to $175 per night; two night minimums apply on weekends in July through September. 277 Route 6A, Yarmouth Port; 508-362-4348.
Cheap (tasty) eats
Three words: Clam chowder pizza. Seriously. If you can't choose between pizza and chowdah, get a mash up at Cleat & Anchor (www.cleatandanchor.com; 14-inch pie, $14.95) in Dennisport. We discovered these folks at the annual Cape Cod Chowderfest last summer, and fell hard for their clam chowder. On pizza, it is bizarrely good. This restaurant/bar offers great specials, like fish tacos for $2.50 each (Saturday and Sunday afternoons) and B4L (breakfast for lunch) for $6.95. They sell a great selection of craft beers on draft, and host live entertainment on Friday and Saturday nights. 243 Lower County Road, Dennis Port; 508-258-0175.
Speaking of mash ups, what is it about the Cape and pizza-Mexican fusion restaurants? Although 'fusion' is a fancy word for what we're talking about, hole-in-the-wall joints like the places Guy Fieri features on "Diners Drive-ins and Dives.'' But if you've got a pile of hungry, sandy kids in the car, or simply want good hearty grub that won't set you back a Benjamin, do as the locals do and hit Craigville Pizza & Mexican (www.craigvillepizza.com). You'll find all the cheesy, saucy standbys here, and of course, they do a Mexican pizza. Check the specials board for great deals. 618 Craigville Road, Centerville; 508-775-2267. On the Upper Cape, try Two Brothers Pizza and Mexican, where a 14-inch Greek pan pizza will set you back a mere $11.50. 331 Cotuit Road, Sandwich; 508-888-4555; (www.twobrotherspizza.com).
With its surf-shack vibe, The Canteen (www.thecanteenptown.com) has become a P-town favorite in just five short years, thanks to fun takes on familiar dishes: There's a cod banh mi sandwich ($10) and a vegetarian-friendly mushroom "fish & chips'' (fried mushrooms, fries, and slaw, $13.) The crispy Brussels sprouts are addictive. Diners show up for breakfast, lunch, or dinner and sit indoors, at tables along the street, or (best) at the communal table in the backyard. 22 Commercial St., Provincetown; 508-487-3800.
Everybody asks where you can get the best lobster roll. There are several contenders, but if you want a killer view with your succulent sandwich, snag an outdoor table atthe Sesuit Harbor Café (www.sesuit-harbor-cafe.com), a clam shack overlooking Northside Marina and Cape Cod Bay in Dennis. Raw bar items couldn't be fresher, and besides their award-winning lobster roll ($22.25 at press time, with fries and house-made slaw), they serve a medley of fresh fish and seafood plates with prices ranging from $13.95 to $24.95 — a good $4 less than is typical in these parts. 357 Sesuit Neck Road, Dennis; 508-385-6134.