Travel
How to navigate an Airbnb disaster, bugs and all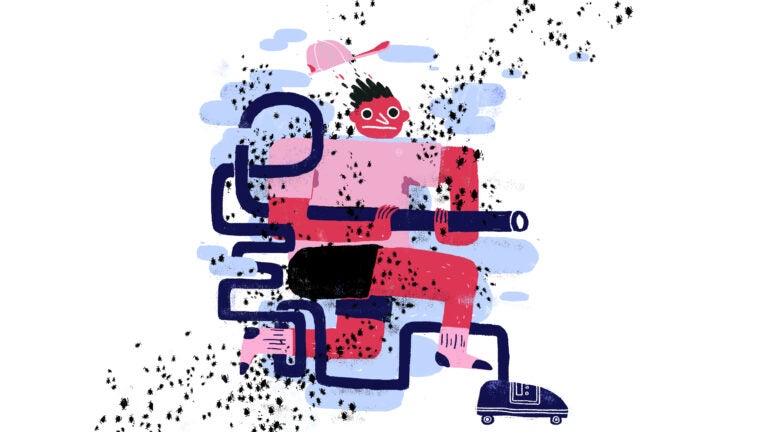 GERMANTOWN, N.Y.
I could handle being trapped in a poorly ventilated house that was hotter than Satan's stove. It was the unrelenting swarm of stink bugs that finally pushed me over the edge.
It was Memorial Day weekend and my friends and I should have been splayed out in Adirondack chairs sipping cocktails adorned with sprigs of herbs while their kids caught fireflies in Mason jars.
Instead, the kids were upstairs asleep, or, more likely, passed out from heat stroke. We were in the living room, sweat collecting on our brows, frantically vacuuming up the dozens and dozens of stink bugs that decided they'd like to join us for the night in our stifling Hudson Valley Airbnb rental.
We found ourselves in a home that was, to be blunt, as pleasant as drinking expired milk. I learned that as convenient as Airbnb can be, a rental also has the potential to go horribly wrong. These are the moments when I miss hotels.
It was the most stressful Memorial Day I'd ever endured. Correction: The second most stressful. I forgot about the year my parents decided the family would enjoy spending time at a campground that was infested with spiders. Have you ever bought a can of Grape Fanta from a vending machine that dispensed both spiders and soda?
I'm getting ahead of myself. My husband and I, along with three other couples, rented a home through Airbnb in the Hudson Valley. It looked like a lovely place online. There was a swimming pool, a big old barn, beautiful fields, and enough rooms for all the adults and their four children. We made the deposit, sat back, and waited for our perfect weekend to begin.
But something wasn't right. The owner sent a message to my husband telling him that she'd accidentally double booked the house. Conveniently she had another house, just as nice, where we could stay instead. My first inclination was to cancel. It sounded shady. My husband, otherwise known as "the nice one,'' didn't want to cancel, and, given the last-minute nature of the owner's notification, he feared we wouldn't be able to find another rental on a holiday weekend.
It got even shadier. We wanted the owner to cancel the initial reservation and then officially book us into the substitute house, all above board. But if she did this, the homeowner was at risk of losing her Airbnb Superhost designation. That's an honor bestowed upon outstanding hosts. Once again I pushed for cancellation; the nice one wanted to help the homeowner keep her Superhost designation.
According to the experts I later talked to, the homeowner's shell trick was strictly off the books and a red flag.
Despite my worries, we arrived at the house and settled in. It was a 90-degree day and the inside of the house was just as warm. The central air conditioning was doing a lousy job of cooling the space. Even worse, the thermostat was locked behind a clear acrylic box. We couldn't adjust the temperature. We texted the owner. She texted back that she was out of town and no one else had the key to the thermostat. We hadn't come to sit inside a house all day, so we reasoned it would cool off in the evening, and then we could open the windows and turn on the ceiling fans.
It wasn't until after dinner and well into the evening that I started noticing all of the handwritten signs posted around the house. "Welcome! Do not open windows, use air, bad pollen and bugs get in'' and "Do not open windows, house has air, call me.'' In addition to grammatically questionable notes, I found another reason not to open the windows. There were no screens. We were stuck in a house that was hotter than Georgia asphalt.
Then the bugs arrived.
We may have noticed one or two during the day, but at night the stink bugs were ready to party. There was not enough Pinot Grigio in the Hudson Valley to comfort me around so many insects.
A quick lesson on stink bugs: You crush them, and they stink. Our alternative was to grab the vacuum cleaner and start sucking up hundreds of bugs. I was on my phone searching for hotels. There were none nearby. Every few minutes the vacuum whirled back to life as one of us cleared up another patch of bugs and sent them to their Dyson afterlife.
I'm pretty sure the only ones who slept that night were my friends' kids, and they slept because they were lucky enough to be in heat-induced comas.
We texted our host in the midst of the insect mayhem and her response was, "I vacuumed up a bunch of dead stink bugs yesterday. I didn't think it was going to be an issue.''
• • •
According to the experts I spoke with after surviving the Great Stink Bug Invasion of '18, all of this could have easily been avoided if we opened the lines of communications early with Airbnb, beginning with the claim that the house had been accidentally double booked.
According to Airbnb spokeswoman Crystal Davis, when our host asked us to switch houses, she should have opted to change or cancel our reservation through Airbnb's website. When she didn't, we should have requested a full refund. By doing this, we would make sure we were staying within Airbnb's guidelines. That would ensure we could follow all proper channels if we wanted to request a refund.
"Make sure that all the communication between the host and the guest is on the platform, and we can help in any situation,'' Davis said. "We need to have an electronic trail of everything.''
These are the things you don't think about until an Airbnb stay goes wrong. We thought we were doing the right thing by renting a property through a Superhost, but we also needed to be vigilant and should have researched Airbnb's policies. The company's website says that to be eligible for a refund, you must contact the company "within 24 hours of check-in'' and include photos documenting the issues.
Australian travel blogger Asher Fergusson found himself facing something far more dangerous than stink bugs when he and his wife rented an Airbnb in Paris last year. They were taking what Fergusson described as their dream vacation with their 10-month-old son, but ended up in a nightmare when they arrived at an apartment that was filled with dangerous mold.
Fergusson was so distraught by the experience that he joined forces with psychologist and user experience researcher Sheana Ahlqvist. They spent more than 150 hours studying Airbnb horror stories. His study, called "Is Airbnb Safe?'' found some of the most frequently reported Air­bnb problems include insect infestations (bingo!), undisclosed roommates, inaccurate property descriptions, and missing amenities.
"In my case the whole vacation was ruined, but it could have been worse,'' he said. "There are people who get into dangerous situations or physically hurt.''
Fergusson had a long list of recommendations to make sure an Airbnb stay goes smoothly, including only booking through Superhosts and only staying with hosts who have provided verified government ID. He said to make sure the rental has multiple reviews, and that those reviews are from travelers, not family and friends of the host.
He also said to avoid hosts who have many properties, such as those who have become professional Airbnb landlords.
You should also communicate with your host before your stay. Ask them detailed questions of anything that you're not sure of and document everything that goes wrong. Photograph the place when you walk in, and again when you depart.
"I've heard many stories from people where the host tries to fabricate broken furniture and broken items,'' Fergusson said. "And because the guest didn't have photo evidence, the host gets away with it.''
Bad Airbnb experiences are rare. Even Turner Wright, the author of the book "Airbnb Hell'' told me that these sorts of horror stories are the exception. Like Fergusson, he claims that Airbnb's customer service is not always effective and that there are flaws in the refund policy. There is also an Airbnb Hell website that collects horror stories.
"I would still say that for the millions of Air­bnb users, the good outweighs the bad,'' Wright said. "However, when something, even something insignificant by hospitality standards, goes wrong, it's exacerbated by poor customer service, a confusing refund policy, and no accountability to anyone.''
The lesson in all of this is to research carefully before you reserve, read up on cancellation and refund policies, make sure all interactions with your host are through Airbnb, and take pictures of the space you're renting.
Most importantly, consult with the host before your arrival to make sure the home is 100 percent stink bug-free. Or, at the very least, make sure there's a functioning vacuum cleaner on site.