Travel
We went on a pastry pilgrimage to sample sweets from Food Network competitors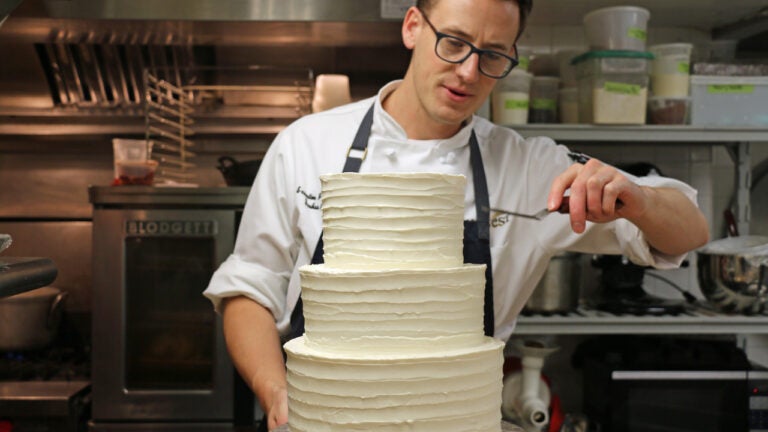 During these turbulent times, we seek the sweet solace of TV baking shows, where the worst that can happen is a soggy bottom or curdled custard. Hooked on the sugar rush of "The Great British Baking Show,'' the gentlest, most polite competition ever, we added a baker's dozen TV baking shows to our Netflix queue. Mind you, we never get up off the couch and actually bake, but we do offer helpful advice to the competitors by shouting, "That'll never set — put it in the blast chiller!'' at the screen.
When we realized that three of our favorite Food Network bakers are based in New England, we had to investigate. Joining us on our pastry pilgrimage was our buddy Marcia. This goodie lover requests a Diane-baked cherry pie every year as a birthday gift. And when we asked her if she could spend an entire day eating dessert, she was undaunted. "Bring it on!'' she said.
Our goal: To sample the gorgeous confections baked by three superstar bakers. First on our list was Adam Young, owner of Sift Bake Shop in Mystic, Conn., a finalist in the Food Network's "Spring Baking Championship'' last year and the current season of "America's Best Baker.'' (Spoiler alert: He won. On the show that aired on June 18, one of our own was crowned America's Best Baker.) Then, we'd cleanse our palates with a lemon-rosemary cookie baked by Doug Alley of Patti Cakes in Wakefield, R.I., who won the Food Network's "Christmas Cookie Challenge'' last December. Finally, we'd rendezvous at Harvest in Cambridge, to sample the creations of Joshua Livsey, executive pastry chef and finalist in the Food Network's most recent "Holiday Baking Championship.''
Chef Young was off on the day we visited Sift — probably basking in the glow of his win, or signing autographs in spun sugar, or figuring out how to spend the $25,000 he won on "America's Best Baker.'' Young's final bake (bake is a noun on these shows) was his version of the ultimate chocolate cake, a towering creation featuring three kinds of chocolate, crispy coconut praline, and massive dark chocolate flowers. One of the judges claimed to be "happy as a hog in mud'' while eating Young's cake. Fans take note: When he's around, the chef is "happy to meet people and take selfies with them,'' according to Samantha McBriarity, who was working the counter at Sift.
Young is engaging and articulate on camera as he describes how to make, say, a perfect macaron, so it's no wonder the Food Network loves him. We say, give the man his own show. Then again, Young probably has enough on his plate, with this shop and a seasonal bakery in Watch Hill, R.I. This towering man with XL hands somehow creates the most exquisitely detailed desserts we have ever seen.
The treats we tasted at Sift (www .siftbakeshopmystic.com) were championship material. The chocolate raspberry torte was a perfect marriage of tart and sweet, fruit and chocolate, encased in a glossy pink shell of raspberry gel. The lemon-blueberry cheesecake, adorned with an edible viola flower, was too pretty to resist even though we're not cheesecake fans. Marcia deemed it "light and flavorful.'' We summoned up our inner judges, nitpicking Young's work. Was the ratio of sponge to ganache adequate? Was the flourless chocolate cake base firm, but not dry? Could we discern the lemon flavor of the cheesecake? Yes, yes, and yes. We polished off both desserts, and tucked another two goodies in the bag for later. "Come back and try the carrot cake!'' McBriarity called after us.
Next up was owner-baker Doug Alley of Patti Cakes in Wakefield, R.I., (www.patticakesri.com). Alley, who teaches culinary arts at Upper Cape Cod Regional Technical High School, took home the $10,000 "Christmas Cookie Challenge'' prize after wowing the judges with his sugar cookies and lemon-rosemary treats. Alas, we'll never taste them (unless we spring for a tower o' cookies at our next wedding): Alley closed his retail bakery in April to focus on custom orders of cookies, cakes, and wedding cakes.
On to our last baked good hot spot, Harvest in Harvard Square (www.har­vest­cambridge.com). At age 29, executive pastry chef (and Rhode Island native) Joshua Livsey is a whiz kid when it comes to fabulous-looking desserts with intriguing flavor combinations. (On Harvest's current dessert menu: chocolate almond cake with avocado ice cream, and a yuzu posset with goat cheese ice cream, strawberries, and matcha cake.)
Alas, Livsey, too, was away from the kitchen during our visit. (He's usually off on Sunday and Monday.) We weren't the first Food Network fans to come a-calling. Guests come in and ask for him, especially young women, dining room host Jeff Osowski told us. "He'll bring them back to see how he works. I think he gets a kick out of it, and wants to encourage young people to get into the field.'' Did the Harvest staff realize their pastry chef was competing in a TV baking show? Not at first — they thought he was on vacation. Although Livsey won several challenges on the "Holiday Baking Championship,'' he didn't win the $50,000 prize. "But our viewing party was a blast,'' says Harvest manager Beth Maguire. (Our view: He was robbed.)
Tip for meeting Chef Josh and tasting his wares: Look for paper doughnuts sprinkled around Harvard Square on random Saturday mornings — they're a signal that Livsey is doing a Donut Pop-Up at Harvest. Our favorite dessert at the restaurant: a lemon tart with Sorrento lemon cream and coconut sorbet. The short crust pastry had a hint of citrus, and we loved the bits of candied lemon (sour bursts of deliciousness) throughout.
Our tour was officially over. Or was it? The next day, vowing to eschew sugar indefinitely, we were in Orleans, Mass., for girlfriend getaway shenanigans unrelated to pastry. "Uh-oh,'' we said in unison, beholding one of the Cape's favorite dessert spots, Hot Chocolate Sparrow. "You know what they say about the hair of the dog,'' Marcia said, pulling into the parking lot. One of the Sparrow's Meltaway bars, a chewy mélange of butterscotch, chocolate, and coconut, was a fitting end to our baked, stuffed girlfriend's getaway. There may have been a whoopie pie involved, too.
Next on our wish list: an Emerald Waterways cruise in December with British baking queen Mary Berry. Time to get up off the couch and master a genoise sponge.