Travel
6 New England towns to visit in July
You can search for antiques, stomp grapes, ride a hot air balloon, and more.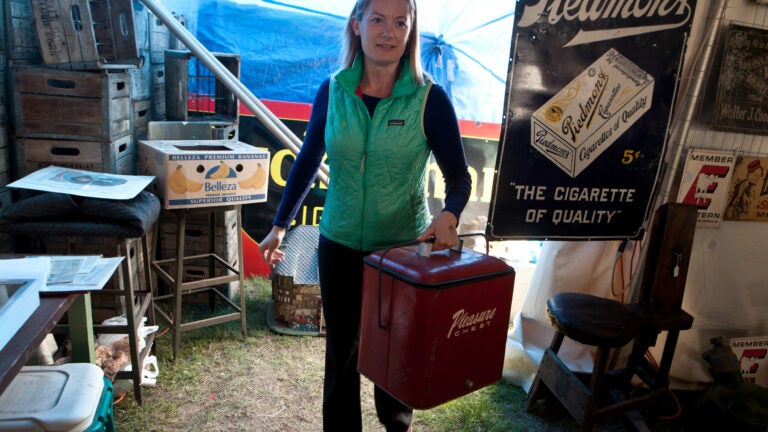 Summer is in full swing, and so is the activities calendar across New England during the month of July.
If you thought the fireworks wrapped up on Wednesday, think again. Watch the night sky light up when the sparkly stuff explodes over the Bretton Woods Ski Area on July 7 during the Omni Mount Washington Resort's annual Star Spangled Spectacular. The fireworks will begin at 9:15 p.m., but the fun will start at 5 p.m.: Husband-and-wife Vermont duo Rust and Ruin will perform acoustic Americana, a country-style barbecue of foods like burgers and corn on the cob will be served, and kids can play in a bouncy house, get their faces painted, and nab balloon animals on the front lawn. A $5 per car donation will be collected, and the money will be applied to a local scholarship by the Twin Mountain Bretton Woods Chamber of Commerce.
It's that time of year again: You can shop 23 fields' worth of antiques and collectibles at the Brimfield Antique Show, billed as the largest outdoor antiques show in the world, from July 10-15. More than 6,000 dealers will offer their goods along a mile-long stretch of Route 20. Hungry shoppers can fuel up on barbecue, lobster, and more at the show's food court. Admission fees to the various fields vary from free to $6.
For the past 17 years, the Bang on a Can Summer Music Festival has brought innovative music to Mass MoCA and other spots in North Adams for much of July. This year's festival, running July 12-28, will include 40 performers and composers from around the world. Those who head over to the Berkshires for the festival can hear everything from African drumming to rock and soul at daily performances in the Mass MoCA museum galleries (which are free with museum admission), music workshops, late-night concerts, and free events around town.
More than 6,000 pounds of clams will be served at this year's free 53rd Annual Yarmouth Clam Festival from July 20-22. Once you've had your fill, there's plenty more to see and do: live music on three stages, a fine arts show, a craft show, a road race, a carnival, activities for kids, and fireworks. The theme for this year's Friday night Clam Festival Parade, which will include more than 130 floats, marching bands, antique cars, and entertainers, is "Totally 80s."
At the South County Hot Air Balloon Festival, also from July 20-22, the fun will take place both on the ground and in the sky. Hop into a hot air balloon that will take you 100 feet into the air, one that's tethered to the ground with rope. For those who like to keep their feet more firmly planted on the ground, the weekend will also offer a car show, magic show, wildlife show, live music, and fireworks. Events for kids will include a train ride, pony rides, carnival games, and rock climbing. General admission to the festival is $10, and kids ages 10 and under are free. Balloon rides are $20. Parking is free.
Have you always wanted to sink barefoot into a vat of grapes? You'll get your chance if you register for the grape stomping contest at this year's Connecticut Wine Festival, taking place July 21-22 at the Goshen Fairgrounds. Festival manager Sherrie Palmer said a panel of judges will score contestants on a scale of one to 10 based on "creativity, their dancing, their spirit, and their stamina." "If you've ever stomped grapes before, it's not easy," she said. Festival visitors — even those who don't stomp grapes — can also sip wine from 13 different Connecticut wineries, listen to live music, and sample locally produced specialty foods. Festival tickets start at $27. Designated drivers and visitors under 21 pay $10. Children under age 6 are free.