Travel
How to take a beer-based trip through Vermont
Hit the hoppy trails in a small state with serious brews.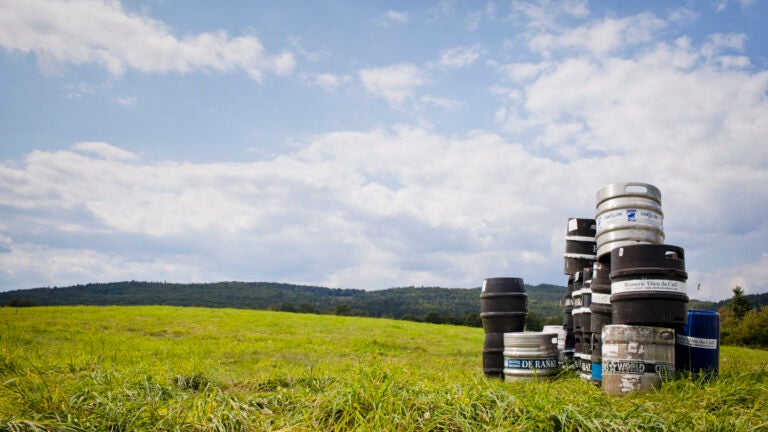 With more breweries per capita than any other state, Vermont's beer scene punches far above its weight. It's claimed "best brewery in the world" for four years running, and some Vermont beer aficionados argue that the state's distinctively dry-hopped, hazy pours are the origin of the beloved New England IPA.
All that beer has brought a steady stream of thirsty visitors. At Burlington's Hotel Vermont, where the design is a chic tribute to Vermont style, beer tourism is so important that in 2014, the hotel named Matt Canning their "beer concierge," an on-staff beer expert who leads brewery tours and answers guests' questions about all things hoppy.
"Among people who are seeking out beer in the craft beer community, the New England IPA is probably the most consumed," Canning said, "and people are coming to Burlington just to drink beer."
Below, Canning maps out the perfect Vermont beer road trip, talks about out-of-staters' eternal quest to find Heady Topper, and peers into his foam-flecked beer crystal ball to try to determine what's next for Vermont beer.
Venturing into the "Beer-muda Triangle"
Vermont breweries are scattered from mountain hollows to obscure dirt roads, but when Canning takes guests on best-of beer tours, he starts in Waterbury, Vermont, which some locals jokingly call the "beer-muda triangle." The first stop of the day is The Alchemist, a brewery whose Heady Topper IPA remains one of Vermont's most sought-after brews.
"The main question from guests after all these years is: Where can I find Heady Topper?" Canning said. "It's the flagship, the originator, the first producer of what's now the most popular beer style in the world. Heady Topper is the grandfather of the New England IPA, and visiting The Alchemist is going back to the roots to find where it all started."
After picking up your haul of Heady — visitors are limited to four quad-packs apiece — Canning suggests a trip up Route 100 to Morrisville's Lost Nation Brewing.
"I think they have the best American-made gose," Canning said, describing a traditional German beer that's spiked with sea salt and coriander. "It's balanced, refreshing, not too salty, and really crisp, really nice."
From there, he suggests continuing north on a beer lovers' pilgrimage to Vermont's Northeast Kingdom, where tiny Greensboro is home to Hill Farmstead Brewery. It's topped RateBeer's list of world's best breweries for four years running. Open from Wednesday through Saturday from noon to five, Hill Farmstead sells bottles to and fills growlers for long lines of devotees.  
"They produce a full range of styles, from lager to pale ales and bigger double IPAs," Canning said. 
While Canning appreciates that wide range of beers, he said he believes that the namesake "farmstead" ales really set the brewery apart.
"When you talk about farmstead ales," Canning said, "it's referring to an estate beer that's made at the brewery with a yeast strain that's specific to their brewery. For me, the real treasure of their offerings are these authentic, wild farmstead ales and their barrel-aging program. It goes back to having a world-class brewer, some really good water, and a couple kinds of yeast that are making absolute masterpieces."
What's next for Vermont brews
After a classic tour through Vermont's beer heartland, Canning suggests visitors taste beers from some of the state's younger breweries, such as Foam Brewers, a Burlington brew pub that was just named one of the world's best new breweries.
"They have sensational beer poured out of beautiful hardware," Canning said. "It's fresh and holds a beautiful head, and they've done a good job with the wild beers that are brewed in a big wooden tank in the back of the brewery."
At Hotel Vermont, Canning also likes to feature some of the local ciders that are being brewed with a nod to a beer lover's palate.
"You're starting to see craft cider that's become dryer," Canning said, "and with the dry-hopping of cider, you get a lot of the same aromatics as an IPA.
"The other side of that is wild fermented cider, which requires time to barrel age," he continued, noting that he sometimes adds the ciders from Fable Farm Fermentory in Barnard onto his tasting menus. "They produce beautiful, wild ciders using indigenous, found apples. All of the ciders are fermented on native yeasts that were picked up in the air or found on the skin of the apple, with similar characteristics to a wild beer or an orange wine."
Exploring Vermont with a beer concierge
When Canning stepped into the role of beer concierge at Hotel Vermont, he may well have become the first of his kind.
"I like to consider myself a resource for people traveling for beer," he said, "whether it's telling people about the next can release or where to find Heady Topper."
Each weekend throughout the summer, Hotel Vermont offers a Canning-designed Bike and Brew tour through Burlington, visiting Foam Brewers and other local breweries on the hotel's fleet of stylish Budnitz Bicycles. (Bike tours are $50 per person with tastings.)
And for a full immersion, Canning leads visitors on a two-day beer tour of the state with a five-course private beer pairing dinner at Juniper, the hotel's restaurant. While the beer tour explores breweries that are open to the public, Canning gets insider access, including special editions of rare beers at Hill Farmstead Brewery. (Two-night packages start at $618 per night for two people including accommodations.)
It's an experience that Canning, a Vermont native, is proud to be able to share.
"Much of the beer world is breweries in industrial parks with water access and shipping lanes," he said. "So it's a pretty unique to be able to drive somewhere as rural as the Northeast Kingdom to see a real farmhouse brewery."
That connection to the land and people of Vermont is at the heart of his work, and his interest in local beer.
"I hate the word authenticity, but there's something of that that really comes through," Canning said. "And the beers are just going to get better."