Travel
Explore Vermont cheese with an award-winning cheesemonger
Where to find and how to eat the state's top cheese.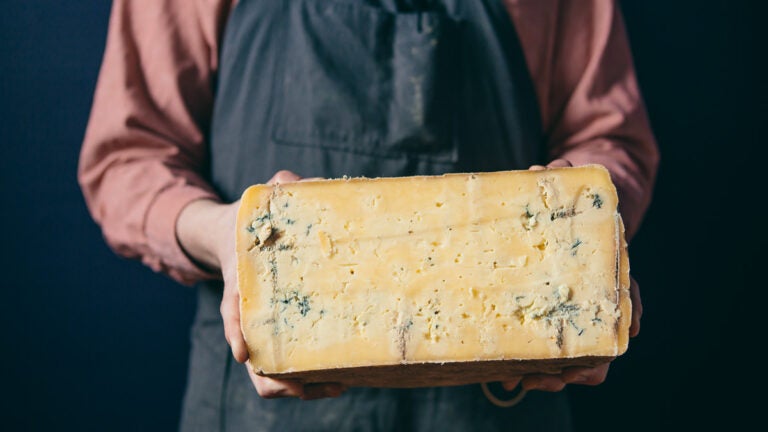 When Vermont cheesemonger Rory Stamp won the Cheesemonger Invitational in January 2017, he beat a talented field of experts from around the country.
"It's like the 'The Hunger Games' of cheesemongering," Stamp said, "covering everything from technical challenges to blind identifying, cutting and wrapping, and food service."
The national competition is held annually in San Francisco, and some American winners continue to the biannual Mondial du Fromage, a French competition that crowns the best cheesemonger on earth. (The next Mondial du Fromage will take place in June 2019.)
Stamp, a native Vermonter, was speaking earlier this year over a small cheese board and sparkling wine at Burlington's Dedalus Wine Shop, where he oversees cheese service and an eclectic cheese counter. While he sources cheese from around the world, those from his home state are a perennial favorite.
"We have a long tradition of dairy farming in Vermont," he said, "and it gives us all these fantastic products."   
Below, take a trip with Stamp through the cheese and pairing goodness that Vermont has to offer.
Hit the road
With cheese operations set in tiny villages and grand estates, a Vermont cheese road trip can take you to some of the prettiest corners of the state. Stamp suggested you make your first stop at Shelburne Farms, where a herd of brown Swiss cows produce milk that's used in the farm's remarkably flavorful farmstead cheddar.
"It's an incredible example of a working landscape," Stamp said, "and it's what lies at the core of the Vermont pastoral experience, at least aesthetically."
Furthermore, he said, "The cheese is totally adapted to Vermont terroir, and the cows are on this undulating pasture. From a sensory perspective, the cheese is really rich, high in butter fat, and deeply savory."
For goat cheese, Stamp heads to Cornwall's Twig Farm, a tiny operation with 50 goats that graze a rolling property.
"It's a farmstead operation, and they really focus on the health of their animals," Stamp said.
The farm embraces the seasonal nature of milk production — the quantity and flavor of milk fluctuates throughout the year — and Stamp said he especially loves Old Goat, a cheese that's made using early spring milk with a sprightly, grassy quality.
In the Connecticut River valley that lines the eastern edge of the state, Westminster's Vermont Shepherd is another favorite of Stamp's, with a fully-stocked farm store that's open to visitors. The family-run farm has a herd of 300 ewes, and a cheese cave that's built four feet underground to create the perfect conditions for aging and ripening cheese.
"They've just been really homing in on the perfection of their style of cheese," Stamp said, "which is like what you'd find in the Pyrenees or Basque region."
Stamp said he's even heard of customers ordering cheeses from particular pastures of the farm.
"They've dialed in the specificity of their cheese to the point where customers know that not only do they like cheese from a specific season, but from certain forage or parts of the farm," he said. "Getting that heady about cheese is what we usually do with Champagne or Burgundy."
At the cheesemongers
Since many cheese makers and farms are closed to the public, Stamp said a trip to a local cheese shop is a great way to try some of the finest wedges in the state.
One of Vermont's most celebrated cheese makers is Jasper Hill Farm in Greensboro, and Stamp recommended purchasing the award-winning Winnemere.
"It's made exclusively with milk from their Ayrshire cows," he said, "then wrapped in spruce bark that's harvested from their woods."
(The largest variety of Jasper Hill Farm's cheeses can be found in Greensboro's Willey's General Store.)
Stamp also stocks cheese from Parish Hill Creamery in Westminster West.
"Their cheese is entirely seasonal, and while 99 percent of cheese makers are using commercial bacteria cultures, they're using native ones," he said.
The counter and cheese boards at Dedalus Wine, where Stamp runs the cheese program, feature some of the best selections in the state, but many of his favorite cheeses can also be found at local co-ops and markets.
Perfect pairings
Working at a shop and wine bar, Stamp relishes the chance to pair his favorite cheeses with a wide range of drinks and accompaniments, including many Vermont-made products. To create a cheese board using exclusively local ingredients, he often starts with V Smiley Preserves; its honey-sweetened jams incorporate offbeat ingredients such as elderberries, red currants, and tiny calamondin citrus.
For a touch of sweetness balanced by biting tartness, Stamp recommended Wood's Cider Jelly, a thick, tart Vermont product made from evaporated apple cider. (Cider jelly also features on Slow Food USA's Ark of Taste, a list of endangered American food traditions.)
And from craft beers to hard ciders and wine, Vermont has an abundance of great drinks that marry beautifully with cheese.
"We love the wines produced by La Garagista," Stamp said, speaking of La Garagista founder, Dierdre Heekin, a 2018 James Beard Award Semifinalist. "Especially her sparkling wines, like the Ci Confonde rosé, which is so fun with creamy Vermont cheeses."
For cider, Stamp turns to bottles from Fable Farm Fermentory and Shacksbury Cider, and loves eating cheese with Vermont's craft beers.
"It might be a dirty word around here because we're so wine-focused," he said, sipping from his glass of bubbly, "but there are extraordinary beers being produced in Vermont."
While pairing with cheese, Stamp opts for beers with a refreshing acidity, including the Lost Nation gose, brewed with coriander and sea salt, and Florence, a wheat ale from Hill Farmstead Brewery. In Brattleboro, Hermit Thrush Brewery serves a lineup of sour beers that are a great counterpoint for especially rich, fatty cheeses.
For a more comprehensive list of Vermont cheeses, see the Vermont Cheese Trail's map of cheese makers and and dairy farms.