Travel
An ice cream lover's guide to Cape Cod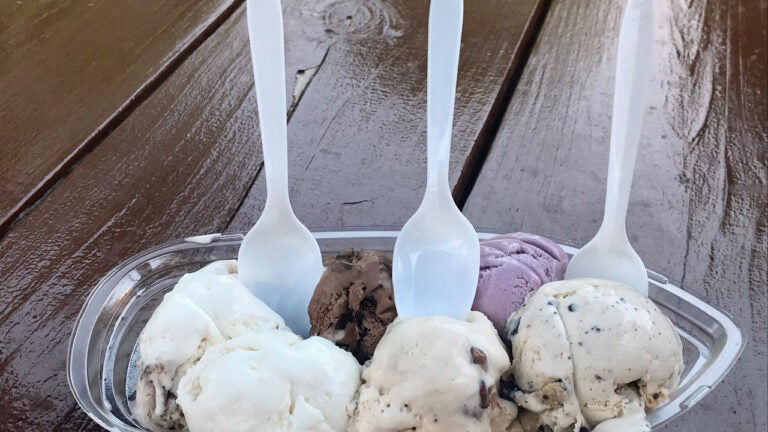 This was supposed to be a story about kids' favorite ice cream shops on the Cape, in honor of National Ice Cream Month. That turned out to be a terrible idea, because kids are lousy critics when it comes to ice cream. They love it all.
Our pint-size critics commented, "Yay!'' or "Yum!'' no matter which flavor they tasted, unless raisins were present (in which case they calmly spit them out). For kids, it's always ice cream month. So we connected with some adult pals to do the job of picking family favorites. The mission? To find the ultimate in butter-fatty, worth-every-calorie ice cream deliciousness on the Cape. With our team of cone-noisseurs, we sampled scoops from Sandwich to P'Town. A quick takeaway: Classic flavors rule here. For better or worse, you won't encounter new-fangled, palate-confounding combos like sour pickle, charcoal, or Cheetos-chip.
Four Seas Ice Cream
Props to Four Seas for sheer longevity. It has been making ice cream at this spot, a former blacksmith shop, since 1934, making it the third-oldest ice cream parlor in New England. Four Seas is all about creamy; they use 16 percent butterfat in their ice creams. (Lower-fat sherbet, sorbet, and frozen yogurt are also on the menu.)
Bragging rights: Their fresh peach ice cream was served at Caroline Kennedy's wedding rehearsal dinner.
Ambience: The real deal, complete with old-school signage, swivel stools, and teenagers working the counter.
Lick this: New England standards, like black raspberry and frozen pudding, plus sophisticated flavors (cantaloupe, lemon crisp). No jimmies here, though. Instead, go for one of their house-made toppings, including claret sauce, apple-cinnamon, and mocha java.
The scoop: "It's almost too creamy. Not a real strong chocolate flavor,'' said Paul Kelley of Marstons Mills of their straight-up chocolate. But Charlotte Ames of New York City is one of the Four Seas faithful. "I love their black raspberry — it's classically New England!''
Bonus point: The store is now open year-round (Fri. through Sun. off season.)
Deets: 360 South Main St., Centerville, 508-775-1394; www.fourseasicecream.com.
Polar Cave Ice Cream Parlour
Owned and run by father-daughter team Mark and Kelsey Lawrence, Polar Cave is famous for its "mystery'' flavors, such as dutch apple. Their hand-rolled waffle cones and bowls are made to order, served warm, and smell like heaven. They don't make their own ice cream at Polar Cave, though; they source it from a small, independent creamery near Boston. More than 50 flavors are available daily, including that New England fave (a puzzlement to your cousins from Cleveland), grapenut.
Ambience: Got kids? With its bright pink façade and funky decor, including a collection of 2,000 Coca-Cola bottles, Polar Cave could be their happy place. Patio seating only.
Lick this: Mashpee mud, a coffee ice cream with fudge swirls, dark chocolate chips, almonds, and crushed Oreo cookies; and death by chocolate, featuring chocolate ice cream with dark chocolate chips and fudge swirls, are signature flavors.
The scoop: "Death by chocolate is my downfall!'' said William DeSousa of Osterville. Polar Cave's black raspbeary chip frozen yogurt won over Susan Centofanti of Watertown and Marstons Mills, thanks to its large chunks of chocolate and rich fruit flavor. "Who knew an alternative to ice cream could be this good?'' she said.
Bonus point: Friday nights the Cave hosts pajama parties for kids — little ones who show up in jammies with a stuffed polar bear or other animal get a free cub-size ice cream (5-7 p.m.).
Deets: 22 Falmouth Road, Mashpee, 508-477-5553; www.polarcave.com.
Katie's Homemade Ice Cream
There really is a Katie; she's the second generation of the Kimball family to run the business. Named one of the "12 best ice cream shops in the country'' by HuffPost, Katie's makes theirs on site, in a big pink house on Hyannis's Main Street. Also made in-house: hot fudge, caramel sauce, whipped cream, strawberry and blueberry toppings, sorbet, and waffle cones.
Ambience: Lively. Sit outdoors on the patio and watch the passing parade of tourists or indoors at bistro tables.
Lick this: Cape Cod sand, a "top-secret recipe'' created by Katie's brother, Gene. Obviously, "there's no actual sand in Cape Cod sand,'' says business manager Julie Kimball. "Every employee will tell you the sand comes from a different Cape Cod beach. But we call it 'sand' because of what it looks like, not what it tastes like,'' she says. (Our best guess? Graham crackers.) Other unique flavors include lavender honeycomb, toasted coconut caramel, Cape Cod mud, and rosemary fig (seasonal).
The scoop: The toasted coconut caramel "didn't wow me,'' said Kelley of Marstons Mills, the tough-judging Simon Cowell on our sampling team. But Morgan Dzicek of Northbridge praised Katie's chocolate-peanut butter ice cream. "Those flavors really come through,'' she said.
Deets: 570 Main St., Hyannis, 508-771-6889; www.katiesicecreamcapecod.com.
Sundae School
This family-run ice creamery makes their product daily in small batches. Flavors are legit — they use fresh fruit in their blueberry, banana, strawberry, apricot, and peach ice creams, and real pistachio nuts in their pistachio flavor (it's white, not green). If this one's your favorite, you're in luck — they have locations in Dennis Port, East Orleans, and Harwich Port. Cash only.
Ambience: Super-friendly staff (they even found us a scoop of peach ice cream that was off menu — on a busy day). Indoor and outdoor seating in Dennis Port and Harwich Port; patio seating only in East Orleans.
Lick this: Anything fruity. There's "sundae'' in the name, so definitely add a topping. Banana ice cream plus hot fudge? Oh, yeah! Kids go for shark's tooth: black raspberry ice cream with white chocolate chips.
The scoop: "Wonderful. I'd order it again,'' declared Connor Bair-Cucchiaro of Boston, sampling shark's tooth. We had a good time concocting sundae combos for a DIY sampler. The winner: fresh peach ice cream topped with caramel.
Deets: 606 Main St., Harwich Port, 508-430-2444; 381 Lower County Road, Dennis Port, 508-394-9122; 201 Main St., East Orleans, 508-255-5473; www.sundaeschool.com.
Lewis Brothers
Is there an ice cream flavor you'd love to try? Let these folks know. If it's fabulous, it may end up on the menu. There are 20-plus flavors at any given time, including a flavor of the week, all made fresh daily. They also make their own hot fudge. Look for their solar-powered ice cream truck at the beaches of Truro.
Ambience: Bustling — it's Provincetown in summer. Grab a cone and wander ever-lively Commercial Street.
Lick this: Some flavors skew decidedly adult, like lavender sea salt, white Russian (vodka, Kahlua, and coffee), and mudslide chip (vodka, Kahlua, Bailey's, and chocolate chips).
The scoop: "The Crystalized Ginger is super-ginger-y, with real chunks of [candied] ginger,'' Kelley said. Get there early; some flavors go fast.
Deets: 310 Commercial St., Provincetown, 508-487-0977; www.lewisbrothersicecream.com.
Cape Cod Creamery
The best thing going here: They offer a flight of ice creams — they call it a sampler boat — featuring six scoops ($6.70). You choose the flavors. It's a genius concept, perfect for the indecisive and those who love to share (not to mention, informal ice cream judging). Choose among 30 flavors, with Cape-related names like Patti Page peppermint. They make their own ice cream, waffle cones, and whipped cream.
Ambience: Charming as can be, with a wraparound porch and Adirondack chairs, plus umbrella-topped tables that encourage leisurely licking. There's indoor seating at the Hyannis shop.
Lick this: Allen Harbor almond joy, Cummaquid coconut, Dennis double chocolate (dark chocolate, chocolate chips, and a touch of cinnamon).
The scoop: Spoon wars nearly broke out over some flavors, especially Allen Harbor almond joy and Dennis double chocolate. The Cummaquid coconut "wasn't as coconut-y as I would've liked,'' said Dzicek. But she raved about the other scoops in our sampler, including Brant Point blueberry. "Amazing!'' she declared.
Deets: 645 Route 132, Hyannis, 508-568-3600; 5 Theater Colony Road, South Yarmouth, 508-398-8400; www.capecodcreamery.com.
Ice Cream Sandwich
In New England, going out for ice cream is an event. You'll definitely feel the family-outing vibe here. The tiniest kids perch in the takeout window, waiting for a gummi bear-topped scoop while the grown-ups order tasty concoctions like cranberry bog and peanut butter Oreo, all made in house. They also make most of their own toppings. There's savory food, too, including lobster rolls, chili, and Captain Parker's clam chowder.
Ambience: Happy chaos. Customers order at windows and then repair to picnic tables on the lawn or the porch. There's inside seating too.
Lick this: The lemon mousse shortbread (baked in house) has a cult-like following. "You've gotta try the cranberry bog!'' folks in line told us. Good advice: It's a unique and delicious combo of almond-based ice cream, cranberries, walnuts, and white chocolate chunks.
The scoop: "You don't need to add toppings to this ice cream — it's full of good stuff,'' said tester Kelley, who sampled cranberry bog and shark bait. For our part, we claimed wicked good chocolate as our own, declining to share; it was that delicious. Tester Bair-Cucchiaro announced that the vanilla was anything but plain: "Creamy, flavorful, perfect,'' he declared.
Bonus point: Excellent ice cream sandwiches (but of course), with cookies made on site.
Deets: 66 Route 6A, Sandwich, 508-888-7237; www.icecreamsandwich.net.
But wait — there's more. Every day on the ice cream trail revealed more worthy contenders, including Schoolhouse, Smitty's, and Twin Acres. But we were way over word count (not to mention, trading our bikinis for caftans). Turns out, the kids were right: Ice cream defies judging. We love it too much.