Travel
How to take a family-friendly Florida vacation (minus the mouse ears)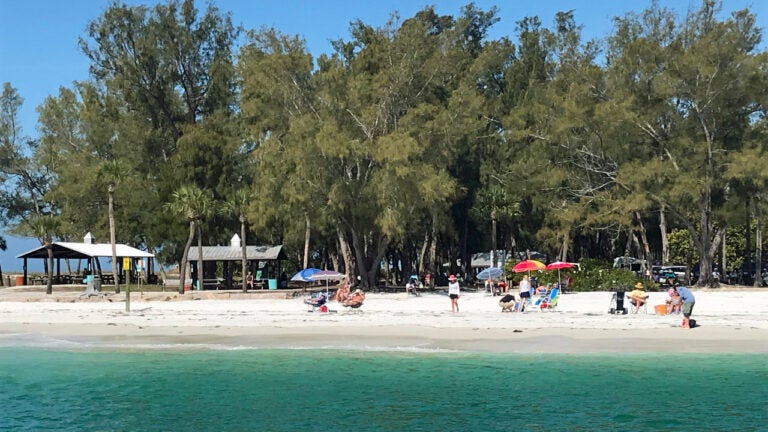 It's a truism of parenting: You take your kids to an amazing museum, or on a family fruit-picking expedition, and they'll remember getting lost amid the sarcophagi, or throwing up cherries in the car on the way home. No matter how perfect the trip, your kid's takeaway will be the one bad thing that happened, or else something weird, like the skeleton-adorned restaurant where they served beer in a coffin. (Yep, this is what one of our boys remembered after a family trip to Florida — no fond recollection of gathering seashells on the beach with grandma, or kayaking with dolphins — but a beer-filled casket.)
When we recall our favorite family vacations, they have three things in common: unstructured days, un-crowded spaces, and proximity to the beach. Simpler is always better. One destination we can agree on, delivering all the above: the Gulf Islands on Florida's west coast.
Reachable via Sarasota-Bradenton International Airport or Tampa International Airport (about an hour away), the Gulf Islands are connected to Bradenton via causeway. You know you're headed someplace fun when you pass an outfitter that offers horse-surfing in the Gulf of Mexico, a rental-paddleboard vendor, and a beach devoted to dogs. Then there's the coral-and-turquoise sign with the cartoon-like manatee painted on it, welcoming you to Anna Maria Island. (Longboat Key, the other Gulf Island, has a more sophisticated, upscale vibe.)
"We feel like we're a memory-making destination, not overwhelming like the Disney parks,'' says Kelly Clark of the Bradenton/Gulf Islands CVB. "Here, you can unplug from all that.'' With recent ticket price hikes, including surge pricing reaching $129 per person (age 10 and up) at the Magic Kingdom, Florida-bound families are looking for options. Anna Maria Island, a 7-mile stretch made up of three cities — Bradenton Beach, Holmes Beach, and Anna Maria — bordered by gulf and bay, offers a completely different experience. No building is taller than three stories by law, and there are very few chain establishments. In spite of recent (controversial) development, local residents treasure the island's small-town charm and don't want it to morph into another ultra-upscale beach enclave filled with second homes. The island has long been a favorite beach escape for city folk from Bradenton and Sarasota, as well as a draw for "snowbirds'' from the Midwest, but recent national press coverage has put Anna Maria Island on the tourism map, for better or worse. As a visitor from Connecticut put it, "A place this sweet couldn't remain a secret forever.''
The first thing you'll do, before settling into your condo or rental house, is to make a stop at the Publix supermarket at the end of the causeway. You'll provision up here, since your digs will likely have a kitchen. (Yay! No going out for expensive breakfasts.) Then, you'll make your way to your home-away-from-home, likely a colorful cottage with bikes you can borrow to explore Bridge Street on Bradenton Beach and Pine Avenue in Anna Maria.
In theory, you could skip the rental car altogether and rely on the free Island Trolley that travels the length of Anna Maria Island, and the free, wildly-painted "Monkey Bus'' that transports guests for tips only. There's also the MCAT bus that travels back and forth to Bradenton. But in our experience, kids aren't good at waiting, and trolleys and buses involve exactly that. A fun way to get around: a rental golf cart from Beach Bums. (www.beachbumsami.com).
A ride along Pine Avenue reveals a smattering of small businesses, tucked into pastel-hued cottages fringed with tropical foliage. There's the Donut Experiment (www.thedonutexperiment.com), where you choose the icing and toppings for your cake-like doughnut, and the Flip Flop Shop & Candy Stop that sells two vacation must-haves: sandals and sweets. One of the cutest shops, especially for younger kids, is the Shiny Fish Emporium (www.facebook.com/shinyfishemporium). It looks like a little girl's dream bedroom — all cotton candy hues — featuring a station where guests can paint a sand dollar ($15). Poppo's Taqueria (www.poppostaqueria.com) was a favorite of ours; kids can choose their own protein and toppings on a 6-inch tortilla or go with a classic carnitas taco ($2.95). A bag of these at the beach made for a fun, fuss-free picnic.
To really get a sense of what Anna Maria Island is all about, head to Rod & Reel Pier (www.rodreelpier.com), on the north end of the island. A local hangout since 1947, this Old Florida icon has an upstairs restaurant and downstairs bar, but its major claim to fame is as a fishing spot. Folks of all ages cast lines into the bay , competing with brown pelicans who dive into the water to do their own fishing. You may encounter 10-year-old Max, the "unofficial mayor of Anna Maria,'' according to Beach Bums kayak guide and bike repair guru Rick Lewis. "Max can out-fish any of us,'' Lewis says. Rent a rod and reel, buy some bait, and have a go.
A kayak tour with Beach Bums will give you a different perspective on the island, and guides like Lewis will tailor their trips to kids, dipping into the water for whelk and pointing out osprey nests and the medley of sea birds in the rookery here. If you're lucky, you might even see dolphins or manatees in these aqua waters. "Did you see dolphins when you were a little girl?'' said a tot named Savannah on our dolphin tour of Sarasota Bay (www.seedolphins.com). Yep, but it was a first for Savannah, and definitely thrilling. The 90-minute trips boast a 95 percent success rate for seeing Atlantic bottlenose dolphins.
But, really, it's all about the beach. This barrier island slopes gradually into the Gulf of Mexico, perfect for small toes to tiptoe into aqua water. Fringed by sea oats and sea grapes, the island's beaches really are as silky soft and snow white as they appear in pictures, no filters necessary. Coquina Beach, strewn with tiny shells, is arguably the prettiest, but Manatee Beach wins points with families due to its playground, changing rooms, and an on-site restaurant that serves pancakes all day.
Will the kids remember these pancake-fueled days of sun and sand? Maybe. Especially if anything went wrong. But you'll remember, and you'll have the cellphone photos and Instagram feeds to remind you, long after those kids grow up and are old enough to pluck a beer from a casket.
If you go . . .
For information, visit www.bradentongulfislands.com. There is a range of places to stay on the island; we tried the recently reopened Rod and Reel Resort, 877 North Shore Drive, Anna Maria; 941-251-4740; www.rodreelresort.com. Located on the bay, the resort has a swimming pool and hot tub, plus bikes, kayaks, and paddleboards to borrow. Eight one- and two-bedroom suites; rates from $190. The only full-service hotel on the island is the new, 37-suite Waterline (5325 Marina Drive, Holmes Beach, 941-238-6262; www.waterlineresort.com, set along the Intercoastal Waterway. Part of Marriott's Autograph Collection, Waterline has a 50-slip marina, a beach club located on the ocean side, a pool and fitness center, and a good restaurant, Eliza Ann's Coastal Kitchen, open for breakfast, lunch, and dinner. From $299. In addition to Poppo's Taqueria and Rod & Reel Pier Restaurant, mentioned above, we recommend the Ugly Grouper (www.uglygrouper.com), a local favorite (shrimp tacos with cheesy tortillas!), the guaranteed child-pleasing all-you-can-eat pancakes and sausage at Anna Maria Island Beach Café (www.amibeachcafe.com) located on Manatee Beach, and the refreshing smoothies (adult and kid versions available) at Back Alley Treasures (www.backalleytreasures.com), a combination gift shop/bar on Bridge Street in Bradenton Beach. And that casket full of beers? It's here, too, at Mr. Bones BBQ (www.mrbonesbbq.com) on Holmes Beach.