Travel
4 water tours for exploring Boston when it's too hot to walk around
Be a *cool* tourist in Boston this summer.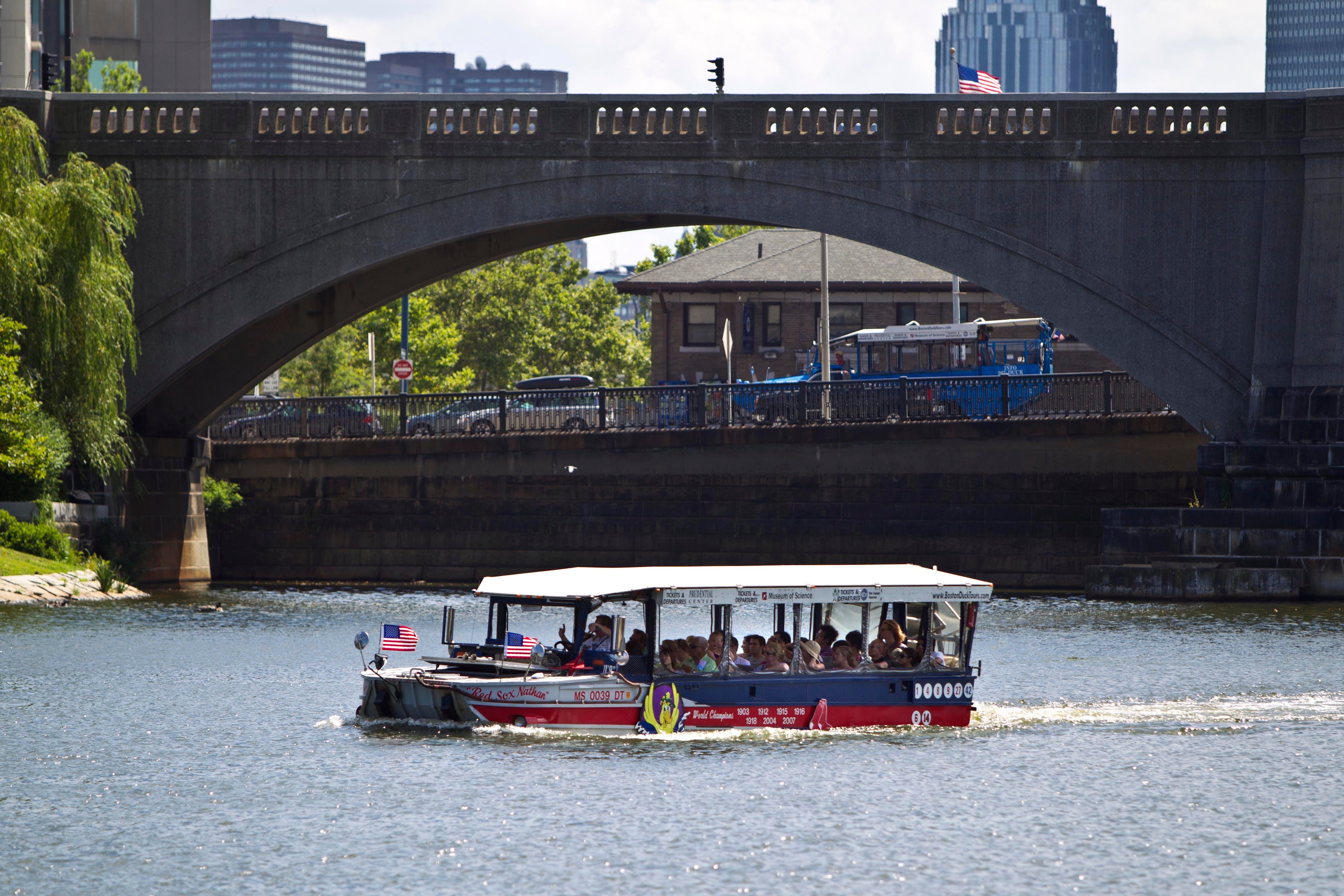 This much is obvious: It's hot in Boston. Whether you are a tourist looking to soak up the city without sweating it out on the sidewalks or a local simply tired of beating the heat by hiding indoors, take to the boats and enjoy Boston from the water with these tours.
Do you consider yourself an architecture buff (or an architecture buff-in-training)? Check out this 90-minute voyage narrated by a guide from nonprofit Boston By Foot. Guides tailor tours to their specific groups, offering architectural facts, anecdotes, and even pop culture references about the historic and contemporary architecture that makes up Boston.
(Daily through Sept. 3, and on weekends through Oct. 28; reservations recommended; tours depart from Lechmere Canal Park at CambridgeSide; ticket and scheduling information can be found here)
Board a "DUCK," a World War II-style amphibious landing vehicle to, er, waddle through the city's streets and waters. "ConDUCKtors" offer colorful commentary as you pass well-known Boston sites. Named one of the top 10 experiences in the U.S., according to TripAdvisor users, Boston Duck Tours run approximately 80 minutes.
(Daily through Nov. 25; departing from Prudential Center, Museum of Science, and the New England Aquarium; reservations recommended; ticket and scheduling information can be found here)
Hop on a ferry for a history lesson — you'll pass the site of the Boston Tea Party, the Bunker Hill Monument, and the Old North Church on this ride to the Charlestown Navy Yard. Once there, you'll have the opportunity to disembark to take a closer look at the USS Constitution, aka "Old Ironsides," the world's oldest commissioned warship that's afloat.
(Hourly every day through Nov. 18, though the USS Constitution is closed on Mondays; boats leave from Long Wharf; reservations recommended; ticket and scheduling information can be found here)
It's whale watching season in New England, and you can take a three-hour cruise along with New England Aquarium naturalists to Stellwagen Bank Marine Sanctuary to search for whales. Those aboard Boston Harbor Cruises's custom whale watch catamarans will have the opportunity to spot humpbacks, finbacks, minkes, pilot whales, and the critically endangered right whales, according to BHC's website.
(Daily through Nov. 18; boats leave from Long Wharf; reservations recommended; ticket and scheduling information can be found here)