Travel
7 Cape Cod restaurants where you can get great local food, according to a Cape cookbook author
She said one spot serves "the best fish and chips in America."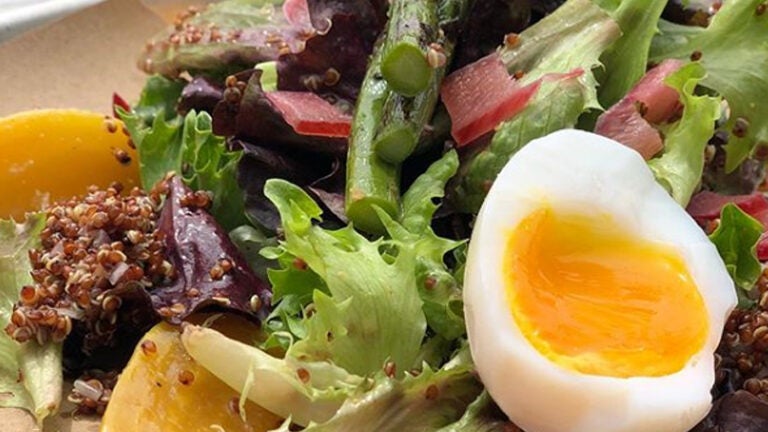 Annie B. Copps is a chef and former food editor at Boston and Yankee magazines who has spent summers playing — and eating — on the Cape since she was a child. That's why "A Little Taste of Cape Cod," an illustrated cookbook she authored featuring more than 30 Cape Cod-inspired recipes, is so personal.
"Once you cross the Bourne or Sagamore Bridge, you enter a new land, rich in beauty, history, and great eating," Copps writes in the book, released this past spring.
The cookbook includes plenty of seafood recipes, of course, such as oysters with mignonette sauce, smoked bluefish dip, pan-seared scallops with avocado and salsa, and New England clam chowder.
"It's some of the best seafood," Copps, of Somerville, said of the Cape's bounty. "There's such a nice variety. You can have two places in Wellfleet with completely different-tasting oysters, and they're 500 yards away from each other."
But the Cape is also about cranberries, so Copps shares a cranberry granola and a cranberry barbecue sauce recipe (which she pairs with baby back ribs). And as a nod to Provincetown's Portuguese heritage, she offers a Portuguese kale and sausage soup and a Portuguese sweet bread. Then there's the Eastham turnip mash recipe. Folks likely will be surprised to discover that Eastham has fabulous turnips, Copps said.
"They're completely different from any other turnip that I've ever had," she said. "They're delicious."
And when she isn't eating in, Copps loves to dine out at Cape spots with fresh, locally-sourced foods — everything from pizza to salad to Mexican to fish.
Copps didn't hold back when describing the fish and chips served at Baxter's Fish 'n' Chips in Hyannis — she called them "the best fish and chips in America."
"They do it right," Copps said of the casual seafood spot on Hyannis Harbor that's been serving patrons since 1957. "The batter on the fish is light and shatteringly crispy."
Chef Adriano Miranda uses local haddock for the dish, which is breaded and fried, said Samantha Mulcahy, general manager at Baxter's.
"We get the fish in every single day," Mulcahy said. "He only gets the very best quality. That's really the biggest thing. He's so particular about the quality."
Aside from that, Miranda won't share much about the making of the dish, "because he'd be giving away his secret," Mulcahy said.
Copps said Miranda fries the fish to perfection.
"They get the whole temperature right, so that it sings on the inside and has that irresistible crunch on the outside," Copps said.
The author said the fries are excellent, as well.
"They're not too thick, they're not too thin," she said.
The restaurant, which offers both indoor and outdoor seating, serves food in two areas: Baxter's Boathouse Club for those over the age of 21, and at the family-friendly Baxter's Fish 'n' Chips.
(177 Pleasant St., Hyannis)
When Copps is in Brewster, she likes to dine at the "sophisticated" Brewster Fish House and order Chef Erik Schnackenberg's monkfish.
"It's so good," she said. "They just have super fresh fish."
The monkfish, from Chatham, is served with fiddleheads, snap peas, walnuts, escarole, golden beets, and squid ink. Copps is also a fan of the house fish chowder, a white, creamy, New England-style chowder that includes local littleneck clams and cod or whatever local white fish is available, according to manager Katie Smith.
"We pride ourselves on the ability to work as closely as possible with independently-owned companies and farmers to ensure the best seasonal ingredients are available to our customers," Smith said.
Smith said customers also dine on plenty of local seafood and ingredients picked from local farms in other dishes, including scallops from Provincetown, oysters from Brewster and Wellfleet, microgreens from Chatham Bars Inn Farm in Chatham, and kale, Swiss chard, and squash from Surrey Farms in Brewster.
(2208 Main St., Brewster)
At Mac's Shack in Wellfleet, Copps said she appreciates the variety of local, fresh fish served by founder Mac Hay.
"He does everything from really sophisticated sashimi and crudo, but then he also does fried clams and smoked bluefish," Copps said. "He's a fisherman. He's totally into what's coming off the boats and what he catches himself."
"Anytime we can, we get the fish that we serve off of day boats that come in — the cod, flounder, bluefish, the stripers when they are in season," said Amy Voll, executive administrator at Mac's. "If the fish isn't in season, we try not to have it on the menu."
Mac's Seafood serves local fare at three restaurants on the Cape: Mac's Shack and Mac's on the Pier, both in Wellfleet, and Mac's Fish House in Provincetown. Despite its name, Mac's Shack is the company's "cloth-napkin" place, complete with a full sushi and raw bar. Mac's on the Pier is the company's clam shack on Wellfleet Harbor, where you can snag a plate of local whole belly clams or Wellfleet oysters and eat them outside at a picnic table on the beach. Mac's Fish House in Provincetown has a similar menu to Mac's Shack and also offers a full sushi and raw bar.
(Mac's Shack, 91 Commercial St., Wellfleet; Mac's on the Pier, 265 Commercial St., Wellfleet; Mac's Fish House, 85 Shank Painter Road, Provincetown)
If Copps is in the mood for pizza on the Cape, she heads to Hyannis's Pizza Barbone, where she said the pizza is delicious and the salads are fresh.
Owners Ali and Jason O'Toole grow vegetables and herbs used in the restaurant's dishes in both a restaurant rooftop garden and in their home garden in Cotuit, Ali O'Toole said. Between their two gardens, the couple harvests different types of lettuce and beans, squash, tomatoes, herbs, and more.
"It's always been super, super important to be as local as we can and make  things from scratch," she said.
Though the tomato sauce for the pizza is made with San Marzano tomatoes from Italy to meet Neapolitan pizza specifications, the local tomatoes they grow wind up in salads and other dishes, she said.
Copps said she has her own method for eating the restaurant's salads: She dumps them over her pizza.
"To me, pizza with a salad right on top of it is one of God's greatest gifts," Copps said. "It's a life changer."
(390 Main St., Hyannis)
Sometimes Copps hops the ferry from Woods Hole to Martha's Vineyard. When she does, the trip usually includes a meal at Quicks Hole Taqueria in Woods Hole.
"It's small, it's bustling, it's fresh, and it's great because it's right by the Woods Hole ferry," she said.
According to owner Beth Colt, the restaurant's dishes — including the quahog chowder, salsas, and roasted meats — are prepared from raw ingredients daily, and the ingredients come from local farms, such as Morning Glory Farm in Edgartown and Nobska Farms in Woods Hole.
Copps said she doesn't have a specific dish she always orders, but knows that whatever she orders will be fresh and delicious.
(6 Luscombe Ave., Woods Hole)
Brunch at Spindler's in Provincetown means "morning salad" for Copps.
"That chef has strong ideas about how food should taste and where food should come from," she said.
Chef Liam Luttrell-Rowland begins each workday by handpicking ingredients from local farms and gardens.
"Picking Cape ingredients [is] what drives the dishes at Spindler's," Luttrell-Rowland said. "It's the framework we use to start our creative process."
The morning salad is made with salad greens, red quinoa, grilled asparagus, a soft-boiled egg, and beets, and is served with a bacon biscuit. This time of year, Luttrell-Rowland adds pickled rhubarb from his own Wellfleet garden to the morning salad because it's in season, he said. The chef routinely stops at Cape Cod Organic Farm in Barnstable on his way to work for items such as the salad greens, asparagus, and beets found in the dish. Once he arrives at work, he continues to collect herbs for various dishes by walking to a nearby friend's garden, he said.
"I really appreciate people that are reaching out for local food," Luttrell-Rowland said. "Because that's one of my goals and something I put a lot into."
(386 Commercial St., Provincetown)
Planning a special night out? You can't beat Twenty-Eight Atlantic, the signature restaurant at the Wequassett Resort & Golf Club in Harwich, for fresh food served in a gorgeous atmosphere, Copps said.
"The chef there, James Hackney, is so talented, and he's totally taking local seasonal food and making it beautiful," she said.
She said it's hard for her to pick a favorite dish because the restaurant's menu is constantly changing. One of Hackney's newest creations involves local cod: an ash-roasted cod loin with milk-poached salsify (a root vegetable belonging to the dandelion family), with toasted garlic and spinach. The dish includes an oyster mayo made from poached Chatham oysters.
"It's really beautiful and sophisticated food," she said.
As a bonus, guests dine beside eight-foot-tall windows that offer a panoramic view of Pleasant Bay.
"Anytime you can eat where there's a water view, it just opens up your senses," Copps said.
(2173 MA-28, Harwich)