Travel
20 things to do for under $20 on Cape Cod
Visiting the Cape? You don't have to spend a lot of money. Here are ideas for what to eat, where to shop, and more.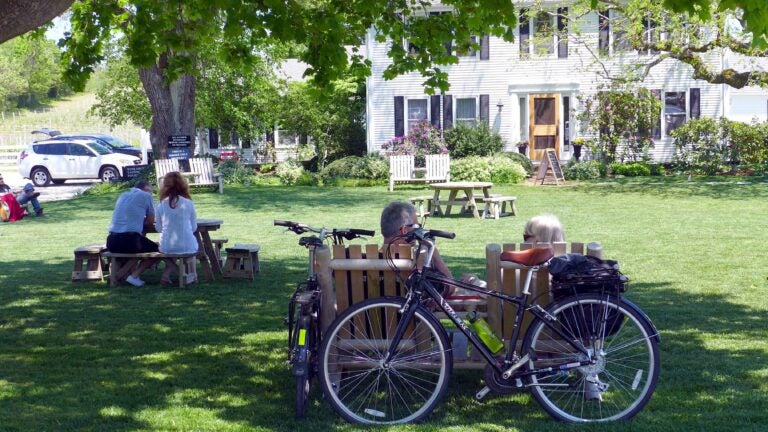 Cape Cod's cottage-lined streets, seafood shacks, and miles upon miles of sandy beaches make it a favorite summertime destination.
"I think once people are here, I think the pace of life is appealing to them and it still has a certain charm to it," said Rob Slavin, owner of Cobie's Clam Shack in Brewster.
But spending time on the Cape doesn't have to cost a lot. Ahead, discover 20 things to do for under $20 while visiting Cape Cod.
Food + Drink
If you're in the mood for a lobster roll, you can snag one for $16.95 at Cobie's Clam Shack in Brewster, which recently was named one of the 10 best clam shacks in New England by Yankee Magazine. The roll is made with all knuckle meat, said owner Rob Slavin, who's been at the helm of the 70-year-old restaurant for the past 33 years. "We try to be what we think is very reasonable for the kind of food we serve," said Slavin. "We're conscious of people on vacation and how expensive it is." (3260 Main St., Brewster)
Wine tastings at Truro Vineyards in North Truro cost $10 and run every half hour throughout the day. Present your keepsake glass at the vineyard's outside bar for $1 off your drink, then chill in an Adirondack chair while sipping on your favorite red or white. After you're done, take a free tour of the grounds and learn about South Hollow Spirits, the vineyard's distillery. (11 Shore Road, North Truro)
You've probably tasted a bowl of clam chowder. But have you eaten the famous New England soup on top of pizza? Yes, you can bite into a clam chowder pizza, which The Boston Globe calls "bizarrely good," at Cleat & Anchor in Dennis Port. The pizza is made with the restaurant's signature clam chowder, fresh mozzarella, provolone, herbs, and bacon. (243 Lower County Road, Dennis Port) 
Sip five different styles of beer at Cape Cod Beer in Hyannis during a brewery tasting and tour. Tastings cost $6 for five 3-ounce samples, and you'll get a souvenir glass, too. During the summer months, you can relax under the (dog-friendly!) beer tent and order hot dogs from a truck. (1336 Phinney's Lane, Hyannis)
Sundae School, a nationally recognized ice cream spot with locations in Harwich Port, Dennis Port, and East Orleans, has plenty of flavors that range from chocolate to orange pineapple to pistachio. The 42-year-old shop prides itself on making small batches of the homemade treat using the freshest ingredients. (381 Lower County Road, Dennis Port; 210 Main St., East Orleans; 606 Main St., Harwich Port)
Chef Liam Luttrell-Rowland handpicks ingredients from local farms before cooking the dishes at Spindler's in Provincetown. The morning salad, made with greens, red quinoa, grilled asparagus, a soft-boiled egg, and beets, comes highly recommended by Cape Cod cookbook author Annie B. Copps. It's served with a bacon biscuit. (386 Commercial St., Provincetown)
Outdoor Activities
Here's your chance to climb the lighthouse featured on the bag of Cape Cod Potato Chips. That's right, you can climb to the top of Nauset Light in Eastham, a red, white, and black lighthouse that's become an iconic symbol of Cape Cod. You can also visit the lookout room and learn about the structure's history. The lighthouse, built in 1877, is free to tour between May and October. (120 Nauset Light Beach Road, Eastham)
If your lack of two wheels is the only thing keeping you from biking the Cape Cod Rail Trail, you can rent a bike at the Dennis Cycle Center. The center is located right off the 22-mile paved trail that snakes through six Cape towns. A four-hour rental costs $18. Then you're free to pedal to the 1,900-acre Nickerson State Park in Brewster and explore the wooded trails and ponds. (249 Great Western Road, South Dennis)
Soak up the sun on one of the best beaches in the country, according to Dr. Beach, a coastal scientist who has ranked America's beaches for the past 27 years. He named Coast Guard Beach in Eastham, which is part of the Cape Cod National Seashore, No. 5 among the top 10 beaches in America in 2018 due to its "spectacular view" and the fact that it's accessible by bike or shuttle bus from the Salt Pond Visitor's Center. (Ocean View Drive, Eastham)
Grab a seat on a ferry and enjoy the ocean view during a quick cruise to Martha's Vineyard. Make landfall at Oak Bluffs, where you can window shop and take selfies in front of the fairy-tale-like gingerbread cottages. You can even bring your pet on the ferry, free of charge. Round-trip Steamship Authority fares for adults start at $17, and the ride takes 45 minutes. (1 Cowdry Road, Woods Hole)
If you enjoy birding, you can grab your binoculars and trail a naturalist on a two-hour morning bird walk along a trail at Mass Audobon's beautiful Wellfleet Bay Wildlife Sanctuary overlooking Wellfleet Harbor. Not into birds? Choose from plenty of other nature experiences, such as a 90-minute hands-on habitat program where you can discover the different critters that live in the sanctuary's forests, marsh lands, and more. (291 State Highway, Route 6, South Wellfleet)
On summer nights at Herring Cove Beach, which is part of the Cape Cod National Seashore, you can bring a chair or sit in the sand as you enjoy a free summer concert series. This season, various bands and musicians are playing everything from funk to rockabilly to blues. (End of Route 6, on the right)
Arts + Entertainment
Have you ever touched a spider crab? You'll get your chance when you reach into the touch tanks at the Woods Hole Science Aquarium, the oldest marine aquarium in the country. The aquarium offers 140 species of marine animals from the Northeast and Middle Atlantic waters. Admission is free, and donations are gladly accepted. (166 Water St., Woods Hole)
Tour the sculpture garden and seven galleries featuring art by Cape Cod artists at the Cape Cod Museum of Art. Beginning August 25, you can catch a new exhibit called "Cape Waters Abstracted," featuring the abstract oil paintings of Suzanne M. Packer. The artist's work was inspired by the Cape's gorgeous water views. The exhibition runs through Nov. 18. (60 Hope Lane, Dennis)
The kids will love to check out real pirate treasure — 300-year-old silver and gold coins — discovered from the sunken Whydah pirate ship at the Whydah Pirate Museum in Yarmouth. The Whydah wrecked near Wellfleet in 1717, and the treasures were recovered in 1984. You can climb aboard a replica ship and view 18th-century pirate weapons, clothing, and jewelry. (674 MA-28, West Yarmouth)
The Hans Christian Andersen tale "The Emperor's New Clothes" has been delighting audiences since the 19th century. You can see it live at the Cape Cod Theatre Company's Harwich Jr. Theatre. The semi-professional theater, now in its 65th year, performs 10 full-scale productions each year and is currently performing this one through August 26. Tickets start at $15. (105 Division St., West Harwich)
Chatham Band Concerts on Main Street in Gould Park are an 85 year-old tradition. You can become a part of it by heading to the park on Friday nights through Aug. 29. About 6,000 people attend the free shows, according to the Chatham Chamber of Commerce. The 90-minute shows include folk dancing and community singalongs. Guests are encouraged to bring a picnic dinner. (15 Chatham Bars Ave., Chatham)
Billed as world famous, the Boatslip Beach Club's Tea Dance is a massive dance party on the deck of this lively spot every day from 4 to 7 p.m. Resident DJ Maryalice spins club and house hits and hosts themed nights that celebrate the 70s, 80s, and 90s. Admission is $5 from Monday through Wednesday and $10 from Thursday through Sunday. (161 Commercial St.)
Shopping
The Wellfleet Flea Market, billed as the biggest flea market on the Cape, has up to 200 vendors selling antiques, jewelry, clothing, household goods, and more. Just be sure to bring cash because, according to the site, many vendors won't take credit cards. You'll find the flea market at the Wellfleet Drive-In, so when the weather is nice, shoppers also have access to the facility's snack bar, beer garden, and playground. (51 State Highway, Route 6, Wellfleet)
You can pick up everything from vegetables to beef to flowers to dog treats at the Osterville Farmers Market, rated the best farmers market on the Cape in 2017 by The Cape Cod A-List. The market is located on the campus of the Osterville Historical Museum, so why not make a day of it and spend time checking out historic boats and centuries-old gardens? Admission to the museum is free, and donations are accepted. (155 West Bay Road, Osterville)