Travel
5 Rhode Island clam shacks you need to know
Sweet and plump fried clams, clam cakes and stuffies, creamy clam chowder — hungry yet?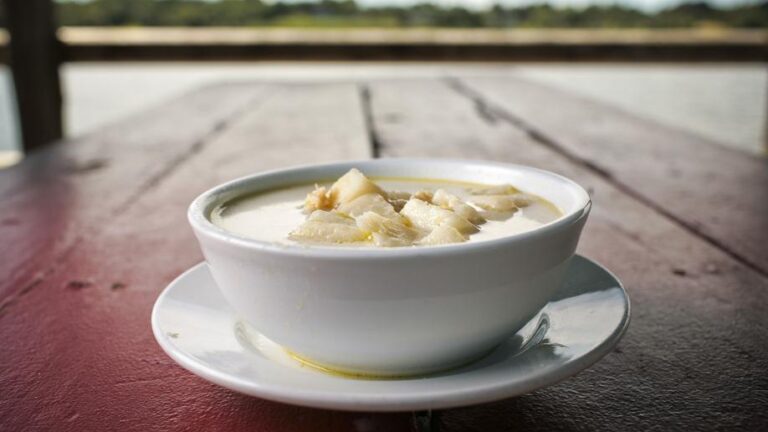 Rhode Island — home of the quahog — is known for its quintessential clam shacks. Last year, more than 22 million quahogs, also known as clams, littlenecks, cherrystones, topnecks, and more — were harvested by local shellfishermen in waters across the state, according to the Rhode Island Department of Environmental Management. From Narragansett to Newport, the state's specialities, including clam cakes and stuffies, can be found at roadside and beachfront stands that have been run by families for generations. Here are some must-try places where clams are king.
Flo's two locations are known for famous lobster rolls, sweet and plump fried clams, crisp and hot clam cakes, and creamy clam-packed chowder. The original Flo's Drive-In at Island Beach Park in Portsmouth opened in 1936 two decades after the fried clam was invented in Massachusetts in 1916, according to the New England Historical Society (because they knew a good thing when they tasted it). The Middletown spot is directly across the street from popular Easton's Beach, where sunbathers soak up some rays, then fill up on fried goodies. (Flo's Clam Shack, 4 Wave Ave., Middletown; Flo's Drive In, 324 Park Ave., Portsmouth; flosclamshacks.com)
Blount also has two Rhode Island locations, each with its own personality. The clam cakes and chowder at Blount go together like cookies and milk; sure, you can have one without the other, but the experience is better when you dunk the crisp dough of the clam cake into the creamy chowder. Blount's is also known for its giant lobster roll with a half-pound of lobster meat tossed in dill mayo or served with warm butter on a grilled roll. The Warren location's surrounding waterfront views feature sailboats bobbing by, and there's live acoustic music on weekends on the clamshell-covered grounds. The Crescent Park location in Riverside is parked next to the historic 1895 Looff Carousel, where families can take a spin before or after enjoying a clam shack dinner on the picnic tables. (684 Bullocks Point Ave., Riverside; 335 Water St., Warren; blountretail.com)
Evelyn's has served fantastic clam cakes since 1969, but it's also known for a house specialty called lobster chow mein: Chunks of lobster meat rest in a pile of Fall River's famous crunchy Hoo-Mee fried chow mein noodles that are smothered in chow mein gravy. The beautiful pondside setting at Evelyn's means access to some of the best clam cakes and sunsets in Rhode Island. Order from the walk-up window and grab a seat at the no-frills covered picnic tables, or go for full-service at the waterside patio, where you can order from a full cocktail menu and soak up the atmosphere. Got a boat? You can even pull it up to the dock out front, then mosey on up for a meal. (2335 Main Road, Tiverton; evelynsdrivein.com)
Serving seafood in Narragansett since 1920, this fourth-generation clam shack has a history of satiating the beachgoing crowd with fried seafood, lobster dinners, and clam cakes. It all started with Aunt Carrie feeding local fishermen and campers by the beach, and it soon turned into a successful small stand near Point Judith Lighthouse that later led to the purchase of property where the restaurant is still located. The fist-sized pillowy clam cakes are handmade from scratch and best experienced alongside a bowl of chowder, while the fish and chips are made with local flounder landed in nearby Point Judith that's lightly breaded and fried and served with fries and coleslaw. Try a lobster BLT on the house-made bread for a twist on the traditional specialty. (1240 Ocean Road, Narragansett; auntcarriesri.com)
Brother and sister duo David Gravino and MaryAnn Soares named Iggy's after their dad, Gaetano Gravino, based on the nickname he gained from his license plate. The popular, family-run clam shacks are best-known for the things they can do to the humble clam: stuff it, chop it and throw it into to chowder, or dump it in batter and fry it. The two Iggy's locations are both close to the beach — steps away from Oakland Beach at the Warwick location, and a stone's throw from Scarborough in Narragansett. Be sure to grab a half-dozen doughboys, which are miniature fried doughs dusted in cinnamon and sugar, or try them in Warwick as part of a doughboy sundae, topped with scoops of ice cream, drizzled with hot fudge, and crowned with whipped cream and a cherry. (1151 Point Judith Road, Narragansett; 889 Oakland Beach Ave., Warwick; iggysdoughboys.com)
Jamie Coelho is an associate editor at Rhode Island Monthly magazine, where she edits the local food newsletter, The Dish.