Travel
The White Mountains, once threatened, are now in peak form
It's one of the great conservation stories of New England.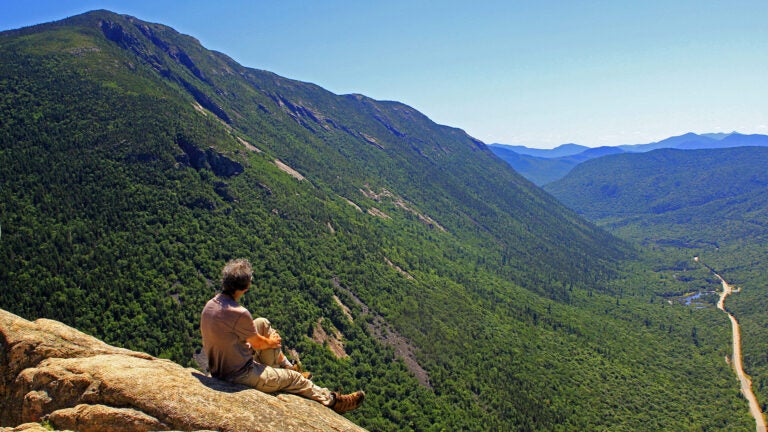 GORHAM, N.H. — A trail into the White Mountains envelops. Cedars and spruces, birches and beeches swallow much of the light of even the most brutally bright days. A cocooning canopy muffles most sounds, save for your deepening breath.
Moments here can be raw, rugged, and wholly resplendent.
Yet, much of these ancient mountains were once an exhausted wasteland.
"By 1910, well over 80 percent of the White Mountains region had been cut over,'' said David Govatski, cocurator of a recent exhibit celebrating the centennial of the White Mountains National Forest. "What a hiker would see in many cases were cut-over, burned-over hillsides in which the trail could not be found — it'd been eradicated.''
In 1903 alone, nine major fires burned 85,000 acres. In some cases, fires were so intense, the top soil was vaporized.
The results of unbridled logging were devastating on several fronts. Without the cover of trees, the snowpack melted rapidly. Floods as far downstream as Lowell were blamed on loggers. Sediments sullied the headwaters of four major rivers that course through much of New England: the Saco, Androscoggin, Merrimack, and Connecticut. Resorts watched their bottom lines go up in smoke. Even paper companies came to realize the stripping of the land was unsustainable.
In response came one of the great conservation stories of New England.
A mishmash of groups with disparate interests — hikers and artists, conservationists and CEOS, hotel operators and women's clubs and politicians and regular folks of nearby towns — banded together. National forests had been created out West, but they were generally cobbled together from lands that were already public. It was not clear whether US funds could be used to buy private lands for such a designation.
After many attempts and extensive lobbying, Congress in 1911 passed a law allowing such usage of public funds and the great land accumulation began. A hundred years ago in May, President Wilson signed a law creating the White Mountain National Forest.
Today, this designation, which allows for research and discrete logging, means this region dubbed the "Land of Many Uses'' yields its bounty in myriad ways.
"You can drive through the forest and see a truck loaded with logs, heading for the sawmill, and then you can drive by a stream and see a trout fisherman fly-fishing,'' said Govatski, tossing in images of campers snuggled deep into the forest, blueberry pickers along its byways, swimmers in a cooling brook.
And, of course, the Whites offer miles of glorious hiking. Before the fall foliage season swamps those trails with peepers, toast the centennial with a trek. Here's three favorites, of varying intensities.
MOUNT WILLARD, Mount Willard Trail (easy; 3.2 miles round trip; 900 feet of elevation gain)
In this gem of a jaunt, you can start off by diving deep into the history of Crawford Notch and end up soaring 20,000 feet above Alaska, with one of the most stunning views in all of New England as your midpoint.
Before hitting the trail, take a moment to step back in time at Crawford Depot, the onetime hub of the notch that has been repurposed into an information center near the trailhead. Learn how the railroad transformed life here from a hand-to-mouth existence to a mecca for inspiration drawing New England writers and philosophers and a string of presidents in the mid-1800s.
The Mount Willard Trail, which traverses the national forest and Crawford Notch State Park, coincides with the Avalon Trail for a couple hundred yards before it turns left. You'll find the slope easy to moderate, the blazes plentiful, and the footing generally good. If it's a weekend and if you did not get an early start, you'll also find plenty of company. This hike is particularly popular with families.
Much of the upper trail is a vestige of a carriage road. Near the summit, it opens spectacularly into a series of ledges, hundreds of feet to each side. They are the stage for one spectacular, 270-degree view of Crawford Notch. High and hard to the left, fabled Mount Washington looms. Bracketing the notch are Mount Webster, carpeted in pines and spruces, and Mounts Field and Willey, each pocked with granite faces shorn of life, except for the occasional rock climber.
If you got an early start, these ledges afford transcending solitude. Juking butterflies abound and hawks and ravens silently glide past the ledges' edge, knee high to you but 1,000 feet above the valley floor. If you pack some adventure, move toward that edge — the updrafts will jostle your hair, as well as explain how those birds can stay aloft with barely a twinge and tilt of their wings.
On your descent, about a half mile from the end, take the junction to Centennial Pool. Dip your hat or bandana in the tumbling waters and dab away the heat from your face and neck while offering up a birthday greeting for the forest's 100th.
At trail's end, veer left toward the Appalachian Mountain Club's Highland Center and visit its Brad and Barbara Washburn Room. The Washburns were mountaineering royalty. And in addition to Bradford Washburn's work building the Museum of Science and summiting mountains before anyone else, he was a brilliant aerial photographer. Grab headphones and a recording from the desk at Highland and have Brad's voice join you as you circumnavigate this gallery of epic black-and-white images. Although most of the images are from his Alaskan expeditions, a few call out from his favorite backyard: the Presidentials.
SOUTH MOAT, South Moat Trail (moderate; to Middle Moat, 6.2 miles round trip, 2,350 feet of elevation gain)
"Just gorgeous. Look at that! Let's take the pic of us over here with that background.''
"No, let's take it with Mount Washington, over there, in the back.''
"Well, hold on, how about over . . .''
Welcome to 360 degrees of Kodak (now iPhone) moments atop South Moat.
Mount Chocurua dominates the southwest horizon; the Pemi Wilderness wows in the west, with majestic Mount Lafayette beyond; the Presidentials punctuate the northern landscape; and the villages of Conway carpet the east, with iconic Cathedral Ledge looking like little more than a footstool below.
Because this summit is not one of the White's much-traveled 4,000-footers and its trail is a bit off the beaten path — a covered bridge over the Swift River is your portal to a 4.5-mile slow ride from the Kancamagus Highway to the trailhead — you won't have much company competing for such views.
The trail starts out very un-White-Mountain like — wide and largely free of those ankle-mangling rocks and roots. But after a mile, you'll know you're solidly in the Granite State, clambering up ragged ledges. If it's late summer and gravity or the heat or your aching muscles bring you down, take 10 minutes to forage: Abundant bushes offer fistfuls of blueberries. They're tiny but super sweet and sun-warmed.
Once fortified, the final ascent to the summit is yours. Revel in the head-twisting views. If ambitious, you can travel the ridge north toward Middle Moat, another half mile, for peek-a-boo views.
This is one of those spots to reflect on how far the White Mountains have come. A walk here 140 years ago would have revealed an apocalyptic scene: a scorched ridgeline and summits, struggling to recover from a massive fire in 1870 that was so intense, the topsoil was rendered infertile; the valleys and mountainsides below were denuded from logging.
If you are able to leave a car near Cathedral Ledge, you can traverse the entire ridge, over North Moat. The descent takes you past Diana's Baths, nature's whimsical swimming hole. Splash off a bit of the mountain and soak your feet in the whirling waters.
MOUNT ADAMS (advanced, Lowe's Path up, various trails down; 9.5 miles round trip, 4,450 feet of elevation gain)
The second-highest mountain in the Northeast, Adams is second to none in sheer, stripped-to-the-aching joints joy.
You'll need to park at Lowe's Store and gas station ($1 fee) and walk 100 yards to the trailhead. Before your pulse can begin to pound, you'll encounter a sign that says, essentially, you're rattling the bones with the undertaker if weather conditions are not ideal and you are not in strong physical shape. It's a fair warning and a reminder that a day that's clear and warm in Boston could feature trail-stealing fog or hurricane-force winds or lightning atop Adams. Do your research; the site to check is the higher summits forecast put out each morning by the Mount Washington Observatory.
The first two miles of the path feature gentle slopes, first in dense hardwoods, then mainly in evergreens. Once you're near a shelter at 2.4 miles, the terrain turns aggressively steep.
At about three-quarters of the way up, the path shrugs off the shrouding trees, revealing horizon-to-horizon views. You are on the "Rock Pile,'' arguably the most primally beautiful place east of the Mississippi. Life on parts of the pile is essentially limited to lichen, organisms that clutch upon the rocks.
At times, Lowe's Path here is nothing more than strewn, jagged, sometimes wobbly rocks. Underfoot, flicks of mica sparkle from the granite rocks. Above, whispy clouds race past the summit.
The first summit, Abigail Adams, is a false one. At the top, remember the ladies, in this male-dominated Presidential cluster of named peaks.
After descending to a col, Lowe passes the pyramid-constructed cairn at Thunderstorm Junction. This is a good time to look across the skies for any darkening clouds; there's perhaps no place on Earth you're more likely to be zapped out of your mortal coil than here, were a storm to pass.
The last half mile is nothing but rock-hopping to the summit. Remember to pack a long-sleeved shirt or jacket; even on the hottest days, the summit can be chilly and wind-swept.
It is also stunningly spectacular. Unlike Washington, where you often need to join a queue up the true summit with folks who drove up the Northeast's highest mountain, Adams offers solitude. Find your own cubby in the mystical rocks, one that shelters from the wind but not from those multistate-province views.
As you descend, think of this: The summits of Adams and nearby Madison and the mile or so between them were part of the second parcel bought to create the national forest, in January of 1914. Declared barren by sellers, the Berlin Timberland Company, they were sold for about 11 bucks an acre in today's money, estimates Govatski, who is retired from the forest service.
To add more variety and views, take the Spur Trail on the descent. This hugs the edge of magnificent King's Ravine. Stop at Crag Camp, which is perched above the ravine, and take a breather. It provides an excellent view of the glaciated headwall of the ravine. Voices from the valley "Subway'' — essentially a subterranean jungle gym of rocks and ice — waft up 2,000 feet.
The Spur takes you to Randolph (right), then King's Ravine Trail (left) to Lowe's (right). It's a bit of a zigzag but most of these trails hug Spur Brook, with its beguiling cascades, pools, and falls.
At journey's end, reward yourself with dinner at Saalt Pub, in Gorham, hands down the best dinner spot in the northern Presidentials. The owners offer their takes on exotic fare with origins from afar, mainly Cambodia and Italy, all made with input and ingredients from local farmers. And raise a centennial birthday glass to the White Mountain National Forest: One of its first headquarters was on the floor above you.