Travel
Here's what experts are saying about the 2018 fall foliage season in New England
"Sometimes cloudy days actually allow better pictures, because the colors can pop against the gray."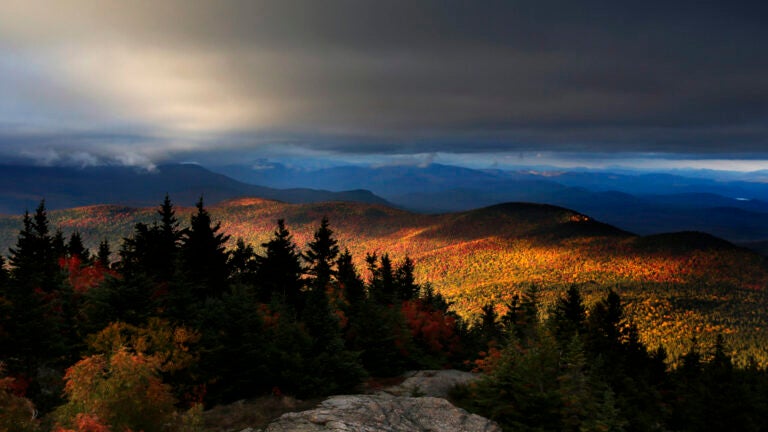 It's beginning to look a lot like leaf-peeping season.
With flashes of color starting to emerge amidst the leafy green of New England's landscapes, local experts say the 2018 fall foliage season is getting underway.
Meteorologist David Esptein said so far there's "not a lot of color," but scattered pops of yellow, red, and orange are starting to appear.
The important thing to remember, he said, is that while the vibrancy of the foliage is a little bit different each year, for the most part, there will always be color as the leaves change.
"Some years are just spectacular and other years are just sort of mediocre," Epstein said. "It's basically a function of have the trees had adequate moisture during the course of the year, how much disease is there on the trees, and then you really want — ideally — cool nights and mild days heading through the foliage season. If you get a lot of really cold air, like temperatures down in the teens and 20s, that's not good. Also if you get a lot of really warm nights then it can kind of mute the colors a little bit."
The worst thing that could happen weather-wise is a windy rain storm around the height of the foliage, which would take all the leaves down, he said.
"Any nice weekend once we get into early-to-mid October, any nice weekend around the area you're going to be able to go driving around and find great foliage," the meteorologist said.
Here's a look at what Epstein and other experts are saying about the foliage in a few of the New England states.
Maine
Gale Ross, the state's fall foliage spokesperson, said she expects Maine will see a "typical" color-changing season. Heading into the last weekend of September she said the fiery colors have "started popping out."
"I'm in the capital district, and, boy, I noticed 40 percent color change just from last week," she said.
Recently, Ross said she and her colleagues had been seeing some trees dealing with stress from the summer's dry conditions. But lately that stress has lessened as the weather has transitioned to cool nights and seasonably warm days.
The foliage now seems to be "on track," she said.
Ross advised those interested in leaf-peeping in Maine to start up north and then as the weeks go by to drop down into the central, western, and southern parts of the state.
"I wouldn't be surprised if we started seeing near-peak conditions up in northern Maine this weekend into the first week of October," she said. "And then the progression will go from north to south, and we'll start seeing peak, near peak, anywhere from the second full week of October into the third week of October."
Ross said the recent frost in the northern part of the state is what signals to her that the region is heading toward peak color.
"It's Mother Nature's way of starting to put her trees to bed," she said.
The state tracks the changing of the leaves with weekly reports and an updating map.
New Hampshire
This year is expected to be a favorable year for foliage in the Granite State and the rest of New England, according to Heidi Asbjornsen, associate professor of natural resources and the environment in the University of New Hampshire's College of Life Sciences and Agriculture.
"This year has been relatively wet, with the exception of periods of moderately dry conditions and periods without substantial rainfall between May and July," the scientist said in a press release. "Certainly, in August we saw frequent rainstorms and overall wet conditions. We also experienced unusually hot and humid conditions this year, but in general, rainfall and sunshine tend to be more important factors determining fall foliage colors than temperature. Leaves also have remained relatively healthy this year, due to a lack of widespread pest or pathogen outbreaks, which would tend to support more favorable fall foliage."
According to the state's foliage report, the White Mountains are already "showing signs of a stunning season," and, with the weather forecast, the color change should be quickly developing in the state.
"For the most part, we are still waiting for the foliage season to get underway in New Hampshire," the state said. "Your best bet to finding fall color right now is in Great North Woods, where the leaves are about 30-40% changed."
The state is tracking the foliage this season on its website in a color-changing map that will alert visitors to where "moderate," "peak," and "past peak" leaves can be seen.
Vermont
The recent waning day length, gentle rain, cool nights, and bright, sunny days in Vermont have triggered the start of fall foliage in the Green Mountain State, according to Michael Snyder, commissioner of the state's Department of Forests, Parks, and Recreation.
"We're seeing kind of pale green," he said. "But as the greens fade, pockets of really nice bright yellows, certainly, and little bits of red and orange [emerge] here and there. So as we move through the next few weeks as long as we have this sort of favorable seasonal weather, then we can expect it to expand from north to south, from high elevations to low elevations, and to increase in intensity and vibrancy. But we're still in the early stages."
Synder said since there has been some lingering summer conditions, he expects early October is when so-called "peak foliage" could be present in most of the state.
"Everything is pretty well in place but the weather over the next few weeks will really determine how it progresses from here," he said. "If we get that seasonal fall weather, those kinds of crisp sunny days but cold nights — not too freezing though — and a little moisture, which is needed, but not too much to blow all the leaves off the trees — if we have those conditions developing, then I'd say we're looking at normal development."
Even though the state has experienced "moderate levels of drought" this year, Snyder said he doesn't expect the conditions have stressed the trees enough to have a dampening effect on the foliage.
"What we've noticed at least anecdotally for many years is that that level of dry condition can actually enhance the color," he said.
However, there are pockets of defoliation in the state, particularly in the northeast, due to insects like the maple leafcutter.
Those interested in tracking the changing colors, can sign up for email updates or check out the department of tourism's "foliage forecaster" map.
Massachusetts
Epstein said he thinks those who have planned to do their leaf peeping over Columbus Day weekend may find themselves a little disappointed.
"Columbus Day is a little bit early this year, and the foliage is a little bit late," he said.
Exactly how quickly the color begins to burst forth will depend on the weather in the next 10 days or so, Epstein said. Extended warm weather would be "horrible for the colors."
"You really need some of those crisp nights where the temperature goes down into the mid 30s to mid 40s, days get into 50s," he said. "That's going to bring those colors on in a quick way."
Generally, Epstein said the western part of the Bay State tends to see peak foliage in the middle of the month, with the full color moving east and along the coast. The South Shore usually sees peak foliage during the last week of October, the first week of November.
But the meteorologist cautioned against saving your leaf peeping for the so-called "peak" foliage.
"Peak is determined when most of the leaves have turned," he said. "But when you get to peak, a lot of the brighter colors have already gone past peak. I always encourage people, don't focus on that term, peak. Because when you get to peak some of the early maples have dropped their leaves already."
The weeks between October 10th and 25th it will be easiest to find great color, Epstein said, but there will still be trees changing — and stunning color — in early November. It just might not be as easy to find.
"This idea that, 'Oh we missed the weekend,' it's just silliness," he said. "It's a way that the tourist industry markets things. But [if] you drive around and you want to see some beautiful trees, you're going to be able to see beautiful trees. Already even around here, occasionally, you get a tree."
Overall, Epstein said it won't be impossible to find beautiful colors until all the leaves are down, and he said foliage fans shouldn't be discouraged from taking in the colors on otherwise dreary fall days.
"Sometimes cloudy days actually allow better pictures, because the colors can pop against the gray," he said.