Travel
Get thinking about next summer's oyster farm tour
Add these New England farms to your summer bucket list.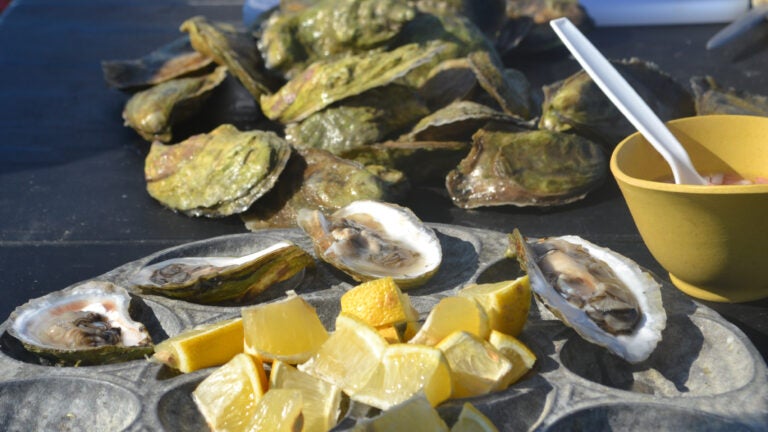 "An oyster is the perfect embodiment of where it's been grown. It's all about the terroir,'' Abigail Carroll, owner of Nonesuch Oyster Farms, told us as we stood on the harbormaster's dock in Scarborough, Maine. We were surrounded by a watery wilderness of nutrient-rich saltmarshes and vast mudflats, fed by the fresh waters of Scarborough and Nonesuch rivers, and cleansed by the constant ebb and flow of the open ocean tides.
"The marsh gives our oysters a distinctive brine and sweetness,'' Carroll explained, as she held up a beauty: a midsize emerald green oyster, raised free range, on the bottom of the riverbed. "Of course, the tides matter, too. The briniest oysters I ever tasted were pulled from a very high tide. Oh my; they're tasting the tide, I thought, when I ate them. But, at low tide — they're the sweetest.''
We'd signed up for the Nonesuch Oyster Farm tour, which began at the docks, where Carroll keeps her seedlings growing in underwater cages. Some of these will be finished in bags in the river, floating near the surface, dubbed Abigail Pearls. Others, known as the Nonesuch Emeralds, will grow free range on the bottom of the river. It's a tough business; Carroll bought some 1.4 million seeds this year and expects to lose up to 50 percent of them. "It's been an adventure,'' she says of the company she started eight years ago. "We've learned a lot of lessons the hard way.'' Today, Nonesuch also offers a line of sea-based skin products. "We had a lot of death on the farm; I thought we should at least use the shells,'' she says.
We didn't see the death as we motored out on Carroll's working skiff, down the river through the Heath Nature Preserve. Instead, there was life everywhere in the swaying sea grasses lining the brackish waters. Seabirds flew overhead and scoured the mudflats; fishermen and women casted lines; families walked the beaches and rocky coves; crabs scurried in the shallow waters.
The oyster farm is set up on a grid pattern, lines of bags stretching across some six acres of water. Buoys are named after New York City parks, where Carroll once lived (a far cry from her life now, she admits). Each line is named after a superhero. We passed the Catwoman and Batman lines, and drifted among the sand bars, along the other strings of bags and bins. When the oysters are ready to harvest, typically after three years, they're stored in floating gray bins, each containing about 300 oysters. On average, Nonesuch harvests 6,000-12,000 oysters a week from these bins, depending on the season, which are then sold to local distributors. Most end up at top restaurants throughout the Northeast.
Ed Jacobs, our captain tied up to a line and scooped a bucket of fresh, ready-to-eat oysters. He demonstrated the proper shucking technique ("Give it a try!''), cut fresh lemons, and made a quick mignonette. "You should have brought your own drinks,'' Jacobs said. "You always do BYOB on these tours.'' Well, had we known . . . but the oysters were delicious. Thick, delicate meat, not too briny, fresh and tender, and we ate as many as we wanted.
We slowly motored back to the dock, surrounded now by acres of newly-exposed mudflats. The tide was receding. No wonder those oysters were so sweet. For more information, contact Nonesuch Oysters, 207-749-5585, www.nonesuchoysters.com. Tours are about 1½ hours, $65 per person.
Here are a few other oyster farms to visit in New England next summer.
Hummock Island Oyster Co.
This small startup farm in Westport, Conn., is a pretty place to visit, located on a tidal salt pond on Hummock Island, owned by the Northrop family since 1857. The pond dates back to 1741, when it was awarded as a grant from the British king, and the house was built in the mid-1800s. Today, father-son duo Jeff Northrop and Jeff Northrop Jr. run the business.
You'll travel by wooden fishing boat across Sherwood Mill Pond to the island and visit the family home to learn about oystering and aqua­culture in the region. You're free to explore the tiny island and take part in shucking lessons. Bring your own beverages for the tasting, held on the front porch overlooking the farm's hundreds of cages. 203-340-1311, www.hummock island.com; tours are about 1½ hours, $75 per person.
Island Creek Oysters
If you like being on the water, and enjoy fresh, briny oysters on the half shell, it doesn't get much better than this. The company is well-established and its oysters appear on menus at top restaurants throughout New England and New York, and beyond. You'll meet at the headquarters in Duxbury, where you'll be transported to the hatchery to see how seedlings are cultivated and how algae is grown to feed the oysters. You'll get lots of information about the business while you're at the headquarters and on the short, 10-minute scenic boat ride to the farm on Duxbury Bay. You'll return to its newly opened raw bar for shucking lessons and your fill of oysters. Enjoy the coastal views, while you sample (gorge on) the tasty, just-harvested bivalves. 781-934-2028, www.islandcreek oysters.com; tours are about two hours, $90 (includes a gift bag with a shucking knife and discount coupons).
Chatham Shellfish Co.
This longstanding oyster farm is one of the most established and well-known on Cape Cod. You'll begin your tour at its facility on the banks of the Oyster River, a historic, scenic river once lined with rich oyster beds. Tour guide and oyster guru Stephen Wright is a fountain of knowledge on oyster lore, historic farming, and current aquaculture. You'll see the distribution center (these oysters travel to tables around the world), and where the seedlings first begin to grow. The fun part: board the oyster barge for an upriver journey to the farm on Oyster Pond. You'll see the beds and harvest your own oysters to enjoy later at a private raw bar set up on the river. 508-241-7503, www.chathamoysters .com; tours last about an hour or so, $100 per person.