Travel
Here's your October day trip guide to spooky Salem
Get Witch City tips for eating, touring, and exploring.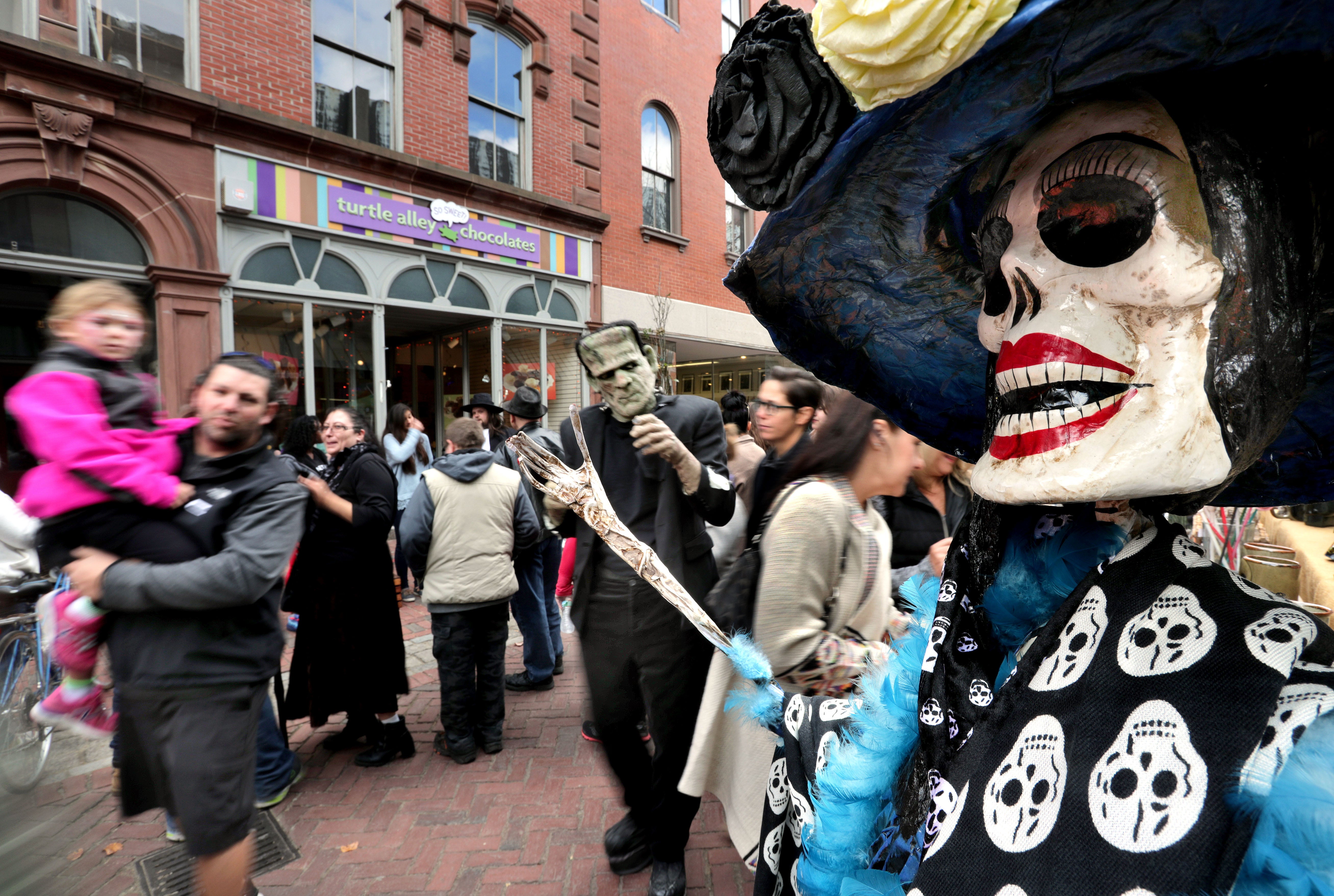 If you're looking for a festive, seasonally appropriate day trip this month, you'd be hard-pressed to find a New England spot that celebrates Halloween as thoroughly as Salem.
Located 16 miles north of Boston, Salem welcomes more than half a million visitors during October for its monthlong Haunted Happenings, according to Kate Fox, director of Destination Salem, the city's office of tourism and cultural affairs.
"It's really fun," she said. "There are people from all over the world who come to Salem, and there are costumes, and it's just a great, huge celebration of Halloween that runs all month long."
This map of downtown Salem, along with the following recommendations from Fox, will help you plan your day of adventure in Witch City.
How should I get to Salem?
"Our first recommendation is to take the train or the ferry," Fox said. "Parking is at such a premium. The commuter rail brings you right downtown, and everything is walkable."
It takes 30 minutes to get to Salem from Boston's North Station on the commuter rail, Fox said, and 55 minutes from the ferry from Long Wharf.
Visitors can get information about the train and ferry on the Haunted Happenings website.
Where should I eat?
You'll find a list of Salem restaurants on the Haunted Happenings website, broken up into delis, pizza, and sandwiches, restaurants and bars, and sweets and treats.
"A lot of the restaurants won't take reservations in October," Fox said. "So if there's somewhere you really want to be, then check with them ahead of time. … In October, we like to tell people when you are coming to Salem for Haunted Happenings, make sure you bring a bottle of water and a granola bar, because there's going to be a wait wherever you go."
For an incredible view with a side of lobster rolls and New England clam chowder, head to Sea Level Oyster Bar, Fox said.
The Hotel Salem plays host to two restaurants worth checking out: Counter and The Roof.
"If you're looking for a burger and a beer, Counter at The Hotel Salem is a great bet," Fox said.
The Roof, which serves cocktails and wine, tacos and ceviche, is Salem's only restaurant with rooftop dining.
"On a beautiful night, it's the only place in Salem like it," Fox said.
For families traveling with kids, Fox recommended Bit Bar, a restaurant and classic arcade in one, and Brothers Taverna, which serves sandwiches, pizza, and also baked haddock. Plus, the tavern has a children's menu full of kid favorites such as chicken fingers and mac and cheese. Fox said families should consider heading to Red's Sandwich Shop, as well, located in the historic London Coffee House, for chocolate chip pancakes, BLTs, and roasted turkey dinners.
For a sweet treat, Fox suggested taking the kids to Mr. Crepe, where you can top gourmet crepes with apples and cinnamon, marshmallow fluff, and raspberry jam.
How can I experience the best of Salem in just one day?
"A walking tour is going to point out the significant locations in Salem," Fox said. "We've got 400 years of stories. Each of the tours tells different stories."
She recommended checking out Black Cat Tours, which hosts both daytime and nighttime tours.
The day tour, which begins at 2 p.m., takes guests into cemeteries, past architecture, and to the waterfront. The night tour begins at 8 p.m., and it's full of ghost stories and tales of the Salem events that inspired authors such as Nathaniel Hawthorne. Both tours last between 90 minutes and two hours.
Another excellent tour, according to Fox, is Haunted Footsteps, the city's oldest walking tour company. Guests go on a 90-minute, lantern-lit stroll through Salem, led by costumed guides who discuss Salem's macabre past, paranormal activity, and centuries-old murders. The tour begins at 8 p.m.
Fox strongly suggested booking tours ahead of time because, she said, they can sell out during the busy month of October.
Which Salem witch trial destinations must I visit?
For one, Fox said to check out a performance by History Alive, a historically-themed theater company from Salem that reenacts the trials.
"The audience is the jury, so it gives you a unique perspective of what happened in Salem in 1692," she said. "You have an opportunity to cross-examine the characters from the trial and understand what it was like to be part of the whole witch trial hysteria."
The event runs seven days a week at the Old Town Hall.
Of course, you'll also learn a lot about the witch trials at the Salem Witch Museum, Fox said. You'll discover what happened in 1692 and examine the evolving perceptions of witches in our society.
At the House of Seven Gables, best known through Nathaniel Hawthorne's 1851 novel of the same name, visitors can watch the dramatic performances "The Legacy of the Hanging Judge" and "Spirits of the Gables."
"They're ghost stories, so there's a little bit of mystery," Fox said. "Both take place on the property of the House of the Seven Gables. They've been doing 'Legacy' and 'Spirits' for years. They're perennial favorites."
Which Salem activities are appropriate (and fun!) to attend with my kids?
If you're taking kids to Salem, you can catch a free family-friendly flick every Saturday night at Charlotte Forten Park, Fox said.
There's also plenty of midweek enjoyment for families during "Wicked Wednesdays," which includes crafts, face painting, costume parades, characters, music, and interactive events geared toward kids ages 12 and younger.