Travel
Boo! Unleash your Halloween spirit with these New England haunts
Here are some ways to keep the scares going all week.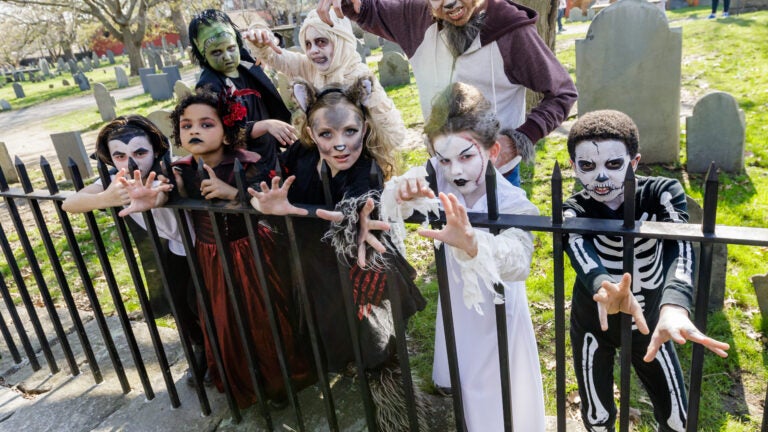 The scariest part of Halloween may be that your little monsters are already in their costumes, clawing at the walls, raring to get their scare on. Don't fear. Here are some ways to keep the scares going all week. (Call ahead or check online before loading the car, as hours and days vary with seasonal spots.)
HISTORIC HAUNTS
OK, so the Borden house maybe wasn't the most family friendly haunt in 1892. But with "Lizzie'' in theaters, older kids might want to see where Chloë Sevigny's and Kristen Stewart's characters really lived. And Fall River's Lizzie Borden Bed & Breakfast Museum isn't just a murder scene — it's supposedly haunted. The bed-and-breakfast has been featured on the Travel Channel's "Ghost Adventures'' and SyFy's "Ghost Hunters.'' Sleep over if you dare. Tours daily 11 a.m. to 3 p.m. Free for ages 6 and under; $15 for ages 7-15; adults $20. GPS: 230 Second St., Fall River. 508-675-7333. www.lizzie-borden.com
A fun fright for the teen set: historic Old Sturbridge Village's all-immersive outdoor Sleepy Hollow Experience. On this 90-minute adventure, you'll meet Ichabod Crane, Brom Bones, and the Headless Horseman. Stay year-round at the Old Sturbridge Inn and Reeder Family Lodges. Prices vary. Through Nov. 4. 29 Stallion Hill Road, Sturbridge. 508-347-5056. www.osv.org
LIVIN' THE GOURD LIFE
Glide through the sky to see some 5,000 jack-o'-lanterns — along with views of Providence and Narragansett Bay — on the Soaring Eagle Zip Ride at Roger Williams Park Zoo. Or walk the zoo's Jack-o-Lantern Spectacular, packed with intricately carved pumpkins. This year's theme is magic, from superheroes to Harry Potter. An annual stunner for all ages, from both ground and sky. Through Nov. 4; starts at 6 p.m. Prices vary. 1000 Elmwood Ave., Providence. 401-785-3510. www.rwp zoo.org.
Closer to home, Franklin Park Zoo's Jack O' Lantern Journey boasts thousands of hand-carved pumpkins along a half-mile trail. Journey through jack-o'-lanterns, watch pumpkin-carving demos, and indulge in doughnuts, hot apple cider, kettle corn, and warm pretzels. Select nights through Nov. 4. Ticket prices vary. 1 Franklin Park Road, Boston. 617-989-2071. jackolanternjourney.com
Enter Pumpkintown USA, a non-scary daytime Connecticut campus where kids can see pumpkin people (painted pumpkins) and animals enjoying Pumpkintown life at the post office, saloon, bank, farm, etc. Hop on the hay wagon to meet more Pumpkintowners living the gourd life. Through Oct. 31. Free for ages 2 and under. Prices vary. 93 East High St., East Hampton, Conn. 860-267-0143. www.pumpkintown.com
SALEM . . . BECAUSE SALEM
The unavoidable mention here, and for good reason: The Halloween mecca is jam-packed with scares all year long. Know that Oct. 31 can be crowded and overwhelming for young kids — but, hey, this is Salem. Every day is Halloween if you will it.
There are far too many spooky suggestions to fit here. Two great resources for navigating Witch City: hauntedhappenings.org and www.salem .org.
A quick sampler: All aboard the guided Salem Trolley, which weaves by the Salem Witch Museum, the House of the Seven Gables, and more. Daily through Nov. 4; weekends in November. Free for kids under 5; $8 ages 6-14; $18 adults. 8 Central St. 978-744-5469. salemtrolley.com
Older kids can watch reenactments of 1692 witch trials with live actors at the Witch Dungeon Museum. 16 Lynde St., 978-741-3570. www.witch dungeon.com/witchdungeon .html
Sea Shuttle offers a spooky harbor tour of Salem Sound — and prize for best costume. Prices vary. Oct. 28 and Oct. 31. 888-400-0601. sea-shuttle.com
Avoid traffic by sailing Boston Harbor Cruises' fast ferry to Salem. Prices vary. Through Oct. 31. 617-227-4321. www.bostonharborcruises .com/salem-ferry/salem-ferry
BABY BOOS
Teeny trick-or-treaters too young for after-dark tricks can don costumes for daytime treats at New Bedford's Buttonwood Park Zoo. Tot fun at Baby Boo at the Zoo on Halloween day includes animal visits, costume parade, carousel and train rides, activities, costume contest, and more. Free for under 2. Kids $10, adults $15. Oct. 31, 9:30 a.m. to 1 p.m. 425 Hawthorn St., New Bedford. 508-991-6178. www.bpzoo.org
FRIGHT NIGHTS
Spooky World presents Nightmare New England in Litchfield, N.H., promises serious scares for big kids and grown-ups. As in: Stop screaming, Dad.
The creepy compound's thrills include zombie paintball, a mile-long haunted hayride, and attractions called the Colony and Festival of Fear. Plus go-karts, mini-golf, batting cages, carnival treats, fire pits, and more. A full-on enter-at-your-own-risk fright zone. Prices vary. Select evenings through Nov. 3. 454 Charles Bancroft Highway. 603-424-7999. nightmarenewengland.com
Ditto on the fear factor in Field of Screams in West Greenwich, R.I., where you might play zombie paintball, explore the Dungeon of Doom, or venture on the Dead River Haunted Hayride. Prices vary. Opens 6:30 p.m. Oct. 28 and Oct. 31. 179 Plain Meeting House Road. 401-397-2600. www.hauntedhayride.net
AMAZING MAIZE MAZES
For a subtler thrill, get lost at Sherman Farm's 12-acre maze in Center Conway, N.H. There are also hayrides, games, cider doughnuts, kettle corn, and more. (Weekends through Nov. 4. 679 East Conway Road. 603-939-2412. shermanfarmnh.com. ) Or find your way out of Escobar's Highland Farm's Corn Maze in Rhode Island. There are also hayrides and treats. If you're already thinking ahead: They sell Christmas trees. Select days through Nov. 4. 255 Middle Road, Portsmouth, R.I. 401-683-1444. www.escobarfarm.com