Travel
5 little ski resorts that are simply grand
Check out these small but mighty New England gems.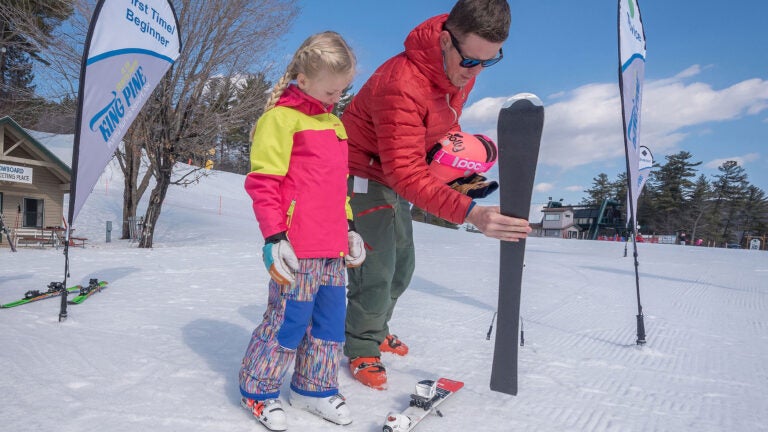 Of course, there's a place and fondness for big, sprawling ski resorts, but sometimes smaller is better. The littler resorts are often less crowded, usually cheaper, laid-back, and kid-friendly. Many have been around for decades, teaching generations of families how to ski and ride, and have fun in the snow.
Here are five small but mighty New England ski resorts, where glitter and gloss are replaced with character and charm.
Magic Mountain
Londonderry, Vt., 802-824-5645, www.magicmtn.com
There's something deliberately defiant about Magic, a mountain that prides itself on being a counterpoint to mega­resorts. It's known for its tight runs, challenging terrain, and off-piste tree skiing — an old-school skier's mountain, attracting a loyal community.
"It's all about the sport of skiing and riding here (not a bunch of ancillary amenities), and the community of people who are passionate about it,'' says Geoff Hatheway, president of Magic Mountain.
There's one base lodge, 205 skiable acres, and six lifts serving 50 marked trails. Lessons are available, along with backcountry tours. Magic Mountain was also one of the first resorts in the East to offer free uphill Alpine Touring rental equipment and lessons. You'll find plenty of elbow room, too, as the resort limits its daily lift ticket sales, including holidays, to keep lift lines to a minimum, and slopes free of congestion.
"We're a throwback to simpler times,'' says Hatheway. "You're truly taking a different road here, one less traveled by others, and for most folks in recent generations, never experienced before.''
After a day in the glades, join the counterculture crowd for lively après-ski at Black Line Tavern, located in the base lodge.
King Pine at Purity Spring Resort
Madison, N.H., 603-367-8896, www.kingpine.com
Easy does it is the name of the game at this down-to-earth resort, located about a half hour from North Conway. Family-owned for more than five generations, the friendly resort is one of the best places to learn to ski or snowboard. In fact, parents and grandparents return each year to introduce their families to skiing and riding, where they once made their first turns.
It's a small mountain, spreading across 50 acres crisscrossed by 17 trails, with names like Pitch Pine, Knotty Pine and Pokey Pine. Three triple chairs take you to the top of the 850-foot summit, with views of Purity Lake and forests in the distance. All trails, which are mostly gentle blue and green groomed runs, funnel down to the base area. There's also night skiing ($10 Tuesday nights!), tubing, ice skating, cross-country skiing, and snowshoeing, along with a roster of planned activities and special events.
The ski area is adjacent to Purity Spring Resort, with a fitness center, heated indoor pool, spa, restaurant, tavern, and a wide range of simple, clean accommodations, including traditional hotel-style rooms and suites (with private baths), two-bedroom cottages with kitchenettes, and larger condo units with full kitchens and separate living areas. Bargain-price ski-and-stay packages are offered throughout the season.
It adds up to a one-stop family ski getaway that is as easy and relaxed as they come.
Camden Snow Bowl
Camden, Maine, 207-236-3438, www.camdensnowbowl.com
This no-frills, community-owned ski resort in midcoast Maine invites you to Ski the Sea. Located on 1,300-foot Ragged Mountain, about five miles from scenic Penobscot Bay, it boasts one of the finest views in the East. Hop the triple chair to the summit to take in the mountain-to-sea views, and then take one of the impeccably groomed runs down to the base, with a couple stops along the way to enjoy the vista.
There are 20 trails spread across the mountain, mostly cat-scratched intermediate or beginner runs, but there's some diamond glade areas to play in, and nearly 1,000 feet of vertical.
The most adrenaline-pumping excitement happens off the ski mountain on a rip-roaring ride down the famous Jack Williams Toboggan Chute, one of the last of its kind in the country. The toboggan run is located steps from the base lodge. Hop aboard and hang on for the 70 or so vertical foot drop on an ice-packed trough, reaching speeds up to 25 to 30 miles an hour.
Best news: Camden is minutes away, with top-notch restaurants, shops, and accommodations that stay open all winter long.
Suicide Six
South Pomfret, Vt., 802-457-6661, www.woodstockinn.com/mountain/suicide-six-ski-area
You'll get five-star service and a country club atmosphere at this small and charming ski resort, associated with the plush Woodstock Inn & Resort in pretty Woodstock, Vt. America's first rope tow, introduced on nearby Gilbert's Farm in 1934, evolved into the opening of Suicide Six in 1936, making it one of the oldest ski resorts in the country. It's also home to the Fisk Trophy Race, the longest-running ski race in North America, and still a rite of passage for serious Eastern ski racers.
This low-key, longstanding gem has 100 acres and 24 trails, including meandering greens and intermediate blue cruisers. But a few mogul-infested, steep black runs will keep your Red Gerard wannabe teenager happy for the day, too.
No worries about losing the kids or your friends; all runs end at the rustic base lodge at the bottom of the mountain, where you'll find popular Perley's Pourhouse, with better-than-average ski resort food and a nice selection of local craft beers.
After skiing, splurge on a stay at the Woodstock Inn & Resort. Established by Mary and Laurance Rockefeller, the historic inn has luxury accommodations, fitness center, indoor pool, spa, recreation room, and free shuttles to the ski mountain, located about five minutes away.
Black Mountain
Jackson, N.H., 603-383-4490, www.blackmt.com
This historic ski resort in the White Mountains, dating back to 1935, draws a loyal following among in-the-know skiers and riders. Located in Mount Washington Valley, this near hidden gem has classic, retro-style New England skiing on 45 trails across 143 acres. The resort maintains its old-fashioned, rough-hewn charm, but has invested in snowmaking (now covering 98 percent of the mountain) and grooming, so you'll find corduroy runs from top to bottom. Looking for a little more challenge? Take the double chair to the summit to access the resort's 1,100 feet of vertical drop. On most runs, you'll have views of Mount Washington Valley and the Presidential Range, and perhaps the trail to yourself, as it's rarely crowded.
The down-to-earth ethos carries through to the rustic-but-warm base lodge, with a lively après-ski scene. Stop by Lostbo Pub for burgers and beer and live music on weekends.