Travel
Why you should visit these 6 New England mansions this holiday season
Plan a festive outing at a stunning holiday destination.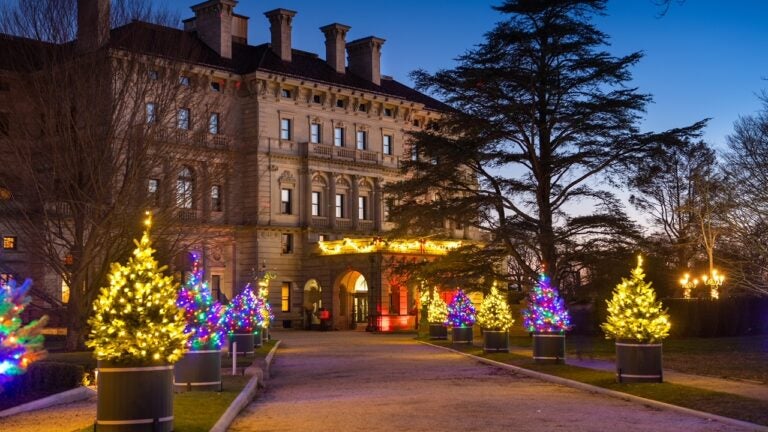 New England is full of historic mansions, and many of them host special programming during the final months of the year. Add a little luxury to your holiday season at one (or all) of these six gorgeous properties.
Keep in mind as you plan your holiday outing this year that all COVID-19 travel restrictions must be followed when crossing state lines, as well as guidance at the venues and from local officials.
View an "ethereal winter landscape" at The Mount, Edith Wharton's Home in Lenox this season. The outdoor event, called "NightWood," immerses visitors in light, sound, and color. Guests experience music, sculptures, and plenty of lights on this festive walk of the grounds. The holiday event takes place through Jan. 3, 2021 from 5 to 8 p.m. and visitors must buy timed tickets in advance. View the COVID-19 guidelines and the state's COVID-19 travel restrictions. (2 Plunkett St., Lenox)
This coastal castle is full of holiday spirit with the return of "Deck the Halls," when local small businesses decorate the property. This year's participating businesses include All Purpose Flowers of Magnolia, Garden Designs by Kristen, Audrey's Flower Shop, Harborside Interiors, and Sage Floral Studio. Visitors can see their work on guided tours on Fridays, Saturdays, and Sundays through Dec. 20. Santa will make a socially distant visit to the castle on Dec. 10 and 11. Advance registration is required for all events. Here are COVID-19 safety guidelines and the state's COVID-19 travel restrictions.(80 Hesperus Ave., Gloucester)
These already-fabulous Gilded Age mansions are dressed to the hilt for the holidays. Feast your eyes on dining rooms set with period silver and china, as other rooms burst with poinsettias and Christmas trees — including the return of the 15-foot-tall "pointsettia tree" in the Great Hall of The Breakers. For the first time ever, the exterior of The Breakers is covered in lights for "Sparkling Lights at the Breakers: An Outdoor Magical Wonderland." The mansion and its landscape, including 28 spruce trees, are lit nightly to the sounds of holiday music. Visitors can also peek into Santa's workshop inside the Children's Cottage. The Breakers and its grounds are open from noon to 8 p.m. through Jan. 10, 2021, with the lights turning on at 8 p.m. The Elms is open daily from 9 a.m. to 5 p.m. through Jan 3, 2021. Before you go,  review COVID-19 safety guidelines and Rhode Island's COVID-19 travel restrictions. (The Breakers, 44 Ochre Point Ave.,; The Elms, 367 Bellevue Ave., Newport, R.I.)
This 19th century mansion is full of holiday cheer and vintage toys this holiday season. "Christmas Playtime at the Mansion" is on display through Jan. 3, 2021. The new exhibit recreates playful times during the mansion's Victorian era when the third floor brimmed with children's toys. Visitors can view the museum's doll collection and vintage toys, as well as Christmas trees decorated with period-appropriate ornaments, a dining room set with antique silver and china, and Victorian gowns. View the COVID-19 safety guidelines and the Connecticut COVID-19 travel restrictions. (295 West Ave., Norwalk, Conn.)
Step back in time at Hildene: Once again, the 412-acre estate, built in 1905 by Abraham Lincoln's son Robert Todd Lincoln, is decorated for the holidays as it might have been in 1912. While you're there, explore 12 miles of walking trails by foot, on snowshoes, or on cross-country skis. Here are the COVID-19 safety guidelines and Vermont's COVID-19 travel restrictions. (1005 Hildene Road, Manchester, Vt.)