Travel
If you're heading to Plymouth around Thanksgiving, here's the best way to do it
"There's no place in the world where people ought to be [at Thanksgiving time] than Plymouth Massachusetts, where it all began."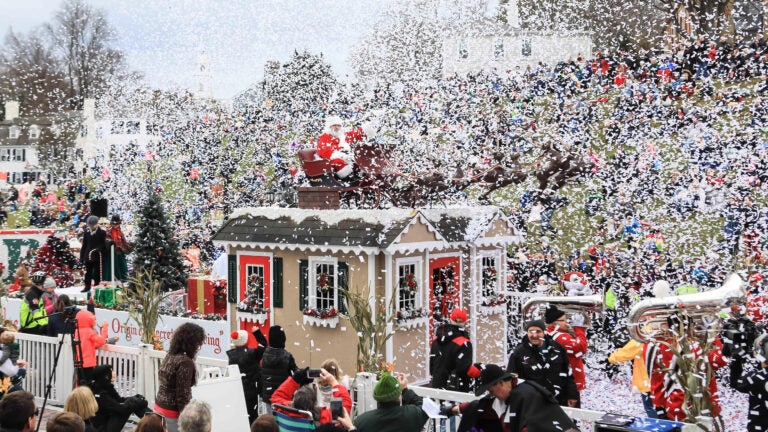 Bostonians who want to embrace Turkey Day in a massive way know where to head each season: downtown Plymouth, the iconic Thanksgiving location.
This year, organizers are expecting 150,000 visitors from Nov. 16-18, the weekend before Thanksgiving, for America's Hometown Thanksgiving Celebration, according to executive director Olly deMacedo.
"There's no place in the world where people ought to be [at Thanksgiving time] than Plymouth, Massachusetts, where it all began," deMacedo said.
If a whole town full of celebrations leaves you feeling as overwhelmed as a Thanksgiving dinner spread, we asked deMacedo to highlight some of the most exciting events taking place during this year's big weekend.
See centuries of Plymouth history come to life during the parade
The much-anticipated America's Hometown Thanksgiving Day Parade will begin at DCR Pilgrim Memorial Park on Saturday, Nov. 17 at 10:30 a.m. The parade's floats and actors will provide a chronological look at Plymouth's history from the 17th through the 21st centuries, deMacedo said.
"What makes our parade so unique is it tells a story," he said. "And the story is what drives the whole event. We have a unique story that only us in Plymouth can tell."
Eighteen floats will represent everything from the voyage of the Mayflower — with actual descendants of the Mayflower onboard — to the area's cranberry history. Visitors will see costumed reenactors, a horse-drawn sleigh, Victorian carolers, and military marching units, and hear the music of nationally-recognized drum and bugle corps. Lest you think it will be all history and agriculture, there also will be a Red Sox float in honor of the World Series champs.
This year, too, the parade will honor Martin Luther King Jr. on the 50th anniversary of the civil rights leader's death, as well as 100-year-old World War II veteran and Plymouth resident Alfred Defelice.
Santa Claus will bring up the rear.
"At the end, we have the Santa float," deMacedo said. "We just kill it with confetti. The kids go crazy."
Step back in time to 1621 along the waterfront
After the parade, guests can make their way to waterfront park Brewster Gardens to visit the event's Historic Village and Wampanoag Pavilion between 11 a.m. and 4 p.m. Actual Wampanoag descendants and reenactors dressed as Pilgrims will discuss the first Thanksgiving feast in 1621, explaining the type of food served, the people who attended, and why the meal was so important.
Inside the authentic historic village, visitors will have the opportunity to watch bakers and blacksmiths as they work and see 17th-century reenactors defend their town with spears and muskets. Guests can also chat up reenactors representing soldiers from the American Revolution, World War I, and World War II, deMacedo said.
If all that history makes you hungry, you can head to Food Truck Alley, located across the street from the historic village, where a variety of decidedly 21st-century food trucks will serve pizza, fried foods, desserts, and more, deMacedo said.
This year, for the first time, there also will be a Hometown Craft Beer and Wine Garden, open Saturday from 11 a.m. to 7 p.m.
Families can check out the Children's Pavilion between 11 a.m. and 4 p.m., where activities for kids will include crafts, photos, face painting, and a petting zoo where kids can get up close to alpacas and miniature horses.
"The waterfront is where you need to be," deMacedo said.
Follow a lighted procession down Plymouth Colony's original street
On Saturday evening, you can join a lighted procession down Leyden Street — Plymouth Colony's original street — to the waterfront. Called "Illuminate Thanksgiving," it's planned by Plymouth 400, Inc., the nonprofit organization putting together the 400th anniversary celebration of the Mayflower voyage and the founding of Plymouth Colony for 2020, and it focuses on young people and how they have the power to make a difference in the world.
Once at the waterfront, both Plymouth North High's School's Northern Lights A Capella Chorus and the Plymouth International Chorus will perform. One of the descendants of William Bradford, who served as governor of Plymouth Colony, will recite his words, "…as one small candle may light a thousand, so the light here kindled hath shone unto many…"  Organizers will also honor a person or organization who has positively touched the lives of many, and the winner of an essay contest will read his or her answer to the question, "Who illuminates your life?"
The free event will take place from 4:30 to 6:30 p.m. and begin at the National Pilgrim Memorial Meetinghouse at 19 Town Square.
Get your Thanksgiving dinner ingredients from local farmers
If you haven't bought your ingredients yet for the Thanksgiving meal, deMacedo said the Sunday farmer's market taking place from noon to 4 p.m. along the waterfront is a good place to do so.
"It's all local farmers, all locally grown and baked goods," he said.
Load up on vegetables and apple pies. Local artisans will be on hand, too, with clothing, soaps, honey, ironware, and pottery.