Travel
Flock to these turkey trots this Thanksgiving
Burn off some calories before the big meal while paying it forward.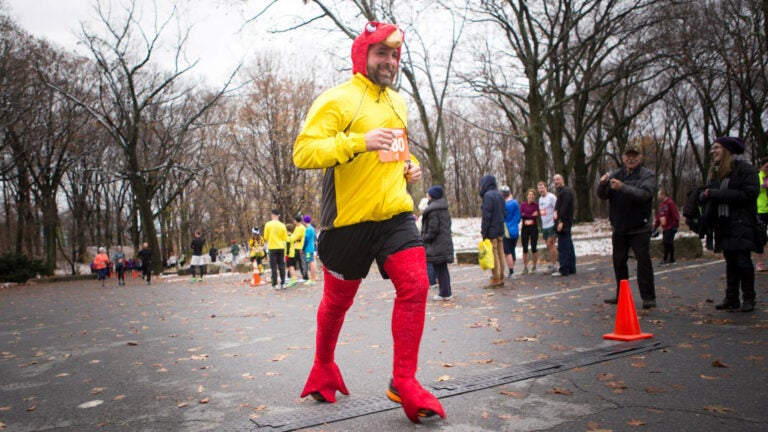 As traditional as the turkey dinner is the Thanksgiving morning turkey trot — a race for runners and walkers. And in the spirit of thanks and giving, many of these runs raise money for local and national charities and causes. Flock to these New England turkey trots and prep for the big meal by burning off some calories and paying it forward, too.
Newburyport
Maudslay State Park hosts an annual 3.1-mile cross-country Turkey Trot on Thanksgiving morning, sponsored by the Joppa Flats Running Club. Participants are encouraged to donate a can of food to help stock Our Neighbor's Table in Amesbury and Salisbury food pantries. The gravy: Runners can pick up their numbers and T-shirts the night before at the Riverwalk Brewery Tap Room in Newburyport from 4 to 7 p.m. Gathering with friends on Thanksgiving Eve is a tradition, and the brewery will have music by local band "Mostly Young,'' a pop-up menu, and the recently-rolled out Storm Door Porter for carb-loading. www.river walkbrewing.comhttps://sites.google .com/site/joppaflatsrunningclub/home/maudslay-turkey-trot
Chatham
The 14th annual Chatham Turkey Trot will strut its stuff, with a start at the Chatham Orpheum Theatre on Main Street. This is not a timed run. "We don't even call it a race because we want to encourage everyone to participate,'' says Jen Avery, Chatham Turkey Trot committee member. "Many people walk together with family and get to spend time together.'' Typically, about 2,600 walkers and runners show up, says Avery, and you can register the morning of the race. Non-perishable grocery donations and money raised will be presented to the Lower Cape Outreach Council. chathamturkeytrot.com
Sunapee, N.H.
The 12th annual Lake Sunapee Turkey Trot attracts between 800 and 1,000 runners and walkers, says Scott Blewitt, recreation director and race director. The trot is professionally chip timed and there's a Kids 1K, too. Prizes are awarded for all age categories, as well as for best Thanksgiving-themed outfit; proceeds will benefit the Sunapee Recreation Department and Veterans Field Athletic Complex Renovations. www.sunapeeturkeytrot.com
Allston
This marks the 21st year that runners will gather to run the Boston Volvo Thanksgiving Day 5K in Allston. The course is chip-timed USATF certified; top runners will receive awards, and all runners will get a finisher's medal. Walkers are welcome, too. "Through this race, participants raise money for vital research and programming dedicated to finding a cure for Multiple Sclerosis and aiding those who live with the disease,'' says spokeswoman Daphne Mack. secure .nationalmssociety.org/site/TR/Special/MAMGeneralEvents? pg=entry&fr_id=30138
Boston
The all-inclusive Franklin Park Turkey Trot will welcome about 1,400 entrants, including walkers, stroller families, and dogs. Franklin Park is part of picturesque Emerald Necklace, so expect Insta-worthy paths and trails. "This year is very exciting — a newly renovated path around the beautiful Scarborough Pond is part of the race course; we will be the first race to use the new course,'' says Janna Cohen-Rosenthal, executive director, Franklin Park Coalition. The race is chip-timed; there are prizes and a "Parksgiving'' fund-raiser, too. www.racemenu.com/events/ 161765-Franklin-Park-Turkey-Trot-5K-2018
Andover
The 31st Feaster Five will take place with 10,000 runners and walkers expected to participate in the timed 5K, 5-mile, and Kid's Fun Run. Sweet: Every finisher will get a Table Talk apple pie. The Kid's Run is for children age 12 and under and about 700 kids are expected. Proceeds will benefit four local charities. www.feasterfive.com
Middletown, R.I.
This year, 1,600 runners are anticipated at the Newport County YMCA Pie Run's USATF-sanctioned 5-miler or the 3-mile noncompetitive dog-and-stroller-friendly walk/run. Prizes will be awarded to top runners, and all entrants who cross the finish line will receive a Table Talk pie. Proceeds will support local charities, and nonperishable food donations will support the Martin Luther King Jr. Center. newport ymca.org/event/33nd-annual-pie-run/
Portland, Maine
For 37 years, Mainers have been running the timed Portland Thanksgiving Day 4-Miler, which kicks off at City Hall. An anticipated 1,700 runners will participate, says race director George Towle, and there will be medals for all finishers; there's also a 1K for kids. Proceeds benefit local and international causes; runners are also encouraged to donate to the Project Feed food drive. www.ath links.com/event/portland-thanksgiving-day-4miler-19831
Somerville
The 22nd annual Gobble Gobble Gobble Road Race is for runners, joggers, and stroller families, too. About 3,200 runners are expected this year, and proceeds will benefit Somerville Homeless Coalition and Somerville High School track team. The 4-mile race course is USATF certified and runners are professionally chip-timed. "This year we are awarding cash prizes to the men's and women's finishers,'' says race director Bradley Harris. Postrace beers will be served at The Burren, located near the finish line. runsignup.com/Race/MA/Somerville/Gobble GobbleGobble
East Madison, N.H.
Purity Spring Resort is the setting for a 5K on Thanksgiving morning hosted by Acidotic Racing. Runners will navigate the picturesque hilly trail course that runs along the Nordic trails at the resort's King Pine Ski Area. There's also a Fitness Walk and Kid's Run on adjoining trails — and awards for top finishers. Proceeds will benefit the local middle and high school cross-country and track programs. psr5k.com