Travel
Turn holiday shopping into a little getaway gift for yourself
Skip online shopping and head to these local, one-of-a-kind stores in festive holiday settings.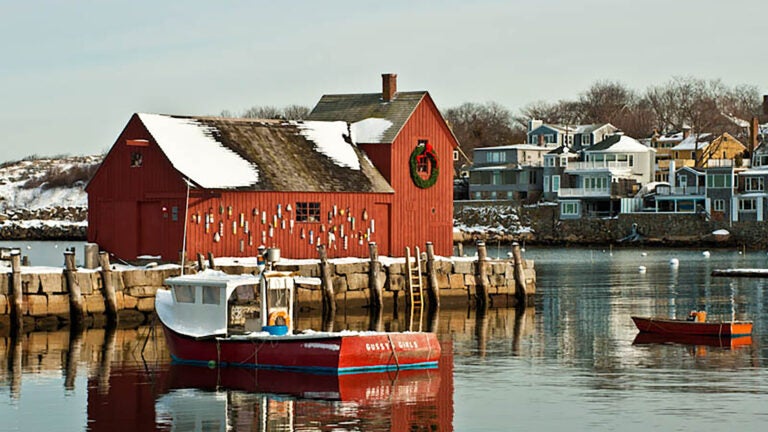 Of course, online shopping is convenient, but where's the fun? This year, get in the spirit of gift-giving with a holiday shopping getaway to a classic New England town, where you'll find local, one-of-a-kind stores in festive holiday settings. Plus, it's a perfect excuse for a quick getaway before the holiday crush.
Portsmouth, N.H.
This historic seaside town sparkles during the holiday season when it's draped in greenery and twinkling lights. The compact downtown area is filled with decorated Colonial buildings, soft-lit brick and cobblestone walkways, and locally-owned shops and art galleries. The Vintage Christmas Trolley is free during the month of December, making several stops throughout downtown.
Shop: Have a fashion-forward young niece on your list? Check out Pretty Little Things (www.prettylittlethings.com), filled with on-trend clothing, shoes and accessories, handpicked by owner Michelle Galvin. For kids, shop family-owned G. Willikers! (603-436-7746, www.facebook.com/GWillikersToyShop), a bright, friendly store with creative toys and carefully curated books. Angelica's Muse (603-430-7700, www.angelicasmuse.com), specializes in soft-to-the-touch, colorful clothing from designers like Andria Liew, M. Kyoko and Margaret O'Leary. Inside Out (603-294-9913, www.insideoutportsmouth.com) has comfy, well-made clothing for men, women, and kids, with brands like UGG Australia, Bobi LA, and Joe's Jeans. You'll find fun stocking stuffers and unusual gifts at Macro Polo (603-436-8338, www.facebook.com/macropolo.nh and Off Piste (603-319-6910, www.facebook.com/Off-Piste-233938993466386). For the home cooks on your list, head to Artezzi, with gourmet food, wine and kitchen accessories. The Salt Cellar (603-766-1616, www.salt-cellar.com), tucked down a narrow alleyway, is filled with specialty salts from around the world, and items like salt lamps, salt swizzlers and salt tequila glasses. Stock + Spice (603-766-3388, www.stockandspice.com) has some 30 handmade spices and rubs. For someone very special on your list, visit Kennedy Gallery & Custom Framing (603-436-7007, www.kennedygalleryandframing.com) showcasing original works of art from well-known local and national artists.
Drop: It's an easy walk to downtown shops and restaurants from the chic Ale House Inn (603-431-7760, www.alehouseinn.com). The boutique property, located in a former brewery, has 10 contemporary rooms, with modern tile baths, flat-screen TVs, iPads and iPod docking stations.
Newburyport
Once a hub for shipbuilding and sea commerce, this refined coastal town is filled with grand Federalist and Georgian buildings, now housing a treasure trove of shops, galleries and restaurants. The town gets decked out for the holidays, with garlands of evergreens, strings of lights, and window boxes filled with holly and mistletoe. Take a moment to gaze at the towering Christmas tree in historic Market Square, and then get shopping!
Shop: Who can't use a cool, new tote? Shop Sea Bags (207-239-2999, www.seabags.com) for a handcrafted bag made in Maine from recycled sails, some with original mainsail logos. The award-winning Dragon's Nest (978-462-8802, www.dragonsnesttoys.com) is the go-to store for high-quality toys and games. For bangles, beads, and bags, check out popular Pretty Poppy (978-462-1385, www.prettypoppystore.com), full of fun accessories at affordable prices. If you're looking for a flirty new number to wear to holiday parties, or a unique new piece for your winter wardrobe, shop Bobbles and Lace (978-662-4108, www.bobblesandlace.com). You can also find unique pieces at Smitten (978-499-7912, www.sosmitten.net), a friendly fashion boutique, chockful of women's clothing and accessories. Stock up on hostess gifts (and maybe a little something for yourself) at Soak & Shoreline (978-465-7625, www.facebook.com/SOAKshoreline/?_rdc=1&_rdr), with an impressive line-up of handcrafted bath and beauty products, and gifts, like candles, pillows and placemats. Shop for the four-legged members of your family at Pawsitively Best Friends (978-499-9999, www.pawsitivelybestfriends.com). The Tannery Marketplace has a variety of specialty shops, including Jabberwocky Bookshop (978-465-9359, www.jabberwockybookshop.com), with discounted bestsellers, used books and informative staff reviews; and Port Plums (978-465-7047, www.portplums.com), with high-quality kitchenware and a large selection of premium olive oils.
Drop: The elegant 1803 Clark Currier Inn (978-465-8363, www.clarkcurrierinn.com), with a convenient in-town location, is filled with original architectural details, period antiques, and art. The former shipbuilder's home has 11 private rooms, with classic décor and furnishings, and a parlor and library for guests to use.
Rockport
For one-of-a-kind, one-stop shopping, you can't beat this pretty little village at the tip of the Cape Ann peninsula, packed with specialty shops and more than 30 art galleries. The longtime artists' colony, with its colorful, shingled cottages hugging a picturesque harbor, is especially enchanting during the holiday season. A wreath hangs on the famous red-painted fishing shack Motif No. 1; shops create holiday window displays, and Christmas lights reflect on the water. Gallery strolls and special shopping nights, with refreshments and discounts, are held throughout the holiday season.
Shop: You may not be able to give them Paris, but you can pick up some fine French tablecloths, napkins, placemats, soaps, perfumes, and more at La Provence (978-546-5868, www.laprov.com). Lula's Pantry (978-546-0010, www.lulaspantry.com) has house goods, kitchenware, cookbooks and gourmet food. At Alexander's Pottery (978-546-2992), shop for beautiful ceramics, housewares, and gift items. Earth's Treasures (www.earthstreasuresrockport.com) sells the works of local artist group Starboard Collective, along with handcrafted jewelry, minerals and fossils. The Pewter Shop (978-546-2105, www.rockport-pewter.com) has been selling handcrafted pewter from its own workshop for more than 80 years. The Happy Whale (978-546-6331, no website) is filled with stuffed animals, toys, and games. If you're looking for original art, check out the Mosher Gallery (978-546-3666, www.moshergallery.com), specializing in New England landscapes and scenic oils. The well-known plein air landscape artist John Caggiano has a gallery and studio in Rockport (978-546-2414, www.johncaggianofineart.com), and the R. Lerch Gallery (978-546-7797, www.rlerchgallery.com) features fine art photography. If there are dog lovers on your list, visit the Good Dog! Gallery (978-546-1364, www.gooddoggallery.com), filled with animal art, dog treats and gear, and gifts for dog lovers.
Drop: All of the nine rooms at the handsome Seven South Street Inn (978-546-6708, www.sevensouthstreetinn.com) are decorated for the holidays. The Harry J. Suite has lots of room and a cozy fireplace. And, Deb, the innkeeper, is known for her gourmet breakfast.
Brattleboro, Vt.
Straddling the Connecticut River and surrounded by mountain peaks, this historic city is consistently ranked as one of the best art towns in the nation. Restored brick buildings line Main Street and house galleries, studios and eclectic independent shops. Within a five-block radius, you can check everyone off your list, while reveling in holiday merriment. There are plenty of lights and decorations, art shows, open studios, shopping events, and church bazaars held throughout the holiday season.
Shop: Stick to the historic downtown area, where nearly all the stores are locally-owned and operated. Altiplano (802-257-1562, www.altiplano.com) features unique clothing and accessories handcrafted by fair trade cooperatives and artisan workshops in Guatemala. The colorful Beadniks emporium (802-257-5114, www.beadniksvt.com) has a large collection of beads and gemstones, fun retro toys, and inexpensive, artisan-made jewelry. Pick up local gourmet foods, maple products and Vermont t-shirts at Galanes Vermont Shop (802-254-5677, www.galanesvtshop.com). Ruggles & Hunt (802-579-1900, www.rugglesandhunt.com) has a wide-range of interesting houseware, books, puzzles, games, and clothing. Vermont Artisan Designs (802-257-7044, www.vtart.com) represents about 350 established and emerging artists, offering jewelry, furniture, sculpture, pottery, glass, textiles and paintings. Gallery in the Woods (802-257-4777, www.galleryinthewoods.com) specializes in fascinating works by visual artists from around the world, and the Mitchell Giddings Fine Arts Gallery (802-251-8290, www.mitchellgiddingsfinearts.com) showcases contemporary artists.
Drop: The throwback, Art Deco-style Latchis Hotel and Theater (802-254-6300, www.latchis.com), built in 1938, is a funky, fun choice, with old-time-y, vintage rooms. It's located in the heart of downtown, surrounded by shops and restaurants.