Travel
6 New England towns to visit in December
Get ready for a whole lot of holiday fun.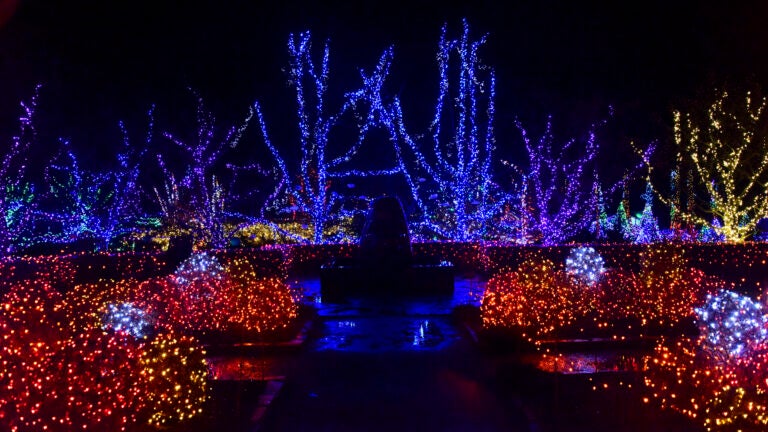 It can be so hard to choose from the many festive events taking place across New England in December. From shopping to visiting Santa to taking in live music, the following six towns offer excellent ways to celebrate the season this month.
This month, learn about 200 years of Shaker Christmas traditions at Canterbury Shaker Village, a nonprofit museum that preserves the heritage of the Canterbury Shakers. During the "Christmas with the Canterbury Shakers" candlelit tours, which will take place in the evenings of Dec. 6, 7, 9, 13, and 14, guides will explain how the Shakers' simple religious services of the 19th century turned into elaborate theatrical events in the 20th century. Afterward, expect cookies and hot cider.
Sure, you may think of England when you consider writer Charles Dickens, but it turns out that Waltham hosts its very own Charles Dickens Holiday Festival. On Dec. 9, watch costumed actors read scenes from "A Christmas Carol," and listen as an actress portraying Dickens' wife, Catherine, shares stories about life married to the famous author, as well as Victorian Christmas traditions. A fiddler and carolers will also perform, and guests can holiday shop from vendors selling everything from soap to chocolate to jewelry.
Who said outdoor music festivals can't take place in the cold months? Head to Vermont's Stratton Mountain Resort in the Green Mountains for plenty of live music from Dec. 14-16. More than 15 bands, including Railroad Earth, The Infamous Stringdusters, and Keller and the Keels, will perform on several stages throughout the weekend. Warm up with food and drink at a coffee bar, beer hall, and food trucks. The family-friendly event also promises to entertain the kids with face painting and hula hooping in an area called the Kids Zone.
You can see three of Santa's reindeer — Dasher, Dancer, and Prancer — at the 10th annual Greenwich Reindeer Festival at Sam Bridge Nursery and Greenhouses. (Apparently Rudolph, Blitzen, and the others have alternate plans.) Visitors can also take photos with Santa in his village and ride a Winter Wonderland Carousel and North Pole Express train. Though Santa will stick around until Dec. 24, his reindeer are only available until Dec. 22.
Step one: Grab your winter coat and hat. Step two: Walk through more than 650,000 bright, colorful holiday lights at the Coastal Maine Botanical Gardens' "Gardens Aglow" event, billed as the largest light show in Maine, anytime between now and Dec. 31. The display is the signature event of Boothbay Lights, a celebration of the holidays all month long in Boothbay and Boothbay Harbor that includes the Festival of Trees (which fills the Opera House at Boothbay Harbor with decorated trees), rides on the North Pole Express, and fireworks over the harbor.
When you stroll through Blithewold, the former country home of the prominent Van Wickle family in the 19th and 20th centuries, through Jan. 1, you'll feel like you stepped 108 years into the past. Volunteers have pored over the Van Wickle family journals to produce this year's theme, "Christmas at Blithewold 1910 — A Family Gathering," elaborately decorating the mansion's rooms and grounds as they were when the Van Wickle family celebrated the holidays there that year. The mansion also will offer holiday programming throughout the month, hosting children's holiday story times and teaching how to make festive holiday centerpieces.