Travel
What to do over February break for absolutely no money
Kids can ice skate, learn a new dance, and watch a movie — all for free.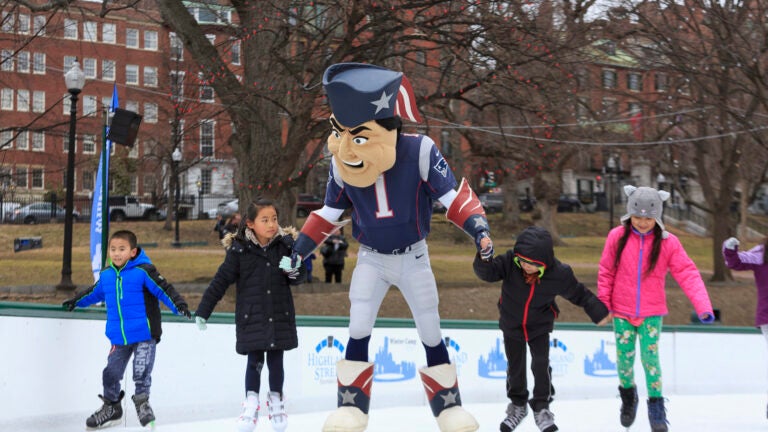 If you're looking for family fun that's easy on the wallet this February break, there are several free activities that are taking place across the city.
Here are six ways that parents can keep their kiddos occupied without spending any money at all.
This marks the fourth year that the Highland Street Foundation has sponsored free skating at the Boston Common Frog Pond over February break, this year from Feb. 18-22. Throughout the week, guests can enjoy free hot chocolate and snacks, face painting, and visits from magicians and Boston sports mascots such as Pat Patriot and Wally. Highland Street will give away 1,000 items at the rink each day, including hats, T-shirts, and socks. Families also will get a chance to view a Boston Red Sox World Series trophy, as well as a giant ice sculpture.
What's more: On Feb. 20 from 10 a.m. to 2 p.m., Highland Street and the City of Boston Parks and Recreation Department will host a free Children's Winter Festival on the Boston Common, complete with an inflatable snow slide, toboggan tunnel, photo booth, games, and complimentary refreshments. Houghton Mifflin Harcourt will provide free children's books at the festival as well.
The free skating and festival are part of a week's worth of family-friendly activities called Winter Camp, which includes enrichment events at city spots such as the Boston Public Library, Boys & Girls Clubs of Boston, and the Boston Public Market.
Grab the family and head to Faneuil Hall Marketplace for four evenings of free family-friendly movies, showing Feb. 18-21 at 6:30 p.m. each night. All of the movies — "Incredibles 2" (Feb. 18), "Hotel Transylvania 3" (Feb. 19), "Coco" (Feb. 20), and "Paddington 2" (Feb. 21) are rated PG — and will be shown in the Lower Rotunda of the Quincy Market building.
Your kids can build their own ships at the USS Constitution Museum in Charlestown during February vacation week at the museum's free Lego Maritime Festival, happening Feb. 16-24. Programs will include a "Float Your Boat" Lego challenge and a scavenger hunt through the museum's "Masters of Miniature" exhibit, which is full of model ships. (Note that while admission to the museum is free, donations are accepted.)
Kids can dance, watch short films, and create art while learning about black history during the Mary Baker Eddy Library's free February break program for kids, called "Untold American Stories: Black History Month," provided in partnership with Sweet Blackberry, a nonprofit organization that inspires children with stories of African-American achievements. Kids will learn about Bessie Coleman, the first African-American woman to earn a pilot's license, and watch films such as "The Journey of Henry Box Brown," about a slave's quest for freedom. Plus, the library will waive its regular fee to get into its famous, three-story, stained glass Mapparium. The program runs from Feb. 19-22.
Have your kids ever thought about the shelters that animals create to get through the cold winter months? The Boston Society of Architects is challenging children to not only think about them, but to build one using natural materials. The BSA is teaming up with the Rose Fitzgerald Kennedy Greenway for a free drop-in building challenge called "Winter Shelter" on Feb. 19 from 1 to 3 p.m.
Can't make that one? The BSA is issuing another building challenge for kids on Feb. 21, from 1 to 3 p.m., questioning what new buildings in Boston should look like. During this program, called "Designing Boston with Lego Bricks," kids will bring their ideas to life with — you guessed it — Legos. The programs, geared toward kids between the ages of 5 and 13, will take place at BSA Space at 290 Congress St.
Your children can practice their secret agent skills by writing and decoding messages and making disguises during a free spy training school, on Feb. 19 at the Boston Public Library. It's one of many free February vacation programs for kids taking place throughout the week at the library's central location in Copley Square, as well as at other library branches. Kids also can go on a scavenger hunt and explore maps, view a puppet show, attend a children's concert, watch a family movie, take part in an interactive bubble show, and more.