Travel
A local mom's tips for traveling with kids
Check them before planning your next family trip.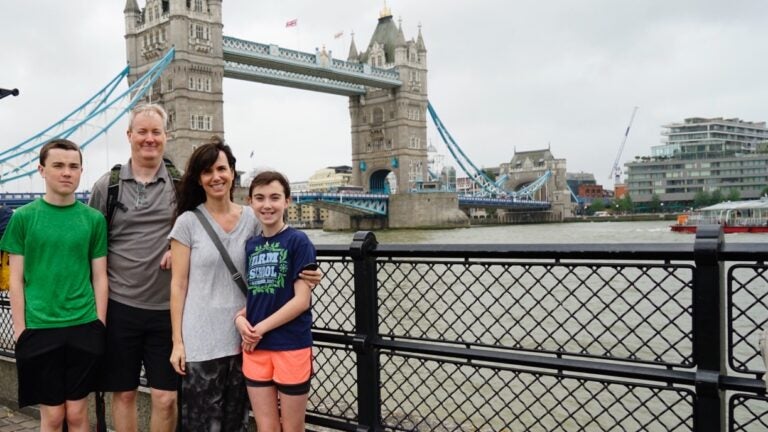 Traveling with kids can be tricky. Whether you're trying to keep little ones occupied on a plane, or you want to save money when sightseeing with your brood, it helps to get tips from a parent who's been there.
"I really enjoy traveling with my family," said Jenn Mitchell, a mother of two who has trekked across Europe and the US with her kids and husband, and has provided travel tips for parents via her website Comeback Momma, which she launched in 2013. Mitchell also writes for Travelingmom.com, a site that helps parents save money, choose family-friendly destinations, and travel easier with kids of all ages.
With that in mind, we asked Mitchell for tips for traveling with kids.
Think outside of the toy box while traveling by plane
One of the hardest aspects of flying with little ones is keeping them occupied during travel. Mitchell learned to think creatively during the many plane trips she took with her kids when they were little, figuring out that she didn't have to pack so many bulky toys from home to keep her kids happy.
"We found these little cups in different colors," she said. "You could stack them, and it wasn't a big deal if you lost them."
She also said colorful, sticky Post-it notes have worked wonders for her on flights when trying to keep her kids occupied.
"They could stick them anywhere — on the back of the seats, the tray table, the windows," she said. "Once they got older, we could put the alphabet on them and words. They were so easy and lightweight, and the kids had a blast."
Now that her kids are teenagers, the Post-it notes have been traded for electronics. She makes sure her kids download TV shows and movies to their devices well before a flight, and she also brings their favorite books.
Plan car activities for road trips
Speaking of electronics, a road trip doesn't have to mean your child is staring into a device for hours on end, Mitchell said. With a little planning, you can engage your children in fun games on the road.
This summer, when her family piles into an RV for a 12-day road trip to Yellowstone National Park, she'll turn to her tried-and-true road trip games that her kids, now ages 13 and 16, have enjoyed throughout the years.
For example, the license plate game, in which family members try to find as many license plates as they can from different states, is always a hit, Mitchell said. During New England road trips, her family has gotten a kick out of spotting plates from as far away as Mississippi, Kentucky, and California.
"It's fun to see who can spot a place from really far away," she said.
Car bingo is another great road trip game, Mitchell said. Parents print out sheets ahead of time with images children have to find to win bingo. During a road trip to Canada, her kids had to look for items such as a tractor, cow, body of water, and train, she said.
"What's great about that is you can find all these different printable sheets, so you can play different games and you won't get bored looking for the same stuff," Mitchell said.
A game that doesn't require printed sheets is the alphabet game. Your kids can race each other, or the family can play it all together, but the object is the same: Look outside and find a word on a street sign or business that begins with each letter of the alphabet in the order of the alphabet. The object is to get to "Z."
"'Q' and 'Z' are harder," said said. "We get so excited and say, 'Oh my gosh, I spotted a 'Q'!'"
Allow time to 'get out the wiggles'
Mitchell said that, in her experience, kids who get travel breaks to "get the wiggles out" are usually happier for it. While you obviously can't step out of a plane for some fresh air, you can make stops when you're in a car to play outside.
"We'll bring a Frisbee, play tag, do jumping jacks," Mitchell said, "just to get the blood flowing after you've been sitting for a while."
When her family traveled to Europe, Mitchell said she was conscious of how long the family sat on trains when planning the trip.
"I tried to map it out so we were never on the train for more than five hours at a time," she said.
Buy access to city attractions in bulk
The cost of going sightseeing with the family in a new city adds up, Mitchell said. However, you can buy special passes in some cities that allow you entrance to several attractions, she said.
"Typically, for one price, you're going to get entry into pretty much all the top spots you want to go to," she explained. "If you add those up individually, you are saving hundreds of dollars."
When her family traveled to New York City, they knew they wanted to visit several museums. Rather than buying tickets to each individual museum, they bought The New York Pass. It gave them access to more than 100 attractions — including the Empire State Building, the Inrepid Sea, Air & Space Museum, the American Museum of Natural History, and the Museum of Modern Art — for one price.
Some cities offer more than one type of pass, so families should research the prices and figure out which pass works best for them, Mitchell said. For example, the company CityPass also offers a New York City pass, and Mitchell's family has used that company to buy passes in Toronto and San Francisco.
You can also buy similar passes in Europe, Mitchell said, and her family has saved money doing so in places like London, Paris, and Holland.