Travel
Here's why this historic Boston hotel is closing its doors April 1
The hotel is getting a makeover.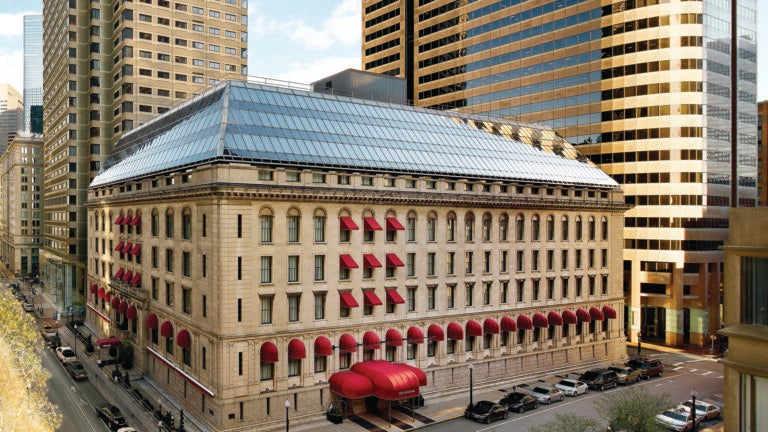 If you haven't experienced the famous chocolate bar at The Langham, Boston, you'll soon have to wait a while to indulge yourself. The historic Boston hotel in the Financial District is closing its doors this spring for a massive makeover.
The Langham, Boston, which first opened in 1922 as the original Federal Reserve Bank of Boston, will temporarily shutter April 1 for a yearlong renovation. This is the building's first major upgrade since it was converted into a hotel in 1981, and the changes will cost "north of $80 million," said Richard Bussiere, the hotel's managing director.
"We want to take this historic building and give it a new breath of life," Bussiere said. "We really want to reposition it as one of the top luxury hotels in America."
The renovations for the 317-room hotel, which is being designed by Richmond International, the company that also worked on the interiors of The Langham, London and The Langham, Chicago, will include tearing out and redesigning the rooms and bathrooms. The hotel is ditching its dark colors and heavy drapes for lighter and brighter colors and materials, Bussiere said. The new bathrooms will have walk-in showers and white marble floors and countertops.
"There's a lot of blues in the [new] design," he said. "It's far more contemporary, far more current. For me, as a New Englander, I find it very 'New England.'"
The finished hotel will have five fewer rooms to make space for a new eighth-floor lounge, Bussiere said. While the specifics of the Boston lounge haven't yet been decided, club lounges at other Langham hotels offer complimentary food and drink service throughout the day, as well as a cocktail hour, VIP check-in and check-out, and areas to relax, work, or socialize.
Other changes will include a new lobby, new outside lighting and canopies, and an additional ballroom where the hotel's current restaurant Café Fleuri is located. The Reserve, the hotel's lobby bar, will become a new restaurant, Bussiere said. Bond, the hotel's bar and restaurant that's open during the evenings, will become a new restaurant that's open all day. Elements of that space will remain, including the chandeliers and high ceilings. Work has already been completed on the floor in that space.
"The floor was covered with carpet for many, many years, and we decided six months ago to rip that carpet up and see what was under it," Bussiere said.
Workers discovered the original Federal Reserve Bank seal and "gorgeous tile," both of which will remain in the new space, he said.
In the midst of so many changes, Bussiere said guests should rest assured that some of the hotel's popular programs will return.
"Of course, we'll still have afternoon tea as we know it now," he said. "However, that will probably be served in the all-day dining restaurant once we reopen. Our chocolate bar and our famous Sunday brunch, in principle, will remain. However, we're in the process of reimagining how we do that moving forward."
Bussiere said he expects the hotel to reopen in spring 2020. It's currently offering a 30 percent discount to visitors who want to stay in the hotel before it closes for renovations.