Travel
This Boston hotel was just named the 2019 Historic Hotel of the Year
The Fairmont Copley Plaza, built in 1912, earned the honor from the Historic Hotels of America.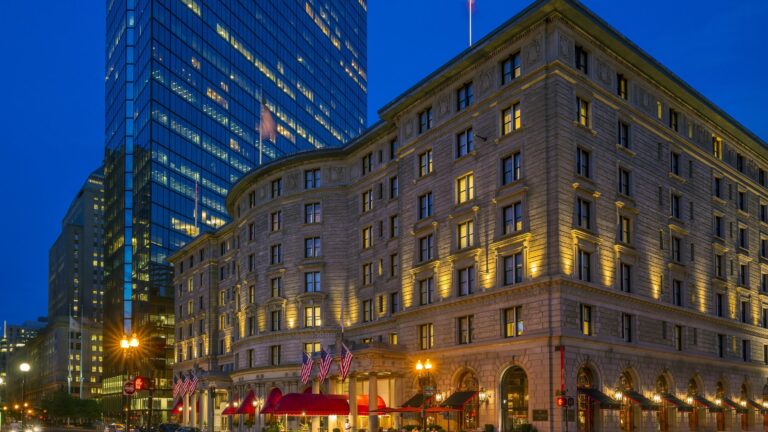 A 107-year-old luxury Back Bay hotel was just named 2019 Historic Hotel of the Year by Historic Hotels of America, a National Trust for Historic Preservation program that recognizes the finest historic hotels in the country.
The Fairmont Copley Plaza, built in 1912, was selected as the top historic hotel for its exceptional customer hospitality and how it showcases its history in the guest experience. For winning, the hotel will be featured on the inside front cover of the 2019 Historic Hotels Annual Directory.
The hotel, built on the original site of Boston's Museum of Fine Arts, combines French and Venetian Renaissance influences and takes its name from American painter John Singleton Copley, according to Historic Hotels of America. Inside, guests enter a 5,000 square-foot lobby beneath gilded, coffered ceilings featuring trompe l'oeil paintings, and throughout the hotel, guests are treated to period antiques.
The Back Bay spot has hosted U.S. presidents, royalty, and Hollywood celebrities over the years, according to historian and author Stanley Turkel, who wrote about the hotel for Historic Hotels of America. Fairmont Copley Plaza has also been a leader in the industry, wrote Turkel. It was the first to accept credit cards and offer an international reservation system, and it was the first completely air-conditioned hotel in Boston.
"As a hotel that embraces its rich history every day, it is an honor for Fairmont Copley Plaza to be awarded this prestigious accolade," George Terpilowski, regional vice president, Northeast U.S. region for Accor, and general manager, Fairmont Copley Plaza, said in a statement. "We are proud that today's modern traveler has an experience here very similar to visitors in 1912, and look forward to remaining the epitome of style and luxury in the city of Boston for many years to come."
The Fairmont Copley Plaza hotel was one of the original charter members of Historic Hotels of America, founded in 1989. Historic Hotels of America includes more than 300 historic hotels. The hotels must be more than 50 years old, designated as a National Historic Landmark or listed in or eligible for listing in the National Register of Historic Places, and have maintained their sense of authenticity, sense of place, and architectural integrity.