Travel
Here are the changes Massport is proposing for Uber and Lyft at Logan airport
The agency plans to contain pick-ups and drop-offs at the airport to one location, among other proposals.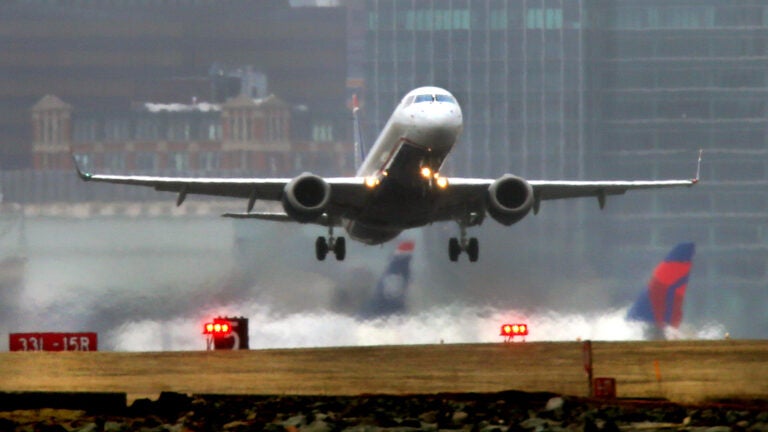 Right now, call an Uber or Lyft ride to catch a flight leaving Logan airport and you'll be dropped off right in front of your terminal.
But that may change soon.
The Massachusetts Port Authority (Massport), working to cut down traffic congestion around the airport and East Boston, has unveiled a plan that redirects where ride-sharing drivers can drop off riders — and hikes up the fees their passengers pay.
Thursday's announcement came paired with another initiative to expand the Logan Express bus service, which has continued to grow over the past decade, officials say.
"This transportation strategy is aimed at improving the customer experience, reducing empty vehicles clogging our roadways, reducing greenhouse gases, and making HOV options more attractive for our customers," Massport Acting CEO John Pranckevicius said in a statement. "The growing congestion at Logan is significantly impacting our passengers and our surrounding communities. The bottom line is we need more people to get to and from the airport in fewer vehicles, and we think we can do that with these new strategies. This plan is better for our customers, better for the community and better for the environment."
Here's what to know about the proposed changes:
Ride-sharing drop-off and pick-up would be in the same place
Last year, ride-sharing trips to and from the airport totaled 12 million, with pick-ups and drop-offs accounting for approximately 7 million rides, according to Massport.
The other 5 million were empty vehicles "deadheading" trips by ride-sharing businesses, or what the agency calls "Transportation Network Companies" (TNCs).
"Massport is currently in discussion with Uber and Lyft about the specific TNC initiatives, but the aim is to move all TNC pickups and drop offs to the ground floor of the Central Garage," Massport said in a press release. "By doing this, the TNCs can implement Rematch and Shared Ride options."
Uber and Lyft customers seeking rides leaving Logan currently have to wait at designated pick-up locations at each terminal. The new plan would shorten the wait time for passengers to be matched with a driver, according to the agency.
Riders would also have "the option to take a Massport-discounted shared ride, such as uberPOOL and Lyft Line," officials said.
The goal is to ultimately cut the number of empty vehicles on the road by 30 percent.
Fees would rise to $5 a ride
Passengers who hail an Uber or Lyft ride from Logan currently pay a $3.25 fee, but, under the latest proposal, Massport would charge $5 and would also impose it on rides coming into the airport, The Boston Globe reports.
Riders who share rides with other passengers, however, would only see a $2.50 fee, according to the newspaper.
A Massport Board vote on the new fees is anticipated next month.
Logan Express service will expand in Braintree and to North Station
Massport is setting its sights on doubling ridership on the Logan Express bus shuttle service with the hope to get 4 million riders every year.
Officials are targeting changes to its two most popular stations in Braintree and Framingham, which see over 740,000 and almost 580,000 annual riders, respectively.
In May, riders in Braintree will see three trips to Logan airport an hour — up from the two already offered — as well as increased parking availability both there and in Framingham, according to Massport.
Also starting in May, the agency will move its Copley Square pick-up and drop-off location to outside the MBTA's Back Bay Station, officials said. A discounted fare program, offering $3 trips to the airport and free rides from Logan to Back Bay, will take hold May 1 as well.
The same fare structure is also expected to start at North Station when Logan Express begins a curbside service to the commuter hub by next year, Massport said.