Travel
A look back on Portsmouth's naughty past
The tourist-friendly seaport was a rip-roaring, rowdy town from the mid-1800s until 1912, when the "disorderly houses'' were finally shut down.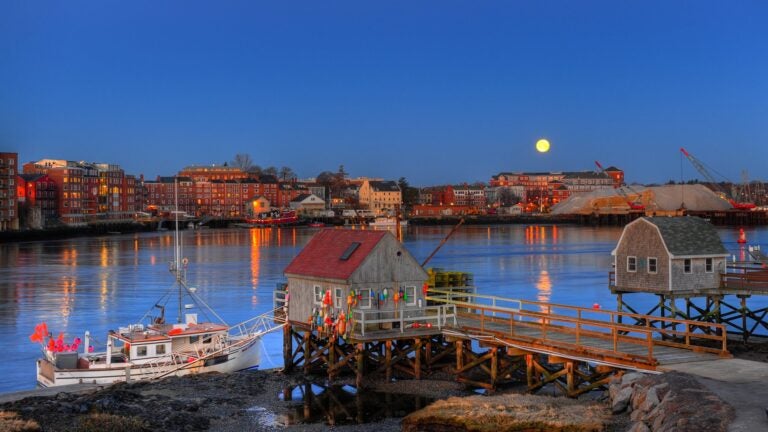 'It's 1862, and Portsmouth has about 6,000 residents, some 120 saloons, 10,000 to 15,000 sailors in port, 60 brothels, and two police officers,'' says Roxie J. Zwicker, a local author and historian, who conducts walking tours in the city.
The numbers are debatable. We heard there were five documented brothels, or 30, or 60, depending on who was talking. "I think there were closer to 80 to 100 if you count some of the extra rooms people used to entertain visitors in their homes,'' says Zwicker.
One thing is certain: New Hampshire's tourist-friendly seaport, home to historic houses, museums, fine restaurants, galleries, and shops, was a rip-roaring, rowdy town from the mid-1800s until 1912, when the "disorderly houses'' were finally shut down.
We walked along Marcy Street, flanked by Prescott Park and the historic Strawbery Banke Museum, where Portsmouth's infamous Red Light District was once concentrated. It was known as Water Street at the time, where sailors from the Portsmouth Naval Shipyard would cross the river, seeking entertainment.
"Many of the sailors made the journey across the Piscataqua River on Charles Walker's ferry,'' says Joan Chawziuk, a longtime tour guide for the Chamber Collaborative of Greater Portsmouth. "Up to fifteen hundred sailors at a time was not uncommon.''
Walker owned a coal depot and wharf on the waterfront and would ferry his coal over to the shipyard, and return with a boatload of sailors looking for a good time. Inevitably, there were a few brawls between the jolly-making sailors and the town's citizens. "Eventually, Walker hung old clothes on pegs in his warehouse for the sailors to use, so they could change out of their uniforms and look more like the citizens,'' Chawziuk says.
We walked across a short causeway to Four Tree Island, now a pleasant waterfront picnic area, with a rich and storied past. The island, once owned by Chas. E. Gray, was home to a well-known brothel and rowdy tavern.
"There was chicken fighting, illegal gambling, and a museum of oddities of stuff that Gray had collected from ship captains,'' Zwicker says. "And the centerpiece of the bar was a taxidermied cow rigged to serve alcohol through its udders.''
Oh, my; we're really surprised a local bar hasn't brought that tradition back.
Gray would charge only 50 cents to get out to the island, but much more to get back. It's not that far across the river (though it has one of the strongest currents in the world), so rather than pay the inflated price to return, it's likely that some sailors tried to swim across, buoyed with liquid courage.
"Bodies were regularly pulled out of the river. God knows how many tugs of the udder they had,'' Zwicker says. "Lots of people went missing.''
One of the most famous brothels in the Red Light District was the Gloucester House, run by Mary Baker. "Mary ran the fanciest house in town, and she was one of Frank Jones's favorite ladies,'' says Chawziuk.
Frank Jones was one of the richest guys in town. He owned the Frank Jones Brewery, which at the time was the largest brewery in the country. He also owned the Wentworth and Rockingham hotels (the Rockingham building now houses The Library restaurant), a railroad, insurance companies, and a slew of other businesses. He was the mayor of Portsmouth and a New Hampshire congressman, who regularly paid off the city police to look the other way.
"Baker was a gaudy, flashy woman, wearing furs, and hats and jewelry as she paraded her girls around town,'' Chawziuk says. "When Frank [Jones] suggested she tone it down, she had two diamond studs put in her front teeth. All she had to do was smile to show her standing in the community.''
Chawziuk maintains that most of the prostitutes came from within a 100-mile radius of the city, and as Red Light Districts go, Portsmouth had a fine reputation.
"Many of the Water Street houses changed girls on a regular basis,'' says Chawziuk. "Bordello owner Cappy Stewart was known to change his girls every two weeks. He would take the girls who'd been working for two weeks to the train station and drop them off. Then he would pick up new girls at the station, put them in carriages, and parade them around town so men could see that Cappy had some new girls.''
There's not much left of the Red Light District: an historic sign across from Prescott Park marks the area, a three-story brick building once home to madam Alta Roberts's brothel stands on one corner, and a bay window has been repurposed on a building at 35 Bow St., which was reputedly once part of a South End brothel. But the stories and lessons endure.
"There was a time when we didn't address what happened in the past. Not so much now,'' says Zwicker. "Things have changed a lot. Today, we feel a responsibility to the past.''
And, the lessons learned? Perhaps, the more things change, the more they stay the same. Vice, a recent exhibit at Strawbery Banke, examined perceptions of vices — tobacco, alcohol, drugs, medicines, prostitution, indulgent food — through the years.
"I was struck by how little human impulses change,'' says Elizabeth Farish, the exhibit's chief curator. "People really don't change their ways. The things we turn to for a break, to escape, those things haven't changed.''
The Chamber Collaborative of Greater Portsmouth & Visitor Center offers entertaining and information-packed walking tours, leaving from the Market Square kiosk; reserve tickets in advance, www.goportsmouthnh.com. New England Curiosities offers a variety of guided tours, including Historic Portsmouth Legends and Ghost Walk, Wicked Haunted Waterfront Tour, and Spirits of the Past Trolley Tour, www.newenglandcuriosities.com. Discover Portsmouth, operated by the Portsmouth Historical Society, also offers an Historic Downtown Walking Tour, www.portsmouthhistory.org.