Travel
5 activities your kids can do for free over April break
These $0 ideas don't skimp on entertainment value.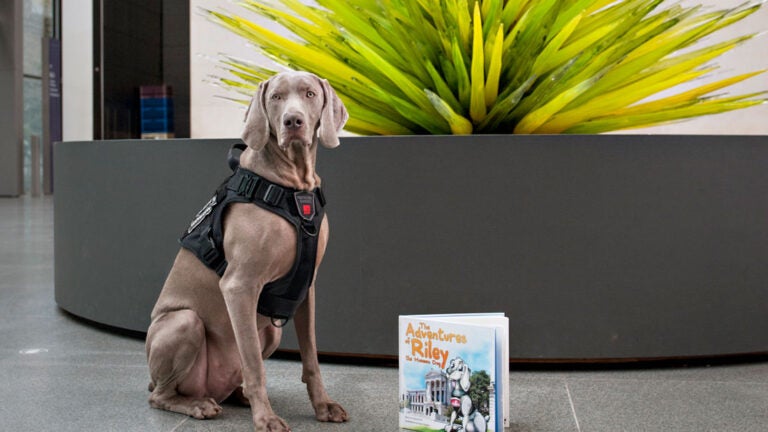 If you want to entertain your kids over April break without spending a lot of money, know that there are plenty of free events happening around the city over the next week.
Here are five inexpensive (yet fun!) ideas.
Your kids can witness the running of the world's oldest annual marathon on Monday, April 15. Pick a spot between the starting line in Hopkinton and the finish line on Boylston Street to cheer on the approximately 30,000 runners in this year's race. Your family can make the day even more exciting by holding up a handmade sign of encouragement for runners as they complete the 26.2-mile trek.
Watch Riley in action during a scent training demonstration at the Museum of Fine Arts on Wednesday, April 17. The Weimaraner will use his sense of smell to sniff out harmful insects at a book-signing event. Author Devra First and illustrator Ryan Huddle, both of The Boston Globe, will be on hand to sign copies of their new picture book, "The Adventures of Riley the Museum Dog." It's all happening during the museum's special programming taking place throughout vacation week; other events include story times, family tours, and necklace-making. While adults must pay admission, kids under age 18 get free admission all week long.
Your kids can join a community sculpture race, play with dancing robots, and more during the Cambridge Science Festival, a 10-day science extravaganza with more than 200 events taking place Friday, April 12, through Sunday, April 21. Many of the festival's workshops, tours, talks, and events happening across Cambridge and Greater Boston are free. Other science-y things to do: Go on a science of local food scavenger hunt at Boston Public Market, learn about trees at the Arnold Arboretum, and check out the dinosaurs on exhibit at the Harvard Museum of Natural History. And don't forget to head over to the annual Science Carnival and Robot Zoo this Saturday, April 13, at the Cambridge Public Library, where kids can meet scientists and take part in more than 100 hands-on activities.
The USS Constitution Museum is hosting three scavenger hunts during the week of April break: one where kids use an app to look for clues in the museum and aboard Old Ironsides; one in the "Forest to Frigate" exhibit, where they'll learn about USS Constitution seaman Jack Tarr; and one where kids have to track down a disguised image of the museum's mascot, Guerriere the Terrier. The scavenger hunts will be available from 11 a.m. to 3 p.m. daily unless otherwise noted on the museum's website. While admission to the museum is free, donations are accepted.
If your kids love magic, they can join other Muggles — those non-magical people — and learn spells at Jungle Jim's Harry Potter Hogwarts Academy, offered at various Boston Public Library branches throughout the week. Students can take lessons in Defense Against the Dark Arts and Quidditch during their academy training, taught by "Professor Jungle-Flick." For those who aren't magically inclined, there will be plenty of other free programming at library branches throughout the week, including puppet shows, hands-on art activities, science experiments, and an animal show.