Travel
10 new glamping sites will hit Maine state parks next month
They come equipped with a wood stove, fire pit, benches, and Adirondack chairs.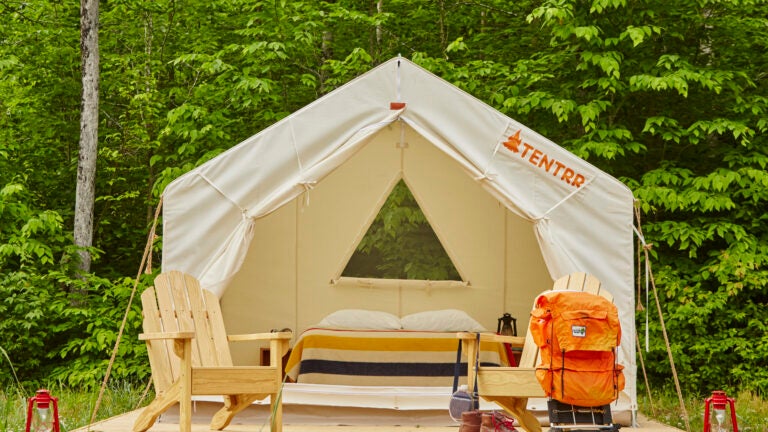 "Stylish" may not be the first word associated with campsites, but that could change around Maine state parks soon.
As part of a new partnership between the Maine Department of Agriculture, Conservation & Forestry (DACF) and camping and outdoors start-up Tentrr, ten fully-equipped campsites will be installed around the state lands this season. According to a press release, the department's Bureau of Parks and Lands is hoping to attract new visitors who may traditionally opt for room service over roughing it.
"With this partnership, we look forward to providing a new way for people [to] experience our parks as campers, and to maximize the benefits that come with spending time outdoors," Maine Commissioner of Agriculture, Conversation, & Forestry Amanda Beal said in the release.
The ready-made Tentrr sites will be stationed in secluded areas and comprised of a pre-erected tent on a raisesd platform. Amenities include a queen-sized cot or bunk bed, wood stove, fire pit, grill, picnic table with storage, benches, sun shower, camp toilet, and Adirondack chairs.
The exact locations of these sites, however, won't be released until next month.
"Each selected location will highlight Maine's beauty and provide fantastic outdoor recreational activities such as hiking, biking, and swimming," said DACF's Melissa Macaluso, who is overseeing the project. "Visitors will also be able to partake in local amenities like craft breweries, shopping, and local dining."