Travel
Back Bay Logan Express riders will pay less and get security line perks starting May 1
Plus, Copley Square riders will board and get off at a different location.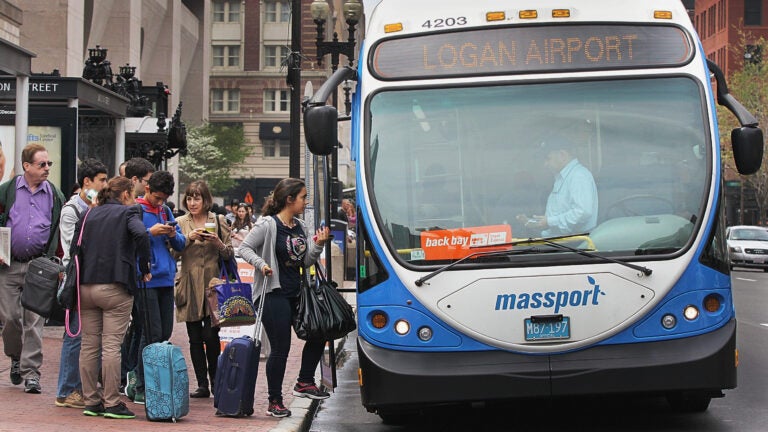 Travelers will save money when they ride the Back Bay Logan Express to and from the airport beginning May 1, and also enjoy security line privileges at Logan Airport, Massport announced on Wednesday.
All riders will pay $3 instead of $7.50 for a trip to Logan Airport, according to the statement, and riders traveling out of Logan will pay nothing at all. Currently, riders with a valid MBTA pass pay $3 each way, and everyone else pays $7.50 each way.
What's more, passengers riding the Back Bay Logan Express bus to the airport "will get ahead of the security line when they arrive at Logan," according to Massport. Customers will need to present their Back Bay Logan Express receipts to the worker at Logan upon arriving at the security checkpoint, after which they'll be directed to an expedited security line.
The Back Bay Logan Express currently has two pickup and drop-off locations: Hynes Convention Center on Boylston Street, and Copley Square. In Copley Square, passengers heading to Logan are picked up outside of the Copley T station, and those riding from the airport are dropped off on St. James Avenue. Beginning May 1, Copley Square pickup and drop-off locations will move to just outside of the MBTA's Back Bay station to offer a smoother transition to passengers who use the Orange Line and commuter rail, according to the statement.
"Our goal is to double HOV ridership by providing value-added choices for customers," said John Pranckevicius, Massport acting CEO, in a statement. "We want our customers to realize that dollar-for-dollar Logan Express is the best mode of transportation to get to Logan from Boston's Back Bay. It is the most cost-effective, environmentally-friendly, and efficient mode of transportation for passengers and workers at the airport."
The Back Bay Logan Express buses are scheduled every 20 minutes daily. Service from Hynes runs from 5 a.m. to 9 p.m., and service from Logan runs from 6 a.m. to 10 p.m.
Logan Express also has four suburban locations where passengers can board a bus to Logan. The full-service bus terminals, which include parking, are located in Braintree, Framingham, Peabody, and Woburn. These changes do not affect those locations. However, Massport will increase its service at the Braintree location — one of its more popular locations — on May 1 by scheduling trips to Logan every 20 minutes on weekdays between 2 a.m. and 11 p.m. Currently, that route offers six trips between 2:15 a.m. and 3:45 a.m. and runs every half hour between 4 a.m. and 11 p.m.
Logan Express ridership has increased from 1.1 million riders to 1.8 million riders since 2009, and Massport has a long-term goal of reaching 4 million riders.