Travel
When camping in Massachusetts, pitching a tent is super basic
Have you tried a yurt instead?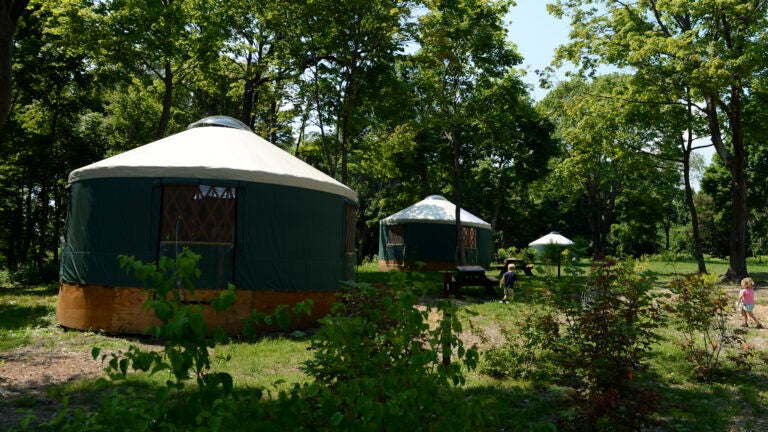 Between Memorial Day and Labor Day last year, 179,389 people camped out at the thousands of campsites offered at Massachusetts's more than 30 state parks that allow camping, according to the Department of Conservation and Recreation (DCR).
"[Camping is] one of the biggest things we do here at DCR," said Nicholas Gove, DCR's deputy commissioner.
And we're not just talking the pitch-a-tent, lay-down-a-sleeping-bag-in-the-woods variety. Campers in Massachusetts can choose from a wealth of experiences, from coastal to island camping, primitive camping near mountains, equestrian camping, and even staying in yurts or cabins. DCR also has plenty of accessible camping sites across the state, which means the campsites meet the requirements of state and Federal accessibility standards for disabled campers.
If waking up to water is what you desire, you can book a coastal campsite at Nickerson State Park in Brewster, Horseneck Beach State Reservation in Westport, Salisbury Beach State Reservation in Salisbury, and Scusset Beach State Reservation in Sagamore.
Folks looking for island camping (exactly what it sounds like) don't have to go far — they can can head to Boston Harbor Islands, which are accessible by ferry or private boat, and Washburn Island, a part of Waquoit Bay National Estuarine Research Reserve in East Falmouth, which is accessible only by private boat, according to Gove.
Campers who own horses can take their four-legged friends camping with them at Myles Standish State Forest in Carver, which has accommodations for horses, as well as equestrian trails where folks can ride, Gove said.
For "hike-in camping," a more primitive experience, campers should head to Mount Greylock State Reservation in Lanesborough, Gove said. This type of camping is more remote because, as the name suggests, you'll need to hike to your camping spot.
"These are popular with people hiking Mount Greylock out in that part of the state, as well as people that are coming off the Appalachian Trail," he said.
On the opposite end of the camping spectrum, if you want to elevate your camping experience, you can rent a yurt. Yurt camping means travelers sleep in a circular, domed structure with a wooden frame and heavy canvas walls. Yurts, which typically accommodate four to six people but come in sizes that can sleep 10, have bunk beds, screened windows, a skylight, table and chairs, and doors that lock. Some have electricity, but there is no heat, and campers must bring their own linens. Restrooms are located in a nearby building.
"This was kind of an experiment we started around 10 years ago, and it quickly became one of our more popular camping opportunities," Gove said. "They're nice because, for families, they can hold more than a couple of people, and also you don't have to deal with setting up and taking down a tent. They also happen to be more weatherproof than a standard tent."
Boston Harbor Islands in Boston, Myles Standish State Forest in Carver, Nickerson State Park in Brewster, October Mountain State Forest in Lee, Otter River State Forest in Baldwinville, Shawme-Crowell State Forest in Sandwich, Wells State Park in Sturbridge, and Willard Brook State Forest in West Townsend all offer yurt camping.
If you'd rather rent a cabin, which can sleep between three and 12 people depending on the size, you'll also sleep in bunk beds. As opposed to yurts, cabins are equipped with a pellet or wood-burning stove. They come with a picnic table and fire pit outside. As with yurts, some have electricity, campers need to bring their own linens, and restrooms are located in a nearby building. You'll find cabins in three parks: Camp Nihan Environmental Education Camp in Saugus, Mohawk Trail State Forest in Charlemont, and Savoy Mountain State Forest in Florida.
If you're a camper who enjoys all your creature comforts from your own RV, two of DCR's most popular spots for RV camping are Salisbury Beach State Reservation in Salisbury and Scusset Beach State Reservation in Sagamore, Gove said. Another popular spot for RV camping is Horseneck Beach State Reservation in Westport.
Campsites this season will cost Massachusetts residents anywhere from $8 for a primitive campsite to $90 per night for a large cabin or yurt. The prices increase for out-of-state campers; for example, a coastal campsite is $22 per night for a Massachusetts resident and $35 a night for an out-of-state resident. You can book a state park campsite at reserveamerica.com.