Travel
This year's Roaring Twenties Lawn Party will offer a tea service and VIP package
Get your beaded dresses and bow ties ready.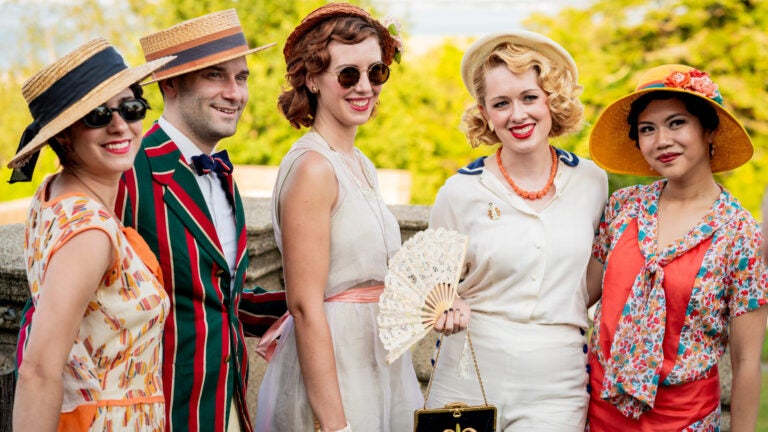 How's this for the bee's knees? Castle Hill on the Crane Estate will host its seventh annual Roaring Twenties Lawn Party on Aug. 3 and Aug. 4, and this year, guests can take afternoon tea in the garden and spring for a VIP package with perks that include a private tent and exclusive access to the 1920s mansion's roof.
Last year, the '20s-themed event drew about 3,400 people, said Mike Hibarger, vice president of Boston Swing Central, which throws the event along with the Trustees of Reservations. The vast majority of those guests dressed in period clothing, according to Hibarger.
"It's just a lot of fun," he said. "This is one of those events that people see on Facebook and Instagram and they become captured by it. It's so photogenic, and it's so much fun to just see everyone dressed up."
Along with the usual picnicking on the grounds, tours of the mansion, live music, dance contests, vintage vendors, and antique cars, organizers are adding two experiences for 2019: an "Afternoon Tea in the Italian Garden" and a "Crane VIP" option.
The tea service will take place at 4 p.m. sharp each day of the event and include tea sandwiches, pastries, and live music, according to Hibarger. It will take place in the estate's Italian Garden — also referred to as the "Formal Garden" and the first garden space commissioned by the Crane family.
"It's a really beautiful garden," Hibarger said. "It's just a very serene and beautiful space. [You can] have a cup of tea, hang out in the garden. [It's] kind of harkening back to how the Cranes spent their time in the garden."
The tea service will be provided at an additional $50 cost to the $45 price of the lawn party ticket and will be limited to 48 people per day. It must be booked by July 22.
For those looking for something extra fancy, you can buy the new VIP package. It includes lawn party admission for up to 12 people; exclusive use of a private tent for the day; salads, entrees, and desserts from Ferreira Foods; two drink tickets per person good for beer, wine, or cider from the alcohol-allowed Bootlegger's Garden; use of the mansion's bathrooms; and a private tour of the mansion that goes all of the way up to the roof (regular house tours stop at the second floor).
"Being on the roof, you can kind of see the whole lawn party unfold," Hibarger said. "It's got an amazing view up there."
The private VIP tent is "sort of a 1920s version of a box seat at Fenway," according to Hibarger. It's pricey and exclusive, too; the package costs $3,960, and only two packages are available per day. As of this writing, all four were still available, Hibarger said.
As in the past, all guests can bring their own picnic food, or they can preorder food from Ferreira Foods and pick up items such as cheese plates, quinoa and caprese salads, chilled roasted salmon, and black pepper-encrusted tenderloin sandwiches upon arrival.
Guests can also buy food from food trucks and food tents set up on the grounds. This year, Down River Ice Cream, Kelly's Roast Beef, and Los Amigos Locos will serve food throughout the weekend. No outside alcohol is allowed, but guests can purchase drinks from Far from the Tree Cider, Ipswich Ale Brewery, and Mill River Winery inside the Bootlegger's Garden.
Bands will again perform the jazz music of the '20s throughout the weekend on two different stages, and guests will have the chance to take swing dance lessons on the dance floor. There will also be roving musicians.
Plus, this year, visitors may encounter special guests, Hibarger said, but he remained mum as to who they may be.
"Some stars of the day may be on the grounds," he said, not wanting to reveal more.
The Women's Suffrage Celebration Coalition of Massachusetts will be part of the celebration this year, but the group hasn't yet announced its program. As in previous years, visitors will be able to tour the mansion, play lawn games, shop vintage vendors, and check out vintage cars. The luxury loos, new last year, will return, Hibarger said. This means that, in addition to portable toilets, guests will have access to two trailers with flushing toilets and running water.
Tickets for the event range from $36 to $95, depending on whether you are a member of the Trustees of Reservations, buy a single-day or two-day pass, or purchase the tea service. Children under age 10 are free. Tickets must be purchased in advance and will not be sold at the door. Two-day passes and the tea service will not be available after July 22.
Roaring Twenties Lawn Party; Aug. 3 and 4 from 3–8 p.m., with gates opening at 1 p.m. (full schedule here), rain or shine; 290 Argilla Road, Ipswich; thetrustees.org