Travel
Take a look inside Boston's very luxe and brand-new Four Seasons Hotel
It's inside a 61-story glass skyscraper.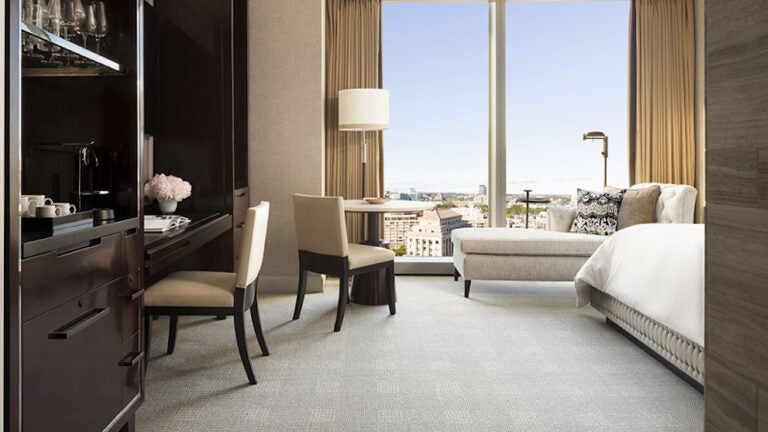 Many locals are familiar with the Four Seasons Hotel Boston that sits on Boylston Street and overlooks the Public Garden. Boston's second Four Seasons Hotel opened Tuesday, also in the Back Bay, inside a 61-story glass skyscraper.
You'll find the Four Seasons Hotel One Dalton Street inside the city's third-tallest building, One Dalton. The 215 guest rooms, from floors eight to 21, include 41 suites and offer floor-to-ceiling windows, king-sized beds, bathrooms with spacious showers and marble vanities, 65-inch flat-screen TVs, and tablets for booking services and reservations.
More rest and relaxation comes via the hotel's spa and salon, as well as a 2,100-square-foot fitness center, by taking the high-speed elevator to the seventh floor, or "Wellness Floor." At the salon, visitors can book hair, nail, and makeup services, and at the spa, they can experience massages and facials in one of five treatment rooms, including a couple's room. There's also a 64-foot curved indoor pool.
Zuma, a modern Japanese restaurant with Thai wood, bamboo lanterns, and a floating DJ booth, opened in the building on Tuesday. Zuma's culinary team serves local fish in its tempura, sushi, sashimi, and other dishes, and its bar features contemporary cocktails and more than 70 different sakes. This is the restaurant's 12th location, but its first in Massachusetts.
Another dining option, on the second floor, is the restaurant One + One, which is open for breakfast and lunch with fresh-pressed juice and executive chef Ellis Chong's signature chicken and waffles. A street-level bar called Trifecta Lobby Bar, which will offer handcrafted cocktails and "shared plates of modern New England fare," will open soon, according to a press release.
Throughout the hotel, guests can view Boston-inspired art, curated by world-renowned art consultants Kate Chertvian and Lucy Rosenburgh. One piece is local artist Duke Riley's mosaic about the Great Molasses Flood of 1919, called "They Say, on a Really Hot Day."
"Our second location in Boston is truly a jewel in the Four Seasons portfolio, with its striking architecture, modern interiors and world class amenities setting the stage for a fully customised Four Seasons experience," said Christian Clerc, president of worldwide hotel operations for Four Seasons Hotels and Resorts, in a press release. "Each and every detail has been thoughtfully curated, designed to ensure guests enjoy the highest standards of quality and the most genuine and personal service — the markers of a Four Seasons experience the world over."
The first Four Seasons Hotel in Boston, located at 200 Boylston St., opened in 1985. One Dalton also houses 160 Four Seasons private residences — the highest residences in the city — on floors 24 to 61.