Travel
Jet Linx moves into Hanscom Field
Boston's private aviation market just landed a new player, one offering personal service at a chic new terminal.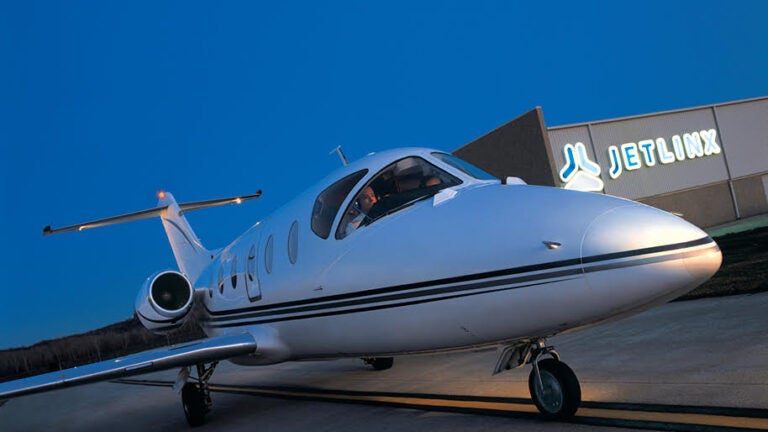 This month, Jet Linx, a private aviation company that began in Omaha, Nebraska in 1999, has spread its wings to the Northeast, opening its own Boston terminal at Hanscom Field in Bedford.
Jet Linx's steady 20-year expansion now includes 18 terminals, a success that Jamie Walker, president and CEO of Jet Linx, says is down to the company offering, "more than an 800 number."
"We saw a niche in the marketplace and that was for a more personal service," Walker says of the company's beginnings 20 years ago. "All our competitors have an 800 number, in addition they don't have local planes or pilots, or a local terminal. [With Jet Linx] the number you call is a local Boston number. The staff is a local Boston team. The schedule and quoting is much more personal."
Before starting Jet Linx, Walker worked in sales and marketing in residential development in New York City. But, instead of starting a private jet company among the stiffest competition in the country, Jet Linx began among the concentrated corporate world of landlocked Omaha.
Now, Walker feels Jet Linx is ready for the competitive east coast. After Boston, the Jet Linx New York terminal opens in Teterboro, New Jersey in September.  
"Moving into a market like Boston or New York was something we wanted to be prepared for," he said. "We knew we had to have the right setup. We were very sensitive when we entered into these markets."
Jet Linx not only employs local staff in each market, but it also works with local investors and local jet owners. The plane owners benefit from Jet Linx maintaining their planes as part of a management contract. Jet Linx benefits from having a fleet but without an expensive inventory.
"Our business model is asset light," confirmed Walker, "it allows us to be very nimble."
The model has allowed continued growth that works to benefit all of its plane owners and customers.
"We now have a bigger fleet and infrastructure," said Walker. "That means we have better options. We're the third-largest private [aircraft management company] in the U.S. and that gives us greater buying power when it comes to fuel, and helps keep other costs low, too."
The new terminal is tucked behind Basel-based Jet Aviation, another private and prestigious player. Jet Linx's smaller accommodations include a comfy lounge with a TV and coffee machine and pleasant bathrooms. It's much like a smart business lounge — except this one is attached to a large aircraft hangar. After a few steps from the lounge, you are boarding.
Comfort, convenience, and convivial service are important aspects, but safety is the paramount issue.
"We have the highest safety rating in the industry," said Walker. "We recently grounded our entire fleet for a day to get our team together to focus all of our members on safety. I don't know any other aviation company that would do that.
"Not only do we have the highest possible rating in private aviation in the U.S.," he continued, "but also it is measured by international standards. So we have the highest international rating available."