Travel
Logan Airport just unveiled a new 'Great Hall' in Terminal B
The space includes an exhibit that celebrates New England athletes and sports teams.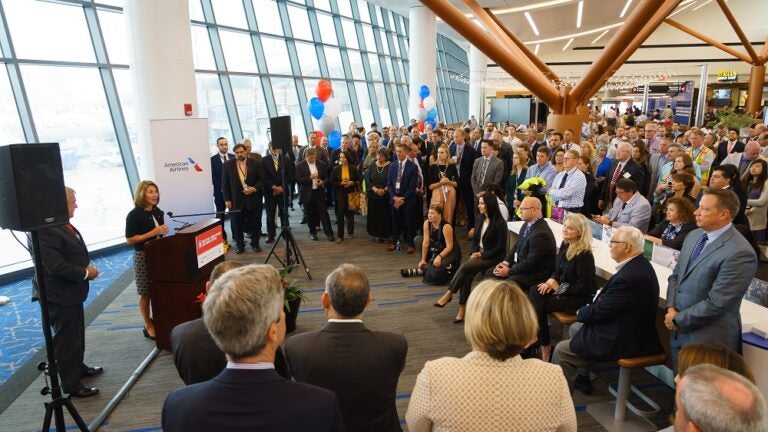 Travelers at Logan Airport in Boston may notice a few changes to Terminal B during the summer travel season.
Massport revealed a new "Great Hall" in the terminal on Thursday, part of the nearly $200 million Terminal B Optimization project at the airport, which took a year-and-a-half to complete.
The project involved renovating 70,000 square feet of the existing terminal and adding 75,000 square feet of new space, according to a Massport press release. The terminal now connects all 37 gates post-security, consolidates three TSA checkpoints into one modern checkpoint, and offers new Automated Screening Lanes (ASL), which Massport says will improve efficiency and reduce wait times for passengers.
Inside the new Great Hall, travelers will encounter exhibits that celebrate New England athletes and sports teams, new couches and lounge chairs, work stations with plugs for devices, a pet relief station, a wall of energy-efficient windows, an area for kids decorated with characters from children's books authored by local writers, and local restaurants such as Lucca and Kelly's Roast Beef.
The project is a collaboration between Massport and American Airlines, which flies out of Terminal B. The completion of the project also means that all American Airlines operations will take place on one side of the terminal, optimizing space. Since the merger between US Airways and American in 2015, American has operated on both sides of the terminal.
"American has always been a great partner and we are grateful for their collaboration to improve the customer experience," said Massport Aviation Director Ed Freni in the release. "Safety and security is our top priority and having one security checkpoint makes the whole process more efficient. We appreciate passengers being patient throughout this process and we hope they enjoy the new exhibits and spaces we have to offer."
American Airlines is Logan's third-largest operator and serves more than six million passengers per year at Logan, according to the release.