Travel
Stay in a treehouse, a helicopter hangar, or other quirky cottages at this Connecticut resort
Peek inside some of the unique accommodations at Winvian Farm in Morris, Conn.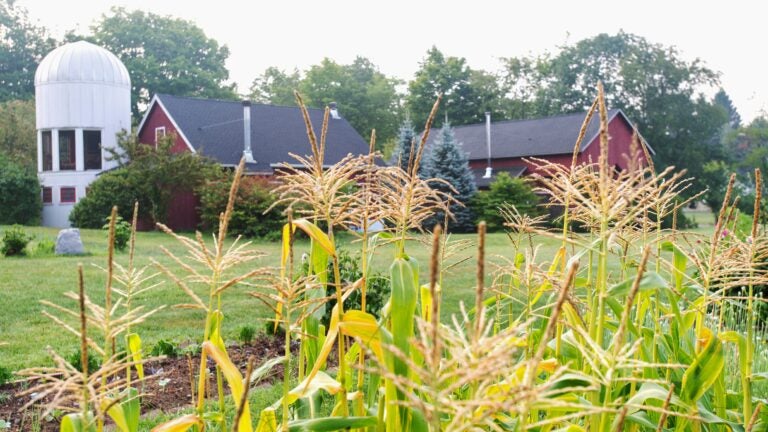 Winvian Farm in Morris, Conn., has enjoyed nationwide attention since it opened in 2007, most recently from Travel + Leisure, which this week ranked it one of the top 10 resort hotels in the Northeast, and Conde Nast Traveler, which named it among the 50 best places to visit in the U.S. this year.
The sprawling 113-acre resort has a bevy of comfortable amenities: The five-star restaurant is led by executive chef Chris Eddy, who has worked with celebrity chefs Alain Ducasse and Jean-Michel Bergougnoux, and serves farm-to-table menus for dinner. The 5,000-square foot spa is nestled among pristine woods and offers yoga and pilates classes, aromatherapy, a meditation lounge, and a sauna. A 40-foot swimming pool has beverage service and a pool house with showers.
And guests can choose from overnight accommodations that include a treehouse and a helicopter hangar.
That's right.
The 113-acre resort in Connecticut's Litchfield Hills is dotted with 18 unique cottages designed in various themes. Owner Maggie Smith commissioned 15 different architects to create the cottages, which are all wildly different.
"That's part of what our guests love so much, is the sense of awe and wonderment," Smith said. "Because you're not quite sure what's behind the door when the door first gets opened."
Ahead, peek inside some of the most quirky cottages at Winvian Farm.
The Helicopter Cottage
Inside the Helicopter Cottage, guests can sleep in a king-sized bed beside a 17,000-pound, fully-restored 1968 Sikorsky Sea King Pelican JJ3F helicopter. Guests sleep inside the helicopter's hangar, but relax on a sofa in front of a flat-screen TV in the aircraft's fuselage, drink cocktails in the cockpit, and spend time in the pilot and co-pilot seats beside the switches and gears.
Other features include a steam shower, jacuzzi tub, and a wood-burning stove.
Beaver Lodge
Inside Beaver Lodge, guests sleep beneath an actual beaver's den and amid trees and stones taken from the property. The beaver den was discovered on the property, polished, and inserted into the cottage's ceiling above the bed, Smith said.
"It's really cool to lie in bed and look up at this," Smith said. "What we hear most from our guests is they actually feel like they are living in a beaver den."
The cottage also features a carved beaver at the end of the bed, a two-sided fireplace, and a circular metal staircase.
Treehouse Cottage
The two-story Treehouse cottage enjoys views of the forest, a king-sized bed, a steam shower, a jacuzzi, and a gas fireplace, as well as a second-floor lounge.
"It is 35 feet off the ground," Smith said. "It is a very, very popular one. We have a lot of parents traveling with their kids and grandparents who get a kick out of that."
Stone Cottage
In Stone Cottage, where huge stone pillars hold up the slate roof, a double-sided stone fireplace rises through the ceiling, and the bathroom features a custom-crafted, polished concrete double sink. Guests relax on leather furniture in the living room and sleep in a hand-carved, king-sized bed.
"We really try to offer something that is genuine and heartfelt and, quite frankly, authentic," Smith said.
Maritime Cottage
Guests sleep inside a lighthouse when they stay at the Maritime Cottage.
The bedroom purposely has no shades, so lots of natural light enters through the many lighthouse windows. The cottage also has a wood-burning fireplace in the living room and a barrel-roofed bathroom. There's also a water view of the property's Charles Pond.
"[Guests] really do feel like they are having a bit of a maritime experience sitting in landlocked Morris, Connecticut," Smith said.
The Hadley Suite
Guests can also rent the Hadley Suite located inside the historic Seth Bird House, built by former occupant Dr. Seth Bird in 1775. Bird was an eccentric doctor known for traveling with a coffin when he met with his patients, Smith said.
The Hadley Suite, located on the top floor, offers antiques as well as modern comforts. Sleeping accommodations include a classic four-poster bed and custom queen sleeper sofa. A flatscreen TV is hidden inside the armoire. Visitors can relax in a crimson sitting room beside a fireplace and enjoy a drink from the wet bar. The bathroom has a steam shower and oversized jacuzzi tub.
"That house was historically restored," Smith said. "You really do feel like you are staying in a real home."