Travel
You can now get food delivered to your gate at Logan Airport
Service via the AtYourGate app is currently available to travelers in Terminal A.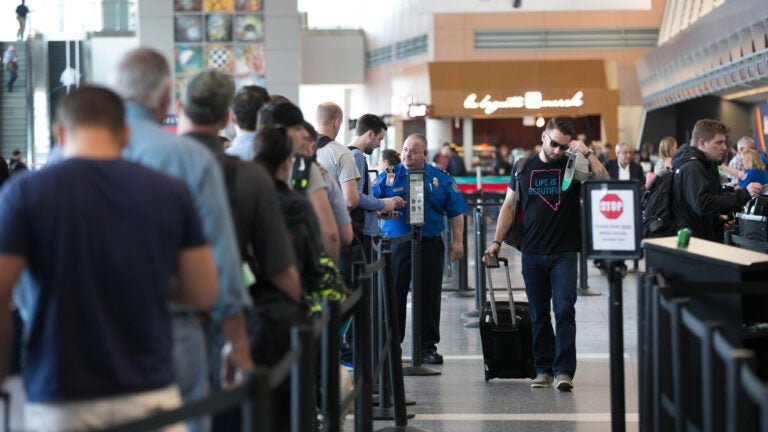 Hungry travelers can now order pizza, seafood, and burritos directly to their gate at Logan Airport's Terminal A.
AtYourGate, an in-airport order and delivery app, became available to Logan customers July 15. It is currently offered only in Terminal A, but there are plans to expand to Terminal C by the end of the summer, said Chris Hartman, co-founder of AtYourGate.
"Within the next six months, you'll see us in all the terminals at Logan," Hartman said.
Here's how it works: Logan customers use the AtYourGate app to order from a restaurant located within the terminal and the food is delivered directly to the traveler within 30 minutes. There's a $2.99 fee added to each order for the service, Hartman said, but Logan Airport customers will enjoy fee-free orders for the first year of service, thanks to Massport and Marketplace Logan, Hartman said.
Terminal A restaurants available on the service include Boston Bruins Bar, Currito, Fresh City, Friendly's, Legal Test Kitchen, and Sbarro. In the future, Hartman said he'd like to offer Logan passengers food prepared from any restaurant located inside the airport, regardless of which terminal they are in.
"Our goal at every airport is to kind of open up the airport to all the passengers," he said.
The company launched the service at San Diego International Airport in February 2018, and it's now available in seven airports across the country, Hartman said.
Why Logan? "We found that they are looking for innovative ways to continually improve the passenger experience," Hartman said.
The service is currently available in Newark Liberty International Airport in Newark, N.J.; John F. Kennedy International Airport and LaGuardia Airport, both in Queens, N.Y.; Minneapolis-St. Paul International Airport in St. Paul, Minn.; Portland International Airport in Portland, Ore.; and San Diego International Airport in San Diego, Calif. The company plans to roll out the service at more airports nationwide, Hartman said.
As for whether passengers should tip their delivery person, "… tipping is available in the app, and it's optional," Hartman said. "So we leave that up to the user to decide."