Travel
The Cape Cod Potato Chips factory has a new and improved tour
You can now relax on a patio with your complimentary chips.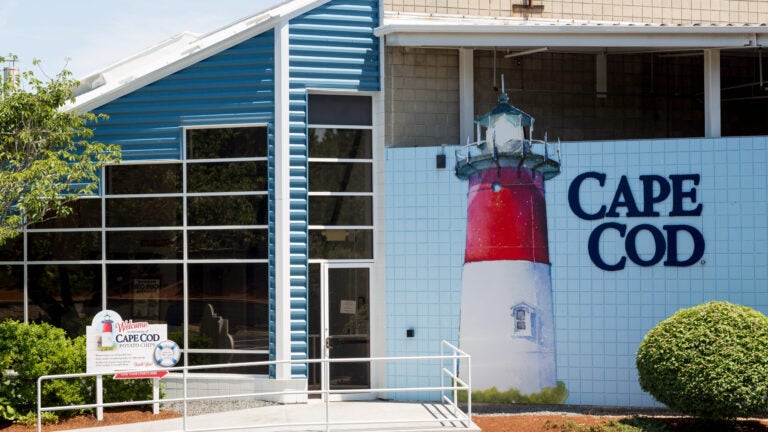 Visitors to the Cape Cod Potato Chips factory in Hyannis this month are experiencing an updated nautical-themed tour full of original factory artifacts and a new patio where they can relax and eat complimentary chips.
After four months of renovations, the tour — which the factory says attracts 250,000 visitors each year — reopened July 8. The free, self-guided, 30-minute tour allows guests an up-close view of how the potato chips are produced one batch at a time in custom kettles.
Changes to the tour include a widened walkway to accommodate double the amount of guests, artifacts from the factory's opening in 1980 such as the factory's original kettle, plenty of photo opportunities, and a nautical decor that includes floors inspired by the ocean, new light fixtures, and boat ropes. What's more, guests can relax with a bag of chips on a new patio located outside of the gift shop. As always, guests receive a complimentary sample of potato chips upon the conclusion of the tour.
On average, the factory produces nearly 30,000 pounds of potato chips a day, 600,000 pounds of potato chips per month, and 7,200,000 pounds of potato chips per year, according to the company. The company recently released Cape Cod Summer Potato Chips, featuring cracked pepper and a hint of lemon. In October, the company will re-release the limited-edition Cape Cod Pink Himalayan Salt & Red Wine Vinegar Potato Chips in support of breast cancer research at the Dana-Farber Cancer Institute.
Cape Cod Potato Chips factory, 100 Breeds Hill Road, Hyannis; Monday-Friday, 9 a.m. to 5 p.m.; free