Travel
What to know about the Revere Beach International Sand Sculpting Festival
The 16th annual sand-sculpting festival takes place July 26-28, 2019.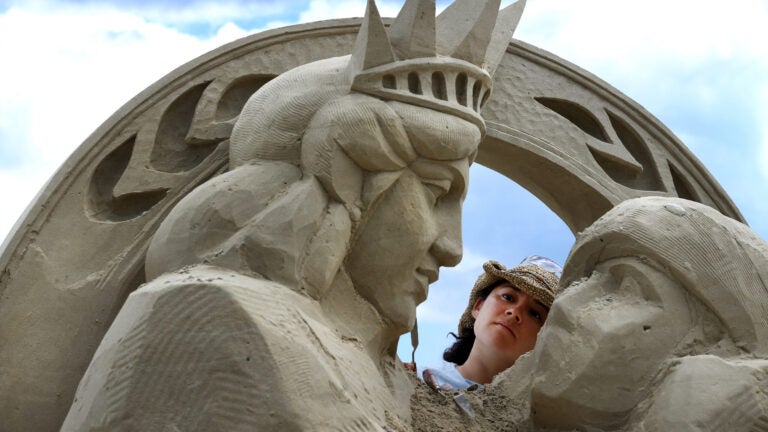 Artists from across the globe are ready to wow beachgoers in Revere by crafting enormous, intricate sand sculptures during the annual Revere Beach International Sand Sculpting Festival.
The event, in its 16th year, drew more than 1 million visitors in 2018 and will take place July 26-28 on Revere Beach. This year's theme is the 50th anniversary of the moon landing.
The free, three-day event features work from 15 sculptors, including four from the U.S. and one from Massachusetts. The festival will also feature live music, more than a dozen food trucks, carnival rides, fireworks, and more.
Here's what you need to know if you're going to this year's festival.
When to go:
The festival will take place Friday and Saturday from 10 a.m. to 10 p.m. and Sunday from 10 a.m. to 8 p.m.
The cost:
Admission is free.
How to get there:
Massachusetts State Police are urging the public to take public transportation to the festival via bus or the MBTA Blue Line to the Revere Beach and Wonderland stops, both within walking distance of the venue.
Revere Beach Boulevard is closed from Eliot Circle, at its south end, to Chester Street, the intersection adjacent to the state police barracks, according to police. There will be no parking on Ocean Avenue or Revere Beach Boulevard during the festival.
Those who drive will find limited parking available at the Wonderland stop, according to the event website.
The sculptures:
Fifteen artists will compete this year, hailing from Belgium, Canada, France, India, Ireland, Russia, The Netherlands, and the United States, including Massachusetts native Deb Barrett-Cutulle.
The sculpting competition ends at 2 p.m. Saturday, and visitors can vote for the People's Choice winner between 2 and 4 p.m. The winners will be announced at an awards ceremony at 6:30 p.m. Five winners will receive more than $15,000 in prize money altogether, with the first-place winner receiving $5,000, according to organizers.
Guests can watch even more sculpting fun on Sunday from 11 a.m. to 2 p.m. during the Revere Beach Amateur Team Sand Sculpting Competition. Thirty teams will be tasked with building a sculpture within three hours. The master sand sculptors will give demonstrations prior to the competition and provide tips and tricks to the amateur competitors.
The food:
More than a dozen food trucks onsite will sell burgers, pizza, seafood, Asian street food, hot dogs, Mediterranean food, and more. Local favorites include Ben & Jerry's, Kelly's Roast Beef, and Kowloon. Dessert trucks will dole out whoopie pies, ice cream, cookies, and shaved ice.
The entertainment:
Attendees can enjoy live music all weekend long: Radio Roulette and World Premiere Band play on Friday; Decades of Rock, Smokin' Joe & The Henchmen, DC Project, and Mike Rollins & Co. featuring Lisa Bello play on Saturday; and Soul Revival Orchestra, MSF Band, and Richie Rich and the 24 Karat Funk play on Sunday.
There will be street performers, amusement rides, and games throughout the weekend. Families can take kids to the New England Aquarium/DCR Kids' Zone for activities on Saturday from 10 a.m. to 12:30 p.m.
A fire and pyrotechnic show starts Friday night at 9 p.m., and a 30-minute fireworks display synchronized to music begins Saturday night at 9 p.m.
Check out the full schedule of events.