Travel
The historic Williams Inn in the Berkshires just got a modern makeover and new location
The inn now features modern amenities, including a new farm-to-table restaurant called The Barn.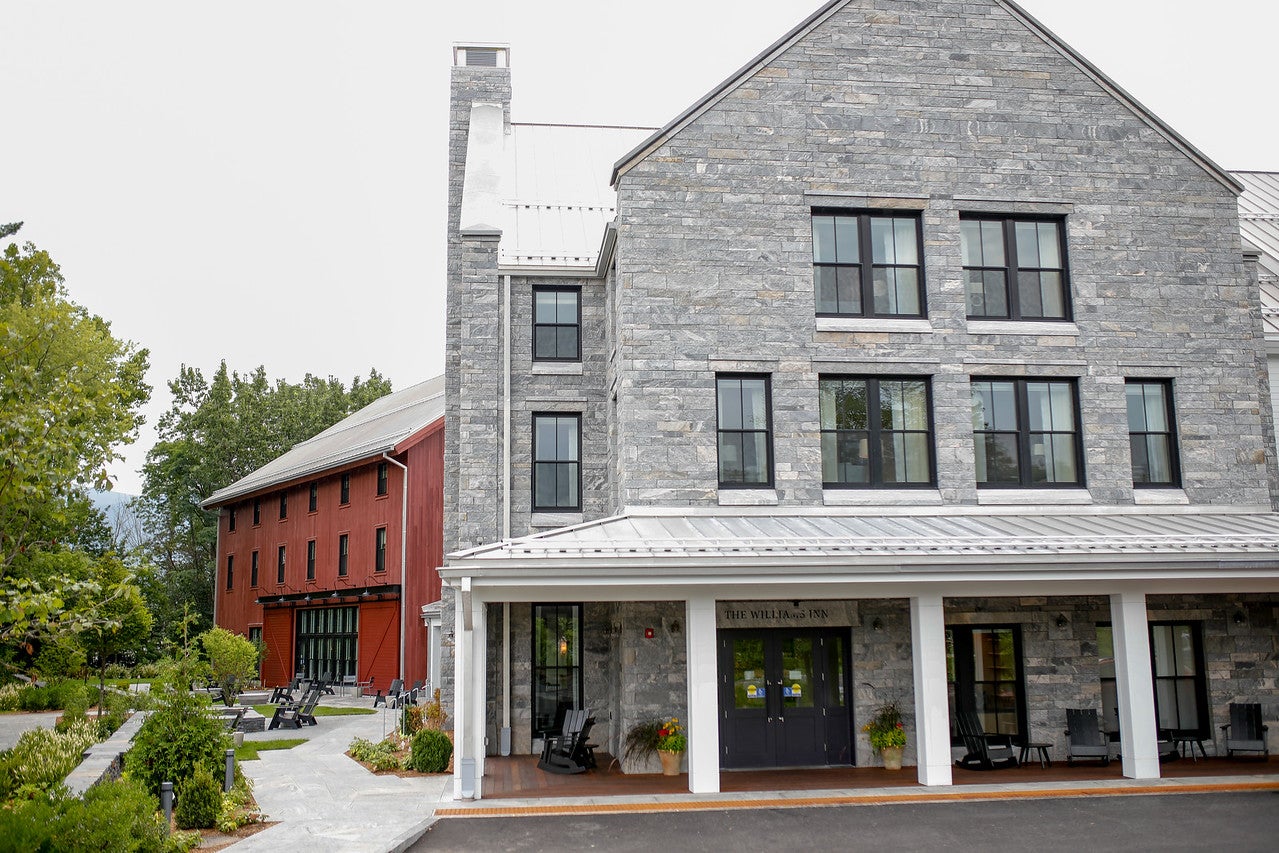 The historic Williams Inn in the Berkshires reopened in mid-August after the inn's dated structure closed at the end of July. The new three-story, 58,000 square foot, $32 million building has 64 guest rooms, a new farm-to-table restaurant, and other modern amenities.
"The Williams Inn … is sure to become a centerpiece for the community," general manager Kevin Hurley said in a press release.
The Williams Inn, located on Spring Street in Williamstown, first opened in 1912 as a privately owned hotel on the Williams College campus. It moved to Main Street in 1974 and was purchased by the college in 2014.
The new inn emphasizes local materials, talent, and food. It was crafted using local stone and wood, displays work from area artists, and serves food with ingredients from nearby farms.
"Our hope is that the new Williams Inn serves as a welcoming spot for locals and visitors alike to gather and enjoy the scenic atmosphere," Fred Puddester, vice president for finance and administration at Williams College, said in the press release. "The Inn's location at the base of Spring Street allows guests closer proximity to downtown shops and restaurants, and within walking distance of Williams' campus, the Clark Art Institute, WCMA, and Williamstown Theatre Festival. In addition, the inn's restaurant offers an exciting new dining option in the heart of Williamstown."
Guests can choose between farmhouse-styled king, queen, or double queen rooms, or they can book one of three suites. The rooms have Eurotop mattresses, 55-inch HDTVs, complimentary Wi-Fi, and compact refrigerators. The queen rooms feature 16-foot vaulted ceilings, and the king suite has a separate living room, plenty of natural light, and panoramic views of downtown Williamstown.
ADA-compliant rooms are also available upon request. The inn is also pet friendly.
Interiors throughout are a nod to the contemporary New England farmhouse, featuring rooms full of art, photography, sculptures, and pottery created by local artists such as painter Laylah Ali, a Williams College graduate who lives and works in Williamstown.
At the 62-seat farm-to-table restaurant The Barn, executive chef Kevin DeMarco offers guests "American classics" for breakfast, lunch, and dinner. The breakfast menu includes freshly baked scones, croissants, and muffins, as well as kale feta omelets and lemon ricotta pancakes. Lunch options range from lobster rolls to the "barn burger," and dinner entrees include scallops, steak, and duck confit noodles.
DeMarco uses ingredients from many local farms, including Cricket Creek Farm in Williamstown, Kitchen Garden Farm in Sunderland, and Red Shirt Farm in Lanesborough, according to the inn's website.
The Barn has two private dining spaces and seasonal, outdoor dining on its patio, where "the firepit will add a warm glow to the evening while you kick back, relax, and enjoy the view of picturesque downtown Williamstown and Berkshire Mountains," according to the inn's Facebook page.
It offers 3,200 square feet of combined indoor/outdoor meeting and event space that can accommodate up to 390 visitors, as well as 3,500 square feet of green space for seasonal outdoor functions. There's also a fitness center.
Plans are in the works to host free concerts, lectures, and other activities throughout the year, as well as a farmer's market on Saturdays between May and October, according to the release.
"The inn is a celebration of the rich culture, history, and talent of the area," Hurley said. "From the locally curated menu at The Barn to carefully selected pieces from local makers and artisans used throughout the property, so much thought and care went into making this property a staple in the community."