Travel
6 New England corn mazes to get lost in this fall, including one inspired by Gronk
These spots offer plenty of fall fun.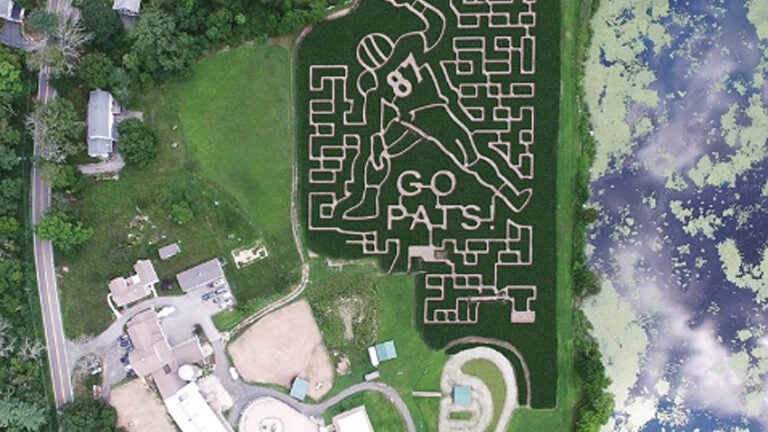 It's the time of year when local corn fields come alive with visitors on a mission to solve their carefully carved mazes. The following farms took corn maze inspiration this year from local sports heroes, the military, and the power of kindness.
Ahead, discover a New England corn maze worth solving in every New England state.
This 13-acre corn maze was created with kindness in mind. This year's theme is "kids color their world with kindness," and the farm wrote the following on its Facebook page: "Come learn some cool Kindness tips & reminders at this year's Maze! It is amazing how just a tiny amount of effort on your part can really impact someone's life so positively!!" Outside the maze, guests can visit with animals, play in a corn pit, and ride in wagons. The maze opened July 27.
This eight-acre maze honors the military: The five branches of the military are spelled out in its curves. Another way the farm is thanking the military: half-price admission for military members who show ID throughout the month of September. Guests can also enjoy food, hayrides, a hay play area, and more. The maze opened Aug. 30.
NASCAR fans can take a spin through a corn maze that honors Connecticut-born NASCAR champion Joey Logano. The farm carved "2018 NASCAR champion Joey Logano" among its stalks. Guests will have to navigate four acres of corn and 2 1/2 miles of trails to complete this track. Other ways to have fun: pony rides, horse-drawn wagon rides, apple cider doughnuts, and more. Lyman Orchards is donating $1 from each maze admission to the American Cancer Society. The maze opened Aug. 31.
Fall weather may be on its way, but the palm tree and sunshine carved into this five-acre maze may just keep those summer vibes alive. "This years maize is all about having fun in the sun and relaxing on a tropical island," wrote the farm on its website. The stalks spell, "Get deserted in the maze." Once guests get off the island — or out of the corn stalks — they can enjoy activities such as tire swings, tricycle races, a corn tunnel, wagon rides, and more. The maze opens Sept. 14.
This Gronk-inspired maze features retired New England Patriots player Rob Gronkowski and the messages "Thanks Gronk" and "Go Pats!" on its 6.5 acres. "What an a-maize-ing person you are on and off the field, Gronk, and it's been so fun to watch you play!" wrote the creamery on its Facebook page. "Together with Pats fans everywhere, we are sad to see you retire, and wish you all the best! We will miss you this season!" Other activities at this spot include wagon rides, tug-o-war, a barnyard jump, mini golf, pony rides, food, and more. The maze opens Sept. 21.
When you make your way through this maze, you are supporting and raising money for blood disorders. Sherman Farm partnered with the New England Hemophilia Association (NEHA) to create a maze with the letters "NEHA" that raises awareness for the cause. A portion of the maze sales will benefit the association's emergency assistance program. Other activities at the farm include corn boxes (think sandboxes but with corn), a petting zoo, hayrides, and a new pumpkin pad bounce area. The maze opens Sept. 21.