Travel
USA Today readers say this New England fall festival is the best in America
New England spots also ranked high in best corn mazes and fall foliage destinations.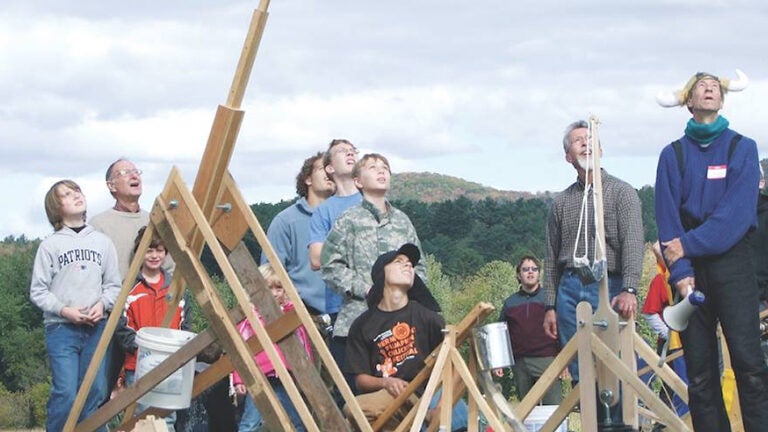 Among the many fall festivals taking place across the region this season, there's a pumpkin-chuckin' party in Vermont that USA Today readers just named the best in America.
The Vermont Pumpkin Chuckin' Festival in Stowe is the top fall festival in the land, USA Today announced on Friday. The list is part of the publication's 2019 10Best Reader's Choice Awards. The NH Pumpkin Festival in Laconia, N.H. also made the list, and ranked No. 6.
"Each autumn Stoweflake Mountain Resort hosts the annual Vermont Pumpkin Chuckin' Festival, where competitors gather with their DIY trebuchets and catapults to see who can chuck a pumpkin the farthest," wrote USA Today. "The festivities also include live music, a chili cook-off and activities for kids."
Another spot for fall fun that ranked high with USA Today readers is Treworgy Family Orchards in Levant, Maine, which ranked No. 2 in the best corn maze category. It was the only New England spot on the list. The top corn maze in the country is Exploration Acres in Lafayette, Indiana, according to USA Today readers.
"Treworgy's corn maze, the longest continually running corn maze in Maine, covers 4.5 acres and is made from some 60,000 corn plants grown to a height of about 10 feet tall," wrote USA Today. "Family members design and plant a new maze each year using traditional drafting and surveying methods. The 2019 maze takes inspiration from the children's classic Blueberries for Sal."
And, finally, two New England spots made the publication's list of best destination for fall foliage: New Hampshire's White Mountains ranked No. 2 and Vermont's Green Mountains ranked No. 9. The No. 1 spot for fall foliage, according to USA Today readers, is Door County in Wisconsin.
"The annual display of fall color in the White Mountains of New Hampshire typically takes place each September and October, attracting millions of visitors from around the globe," wrote USA Today. "One of the best places to take it all in is along the 34-mile Kancamagus Highway as it cuts through White Mountain National Forest."
For the 10Best Reader's Choice Awards lists, USA Today travel experts select 20 nominees in topics that range from food to lodging, destinations to things to do, and then ask readers to cast votes to determine the top 10.
Read the full list of best fall festivals here.