Travel
This Mass. spot was just named one of 6 great public places in America in 2019
It sets a national gold standard, according to the American Planning Association.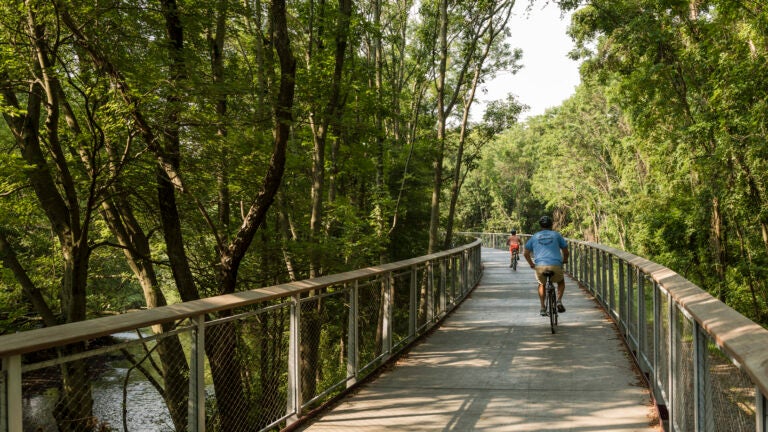 The Neponset River Greenway, a multi-use trail along the banks of the Neponset River in Milton and Boston, was just named one of the Great Places in America in 2019 by the American Planning Association (APA).
The Greenway is one of six public spaces among 13 places nationwide that made the APA's annual list. The Great Places in America program, which launched in 2007, recognizes neighborhoods, streets, and public spaces across the country that represent "the gold standard for a true sense of place, cultural and historical interest, community involvement, and a vision for the future," according to the APA.
Among the factors that make the Greenway exemplary, according to the APA, are the increased access to open space for Mattapan residents, the new bikeshare station to Mattapan Square, affordable housing near the river, and the newly constructed or proposed developments in the area.
"The public spaces recognized this year demonstrate the importance of planning in creating welcoming, multi-use spaces for the entire community to enjoy and come together," said Kurt Christiansen, APA president, in a press release. "The Neponset River Greenway is a national example of how improving accessibility to community assets can drastically improve the lives of residents and make communities more inclusive."
Members of the Neponset River Greenway Council said the following about the Greenway in this statement provided by the APA:
"On the second day this Greenway section was open, a gentleman crossed the canopy bridge on his motorized wheelchair. It's not just a bike path; it truly is a people path. This trail makes the river accessible for families in Mattapan and other adjacent communities, many that had no idea there was a river behind those trees. Those of us from the many communities along the river who spent years helping to create the Neponset River Greenway have become friends with people that we never would have known before."
The other five public places recognized by the APA this year are: Pioneer Park in Mesa, Arizona; Mohawk Valley Gateway Overlook in Amsterdam, New York; Governors Island in New York, New York; Gathering Place in Tulsa, Oklahoma; and Discovery Green in Houston, Texas.
Since the program's inception, the APA has recognized 303 neighborhoods, streets and public spaces around the country. View all 13 of the APA's Great Places in America for 2019.