Travel
6 New England towns to visit in October
Get ready for some major leaf peeping.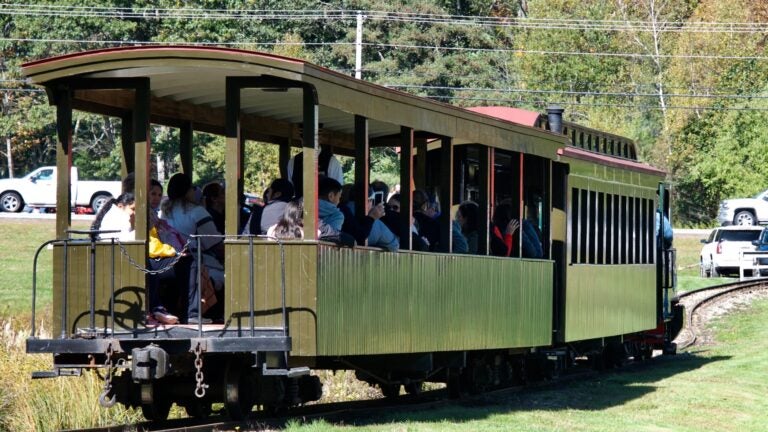 It's fall in New England, which means the trees are about to burst into the brilliant colors that make this region so iconic this time of year.
Ahead, discover six towns hosting October events that incorporate Mother Nature's annual display.
When you stroll through Old Wethersfield between Oct. 5 and Nov. 3, you'll enjoy scarecrows of all shapes and sizes during the 24th Annual Scarecrows Along Main Street event. Each fall, dozens of dressed-up scarecrows dot colorful Main Street throughout the month of October for the event, which is sponsored by the Old Wethersfield Shopkeepers Association. While there, you can explore the historic town's shops. Last fall, the Hallmark Channel filmed the movie "Christmas on Honeysuckle Lane" in this historic town. The event is free.
North Adams has been celebrating the changing leaves for more than half a century with a festival foliage parade. This year's installment, the 64th Annual Fall Foliage Parade, will make its way down Main Street on Oct. 6 at 1 p.m. This year's theme is "There's No Place Like Home in The Berkshires" in honor of the classic movie "Wizard of Oz," which is celebrating its 80th anniversary. Spectators will be treated to floats, marching bands, and more. The two-mile parade starts on Curran Memorial Highway, runs down Main Street, and ends on Ashland Street. The event is free.
How would you like to spy nature's fall leaves from a narrow-gauge steam train winding through an outdoor history museum? Welcome to the 52nd Annual Fall Foliage Festival, taking place Oct. 12-13 at Boothbay Railway Village. Your ride will carry you through a re-created Maine town with historic and reconstructed buildings from 1850 to 1950. After your ride, you can shop dozens of craft and food vendors on the museum's Village Green, explore exhibits that detail Maine's railroad heritage, and get up close to more than 60 antique cars. Admission is $5 and kids age 12 and under, as well as members, are free. Train rides are an additional $5.
You'll tap your toes to the sounds of bluegrass, jazz, and even a Beatles tribute band during the 72nd Annual Fall Foliage Festival, taking place on Main Street in Warner Oct. 11-13. Off stage, you'll find carnival rides, dance performances, crafters, raffles, an ice cream eating contest, and an oxen competition. Hungry guests can fuel up at the lobster and chicken BBQ tent. Watch for the children's parade on Saturday and a grand parade on Sunday. Admission is free and parking costs $5.
Enjoy art among nature at the 37th Annual Stowe Foliage Arts Festival at Topnotch Field in Stowe on Oct. 11-13. More than 150 juried fine artists and artisans will exhibit and sell everything from photography to sculptures to specialty food products under white tents against the backdrop of Vermont's foliage season. Guests will have the opportunity to sample maple syrup, gourmet chocolate, craft spirits, and more. The weekend will also include live music, food, beer, wine, and craft demonstrations. Admission is $10 Friday, $12 Saturday, and kids are free.
Catch a fireworks show after a full day of fall fun at World War II Veteran's Memorial State Park in Woonsocket, R.I. during the 41st annual Autumnfest, taking place Oct. 11-14. Other fun includes arts and crafts booths, carnival rides, live music, a beer tent and food court, and children's activities. There will also be a dodgeball tournament and what's billed as New England's largest tug-of-war event. You'll want to snag a good spot for the Autumnfest parade, taking place on Monday. There is no admission fee, but organizers ask that you buy a button for $1.