Travel
Atlas Obscura says 5 of 'the world's hidden wonders' are in Massachusetts
The book also highlights 13 Boston spots worth exploring.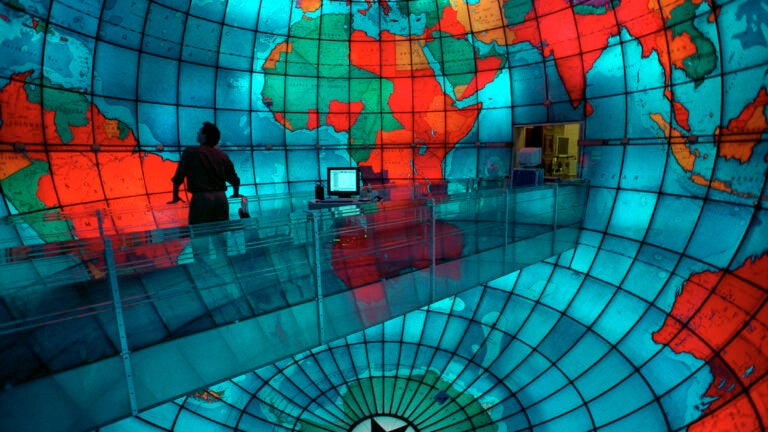 Five of the world's hidden wonders are here in Massachusetts, according to a new Atlas Obscura book, due out Oct. 15.
"Atlas Obscura, 2nd Edition: An Explorer's Guide to the World's Hidden Wonders" by Joshua Foer, Dylan Thuras, and Ella Morton, details unusual destinations around the planet. The first Atlas Obscura book, released in 2016, was a New York Times bestseller.
Five Massachusetts experiences made the cut: the Mapparium, Ether Dome, and James Allen's Biography, all in Boston; the Museum of Bad Art in Somerville; and the Paper House in Rockport.
In Boston, the Mapparium is a famous three-story stained-glass globe inside the Mary Baker Eddy Library and "the only place in the world in which the surface of the Earth can be seen without distortion," according to the authors. James Allen's biography at the Boston Athenaeum, "Narrative of the Life of James Allen," is a book bound in the skin of its author. And the Ether Dome at the Paul S. Russell, MD Museum of Medical History and Innovation at Massachusetts General Hospital, is where visitors can see where the first surgery using ether took place in 1846.
Over in Somerville, the Museum of Bad Art features artwork where "there is a glaring gap between the artist's sincerity and skill level," according to the authors. The museum is currently closed for renovations, according to its website, but you can view the art online.
In Rockport, the Paper House is a 1922 home made of newspaper.
The book also features a Boston city guide, which briefly highlights the following 13 spots:
All Saints Way in the North End, a narrow alleyway wall that serves as a shrine to Catholic saints
Dutch House in Brookline, a four-story Dutch Renaissance-style structure built for the 1893 Chicago World's Fair
Franklin Park Zoo Bear Dens in Roxbury, the bear dens of the first Franklin Park Zoo
Granary Burying Ground in Boston, a cemetery founded in 1660
Infinite Corridor (MIThenge) in Cambridge, an 825-foot corridor that goes through multiple MIT buildings
Jamaica Pond Bench in Jamaica Plain, a u-shaped seatless park bench
Madonna Queen National Shrine in East Boston, a 35-foot statue of "Madonna, Queen of the Universe" built in 1954
Mark I at Harvard's Science Center in Cambridge, a 51-foot-long WWII calculator
Metropolitan Waterworks Museum in Chestnut Hill, home of the steam-powered pumping engines that supplied Boston's water in the 1880s
Molasses Flood Plaque in the North End, the site of the Great Molasses Flood of 1919
Museum of Modern Renaissance in Somerville, a former Masonic hall that is now a mystical temple of art
Steinert Hall in Boston, a 19th-century concert hall located four floors beneath a piano store that closed in 1942
Venetian Palace Diorama in the North End, a miniature replica of the Doge's Palace at the Boston Public Library's North End branch