Travel
Peek inside this new luxury treehouse in Maine, built by a world-renowned expert
The property is a dream come true for a local couple.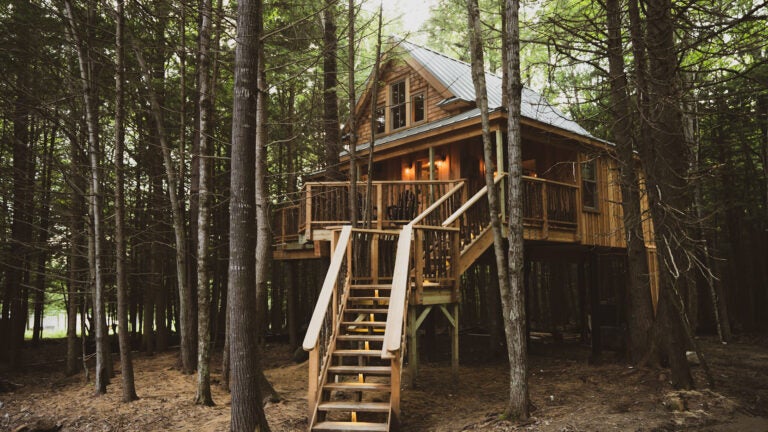 Samantha and Rob Masabny used to watch Animal Planet's "Treehouse Masters," starring Pete Nelson, in their South Shore home.
"We've always had a dream of building a tree house and working with Pete Nelson," Samantha Masabny said.
After buying 10 acres in Norway, Maine, three years ago, the Masabnys couldn't shake the idea. Though "Treehouse Masters" ended after 11 seasons in 2018, Nelson and his team at Nelson Treehouse & Supply near Seattle still build treehouses for customers around the country. So in July 2018, Masabny wrote to the world-renowned tree house builder to ask if he'd take on the job. He said yes.
"It's wild," she said. "Sometimes I don't even know what to think about it. It was just an idea."
The idea became reality a month later when Nelson traveled to Maine to check out the space. He then prefabbed the treehouse in Washington before transporting it to the Pine Tree State this past spring and completing the work.
"From a design standpoint, my husband and I were very much involved in putting our two cents in," said Masabny, who works at HubSpot in Cambridge. "We wanted to do something very different. We wanted to do something out-of-the box and very high end."
A little more than a year after Masabny reached out to Nelson, the four-season luxury tree house on Lake Pennesseewassee, aptly named The Woods, became available to book on Sept. 1.
The two-story treehouse sits 15 feet above the ground, has two bedrooms, two bathrooms, a kitchen, a dining area, a living room, a screened-in porch, and an outside deck. The property is 1,100 square feet inside and out. For the interior, the couple worked with New York-based interior designer Christina Salway, a Hampshire College graduate who worked with Nelson on the show.
"The energy on the property is incredible," Masabny said. "It's a quintessential New England home in the trees."
Masabny said they wanted to wow guests upon first entering the home, so the entryway has hexagonal tiles that blend into the wood floors. The kitchen's "sleek" white appliances include a retro-style Smeg refrigerator and Bertazzoni gas stove. The farm sink has brass hardware and the countertop is white quartz. The treehouse walls are whitewashed barn wood.
Guests can eat their meals on a custom-made table before a wall of windows inside an eating nook that seats four to six people.
"It's going to be incredible in the winter," Masabny said.
A screened-in porch off the kitchen, complete with furniture for lounging, extends the living space, Masabny said.
"There's something about the screened-in porch that is magnificent," she said. "You're covered and you're protected, but you're immersed in the trees."
The upstairs king suite features a high ceiling, a sitting room with two chairs, and a bathroom with a walk-in shower and vanity.
"It feels very tall, open, and airy," Masabny said.
All beds are outfitted with Pottery Barn bedding and linens, and the treehouse features buffalo check plaid throughout, Masabny said.
The downstairs bedroom has custom-built bunk beds with shelves, Masabny said, and all rooms have USB ports in them.
"We really wanted people to feel like if they turned in any direction, they would want for nothing," she said. "It was important to anticipate the needs of people."
Guests can watch TV before a cozy gas fireplace in the living room.
"If anybody is looking to book during football season, we do … get all the games," she said.
The property's outside deck has trees growing up through it.
When guests want to venture out, they can head to nearby popular spots like Norway Brewing Company, a family-owned microbrewery, and 76 Pleasant Street, a restaurant inside an 1896 home that's within walking distance to Norway's town center. The tree house is within 40 minutes of local ski resorts and about an hour from Portland, Maine.
The treehouse sleeps four, there's a two-night minimum, and pets aren't allowed. It costs $575 per night from Sunday to Wednesday and $675 per night from Thursday to Saturday. The Woods teamed up with Your Maine Concierge, which offers guests concierge services for an additional cost.
"We fell in love with tree houses because what human doesn't like the idea of climbing up into a tree and being above the ground and looking at life from a different perspective and being in nature?" Masabny said. "I think we all have that desire to be adventurous."