Travel
Here's a first look inside the new (and theatrical) Moxy Boston Downtown
The new hotel adopts a theatrical mantle along with simplicity upstairs.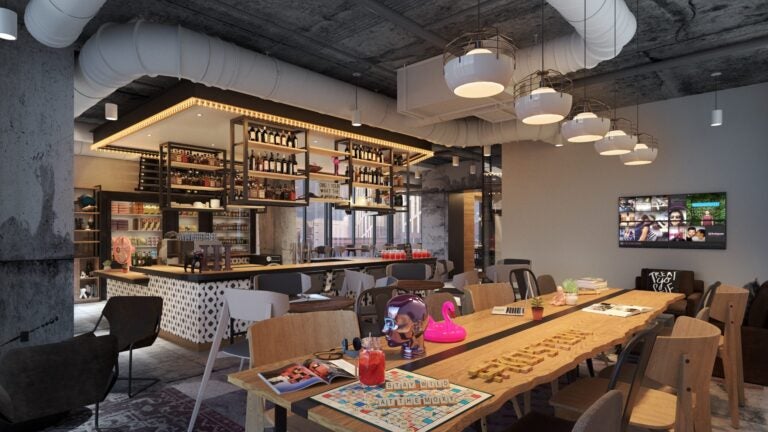 Guests of the new Moxy Boston Downtown are greeted, immediately, with theatrics: Enter the hotel to a line-up of mannequins, a big food truck housing a photo booth, ropes and pulleys, vintage props mimicking a theater backstage, and a chandelier with the letters "T H E A T R E" picked out in light bulbs.
It's quite the entrance, one that pays homage to the city's Theater District, but beyond that, the hotel is all about simplicity.
One floor up, an open-plan industrial space called The Living Room has upholstered seating in black and grey, wood planking, polished concrete floors, and a wall of windows. Its "chill nook" has a record deck and vinyl LPs, and a day bed.
Next to the business center, the check-in desk looks like someone's kitchen counter.
"That's the idea," said Dustin Kovats, Moxy Boston Downtown's general manager. "We want an informal, relaxed space. We will have self check-in, too, and mobile check-in, of course."
At check-in, guests are given a voucher for a free cocktail in Bar Moxy at the other end of the free-flowing space.
Though Bar Moxy is present at all of the Marriott chain's locations, food and drinks are from Boston-based Lyons Group and its culinary director, chef Nick Calias. The breakfast through late night menus are snack-y and include naan-style pizzas, big Bavarian pretzels, and small plates to pair with a full complement of cocktails, beers, and wine.
One thing Bar Moxy doesn't have is a TV.
"We want social engagement with our guests, and between guests and guests. It's not your typical bar. We don't want people staring at TV screens or phone screens. We have games — we have foosball," Kovats said.
Unlike Bar Moxy, which is open to the public, The Mezz, an indoor, year-round rooftop lounge, is open to guests only. The Mezz's balcony has spectacular views over the Boston Common to the State House.
In between the rooftop and third floor, 17 rooms grace each level, most of which have 149 square feet of space. The Wicked Awesome View corner rooms have 174.
Each room is uniform, with a queen-size bed with an ochre brown headboard and few furnishings to clutter the space, plus an adequately roomy subway-tile-lined bathroom with walk-in shower. Cute vintage, nostalgic touches include View-Masters and bedside phones that play bedtime stories.
This 24-story Moxy includes a third-floor gym and a meeting space with an engaging wall of windows looking onto the city.
"We hope to engage with the theaters here and offer tickets to shows, and maybe meet-and-greets with performers. We want to operate like an independent hotel in many ways," Kovats said. "Yet we are still under the Marriott umbrella and all that offers guests. It's really the best of both worlds."